John Varvatos hopes to go global with rock-flavored menswear line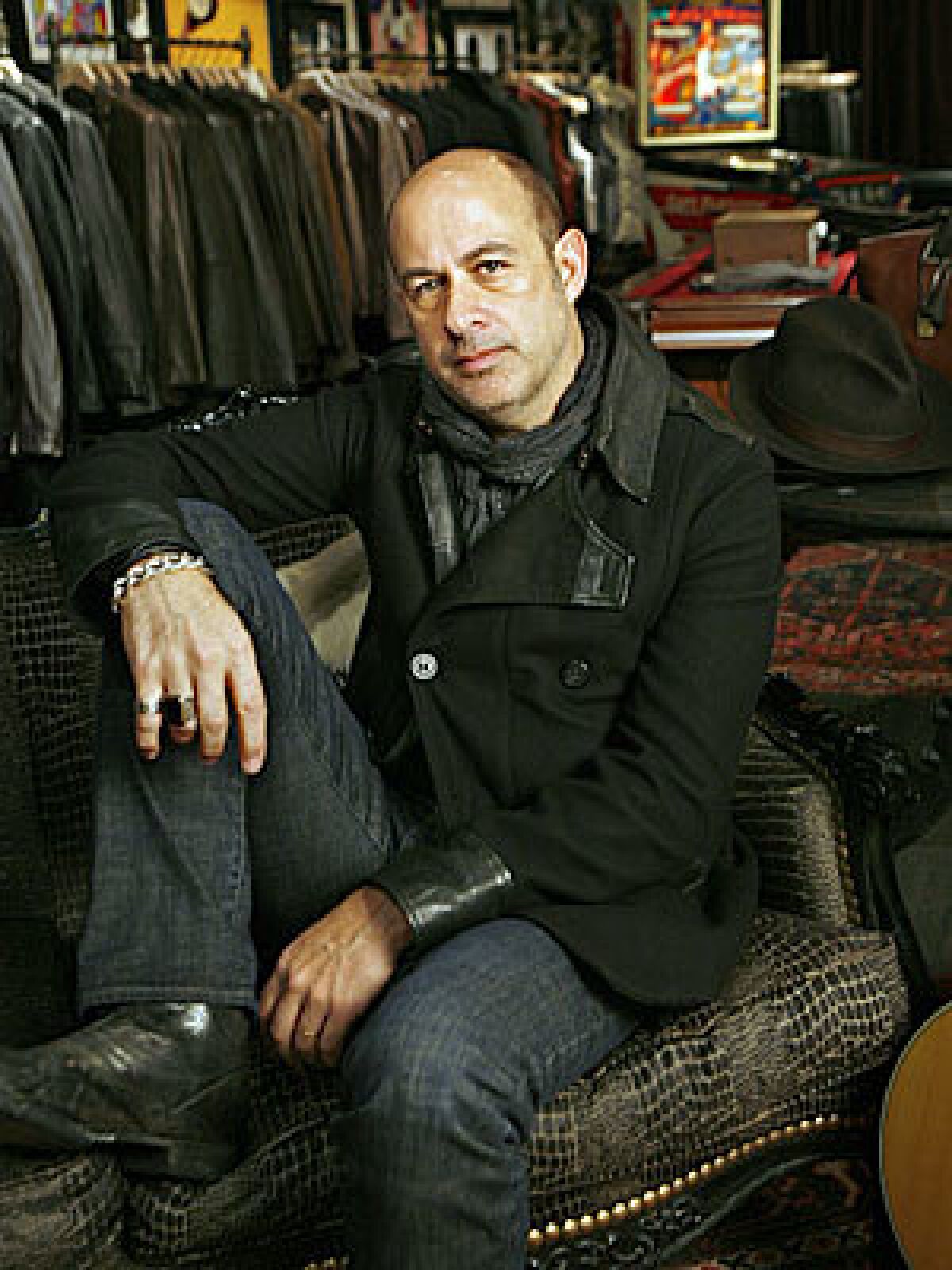 Next week, when his men's collection hits the Milan runway, New York designer John Varvatos will be firing the opening salvo in a bid to make his rock-flavored label the next American lifestyle brand to go global. In nine years, he's managed to make fashion safe for men, invented the laceless Converse Chuck Taylor slip-on and turned New York's CBGB nightclub into a clothing boutique. To paraphrase the Talking Heads, who got their start in the same 315 Bowery St. space where Varvatos now sells suits, "And you may ask yourself: Well, how did he get here?"
The answer can be found amid the record bins at Amoeba Music on Sunset Boulevard. That's where the jet-lagged designer lingers on a late fall afternoon, elbow deep in the racks of records, wearing a leather jacket with a messenger bag slung across his chest. In the pause between his brand's launch in South Korea and a star-studded charity bash to mark his new Malibu outpost, the 53-year-old menswear designer is off the clock and on the hunt for vintage vinyl.
"This is the best record store in America," Varvatos says. "I get to Los Angeles about six times a year and try to get in here every time." One of his coolest finds came two visits ago when he snagged the original Columbia acetate and first pressing disc of Steve Winwood's "Arc of a Diver." "I got it for something like $150. It was ridiculous."
Varvatos is known to spend hours at Amoeba, and on occasion he's bought so much there that his West Hollywood boutique has had to box up the haul and ship it home to Manhattan. The passion that finds him flipping through racks of second-hand albums like "Mr. T's Commandments" and "Concerts for the People of Kampuchea" has done much more than build a collection of nearly 7,000 vinyl records, 15,000 CDs and 35,000 MP3 tracks.
He's made musicians and rock stars the core of his advertising campaigns, and the rock aesthetic is the foundation of his menswear. Last April, he added the ultimate piece to his music collection by opening in the former CBGB space, where his clothes are displayed among vintage books, high-end stereo equipment and a preserved wall of the original club, covered in tattered band fliers. Leveraging his love of music has helped him sell a reported $80 million worth of John Varvatos-branded clothes, shoes and accessories at retail last year alone, reaching an astonishingly broad base that reaches across generations from Zac Efron to Ian McKellen.
"His collection hits a really wide demographic," said Alex Carapetian, a buyer at Fred Segal Man in Santa Monica, which has a JV shop-in-shop. "From the younger kid who's not really snobby and doesn't really care what label he wears, to the old-school '80s-dude rock fans who come in here and reminisce about all the concerts they've been to."
By tapping into their inner guitar hero, Varvatos has managed to make runway fashion safe for regular Joes. The message is simple: You may not be a tuxedoed Alice Cooper kicking back on a Hollywood Hills couch with an anaconda on your lap, but you don't have to be. Let the rockers be the fashion leaders -- it's enough to be fashion-conscious and pick up a few style tips from them along the way.
"Every guy has a rock-god fantasy," Varvatos says from the Amoeba aisles. "I just dial into that." That's why Perry Farrell is the face of the current season, and indie Glaswegian rockers Franz Ferdinand will don John for the upcoming spring/summer campaign.
Varvatos is certainly not the first to leverage music into menswear, but his appeal lies in the deft way he layers the rock riffs, melding them with other inspirations (military, bohemian, Edwardian dandy) along the way. Instead of cartoonish leather jackets and shredded jeans, it's a subtle influence. The wide collars on a white, double-breasted jacket bring Elvis to mind; a black jacket with military braiding hints at Hendrix.
Suits can be rock-star slim or flare dramatically at the ankle. Chunky cable-knit sweaters sport horn toggle buttons. Otherwise staid-looking jackets kick it up a notch with asymmetrical closures. His color palette tends toward the neutrals -- blacks, browns, grays and dark greens -- and he works mostly in down-home fabrics: wools, cottons and scuffed, antiqued, broken-in leathers. The clothes are comfortable-looking and familiar, but with an air of "other" -- like the wardrobe of an older brother who went off to his junior year abroad and came back slightly cooler in a way you can't quite discern.
"His sense of style really speaks to men," says Tom Kalendarian, executive vice president of menswear for Barneys New York. "He thinks about the way a guy is going to react to his clothes. . . . John has had a big hand in changing the way men look at accessories. Look at certain categories like messenger bags or guys wearing scarves with jackets, or shoes. All those Converse sneakers."
"Those Converse sneakers" are the slip-on Chuck Taylor All Star Low Profiles that Varvatos developed in 2003 as part of his collaboration with Converse. It has since become a huge hit for both brands, and spawned countless knockoffs.
Varvatos, who hails from the Detroit suburb of Allen Park, Mich., says his style icon growing up was Steve McQueen. "Well, McQueen and all the rock stars. When I got into high school I wanted to dress like a rock 'n' roll dude. The first time I heard Led Zeppelin, I think I was 14, it changed my life."
His interest in clothing only came later, while he was working as a sales clerk to pay his way through college (he studied education at the University of Michigan). In 1983 he joined Polo Ralph Lauren, leaving in 1990 to join Calvin Klein (where he helped launch the men's collection and came up with a little something called the boxer brief). He returned to the Polo fold in 1995 as head of menswear design. Four years later he founded his eponymous label, debuting his collection for fall/winter 2000.
It should come as no surprise that, having learned the ropes at Lauren, he now draws on his own history and the faces, sounds and memories of his rock pantheon to evoke a nostalgia and build an entire lifestyle around them -- much the way Ralph Lauren taps an idealized past with his Polo Ralph Lauren.
"You can really tell John started off his career at Ralph," says Kevin Harter, vice president of men's fashion direction at Bloomingdale's. "Very few designers have been able to pull off that unique of a range. He does a great job of differentiating his labels and his point of view, but still keeping it all one lifestyle. That's a unique talent."
So he can sell $2,295 four-zippered lambskin jackets and $395 shoes in his high-end John Varvatos collection, $1,095 leather lambskin blazers and $1,095 three-piece suits in the younger-skewing Star USA line and $395 zip-front cashmere hoodies and $95 canvas slip-on Jack Purcells in the Converse by John Varvatos line, which also includes women's shoes, clothing and accessories.
If there is anything keeping the Varvatos fashion juggernaut from achieving full Ralphian critical mass, it's the lack of a full-fledged, high-end women's collection under his nameplate. A women's line he launched in fall of 2004 was shelved a year later. But in 2008, Varvatos launched his first women's fragrance, a second one is planned for 2009, and he says that although a women's collection is not on the current business plan, it's something he thinks about.
Still, the economy being what it is, that's for another time. "It's important now to strengthen what we've already built," he says.
That means focusing on the existing business, which industry sources say could do $140 million wholesale this year when all the co-branded Converse merchandise and the fragrances are factored in. (Notably, Varvatos' businesses reported double-digit increases in the tough third quarter of 2008).
So, as Varvatos steers his label into its 10th year, he's decided to permanently relocate his runway show from New York to Milan, despite the recession. He says it is part of the plan to grow business abroad this year. "Eighty percent of our business comes from the U.S., so there's significant growth opportunity in Europe and Asia."
And if all goes according to plan, 2009 will be the year Varvatos goes beyond global. The designer is finalizing a deal to host a monthly music show for Sirius Satellite Radio called "Born in Detroit," which would connect him to as many as 19 million listeners. That would technically make him an extraterrestrial lifestyle brand.
Which totally rocks.
---