Costume designers explain Lady Gaga's Gucci, 'Black Panther's' tribal color codes, Neil Armstrong's pops of plaid and more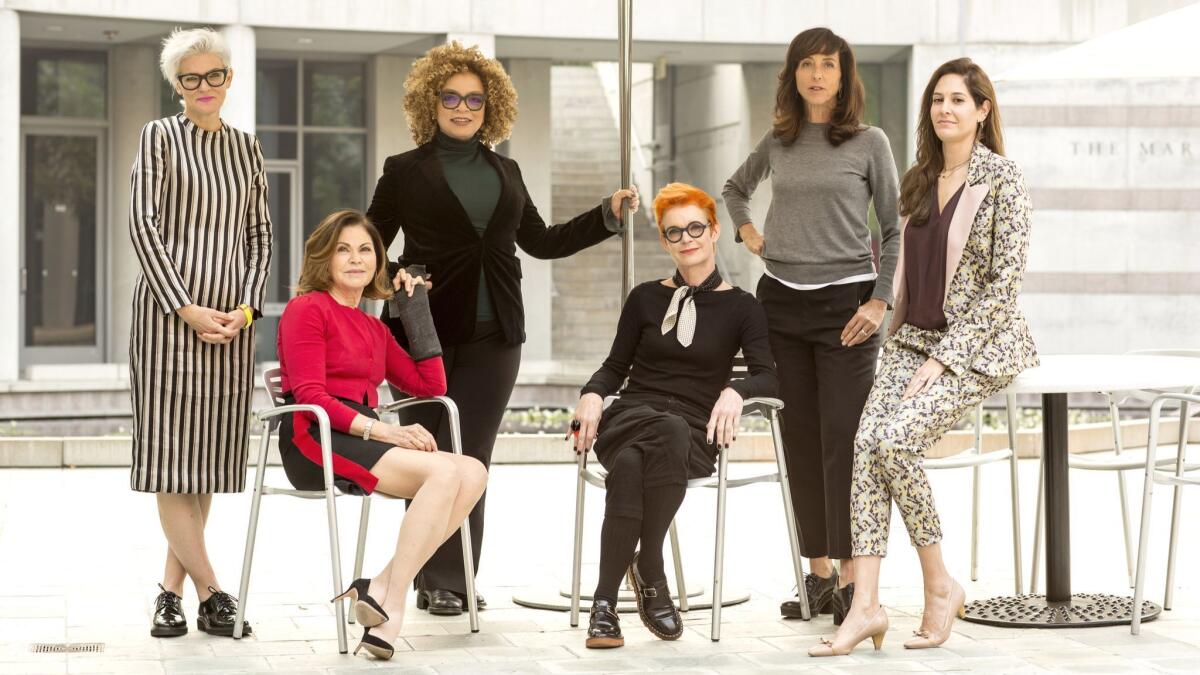 The costume designers who helped shape the look and feel of some of this year's biggest movies gathered at the Skirball Cultural Center early last month for the Envelope Live's "Costume as Character," a roundtable discussion about their craft that ranged from the simple (why you shouldn't use "costume designer" and "costumer" interchangeably) to the obscure (did you know that Anto Beverly Hills is the go-to if you need a four-armed shirt made in a hurry?).
On stage for the hour-long discussion were Colleen Atwood (of "Fantastic Beasts: The Crimes of Grindelwald"), Erin Benach ("A Star Is Born"), Ruth Carter ("Black Panther"), Caroline Eselin ("If Beale Street Could Talk"), Sandy Powell (on hand to discuss two films — "Mary Poppins Returns" and "The Favourite") and Mary Zophres ("First Man"). Here is an excerpt of their conversation, edited for length and clarity.
So, super basic: What's the difference between a "costumer designer" and a "costumer"?
Zophres: A costumer designer is the one who conceptualizes and designs the look of the feature film or TV show or play or opera, and the costumer is the person, generally, who helps carry out that vision.
One of the things that all of these films have in common is that there is some original source material. How do you break free of the confines of that to make your own vision?
Eselin: ["Beale Street"] is a book by James Baldwin and I tried to figure out how to honor him, so not really "breaking free," but I will say there are lots of costumes that are taken directly from the book and we wanted to honor him as much as we could. But sometimes, also, what's written won't work for the film, so it's figuring out what can work there.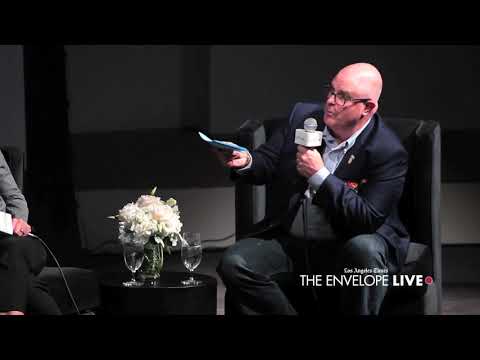 "If Beale Street Could Talk" costume designer Caroline Eselin talks about how she used the costumes to honor author James Baldwin.
Can you give me an example of a costume or two from the book that you have in the movie?
Eselin: Fonny, who is our young lover— Tish and Fonny — he wears a black and red lumberjack jacket that's plucked straight from the book. The mother that comes in, she's written in a cream-colored shopping hat — beret — we put that in.
Carter: For "Black Panther," the way that the color palette was crafted and communicated was an homage to the comics. There are specific things there — like the isicholo crown that Queen Ramonda wears in the comics — but she also wears yoga pants and a tunic. It's crafting an experience that's not so specific one-to-one.
Benach: It's very similar to what Ruth said, in that it's taking, for example, the tone of Barbra Streisand's costumes — how they resonated in 1976 — and actually interpreting that for what costumes would resonate [in] 2018.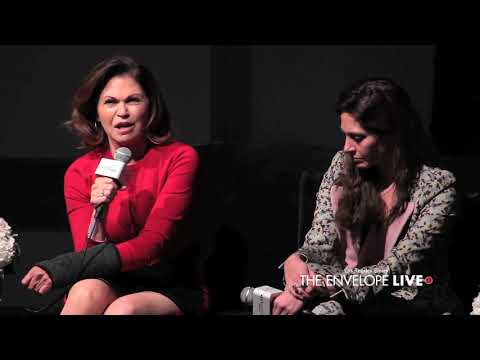 The "Fantastic Beasts" sequel brings Colleen Atwood and Johnny Depp back together again after nearly a dozen films. "There becomes a certain shorthand," Atwood says of their decades-long working relationship.
Are there any benefits — or maybe drawbacks — to working with someone over and over and over again? I'm talking about Colleen Atwood working with Johnny Depp like 10 times.
Atwood: Well there's never a drawback to working with Johnny Depp, just sayin' — we should all be so lucky. When you work with people and you have that process together there becomes a certain shorthand. I guess the trick is not to go to the same place because you know the person, [but to try] to evolve what he can do, understand the span of stuff that he can do. Obviously, I've done the kind of flashier stuff with Johnny but I've also done "Rum Diaries" and less kind of costume-oriented films with him. Also with Tim Burton and a few other guys that I work with as directors, sometimes for them, having a familiar costume designer and a level of trust saves them a lot of time. It's easy to assume that they'll like what they liked before, but it's never always the case. So it keeps you on your toes in a different way I think.
Erin, in "A Star Is Born" there are two standout dresses. The gold one Ally is wearing at the Grammys and a blue one at the end. Did those have specific inspirations?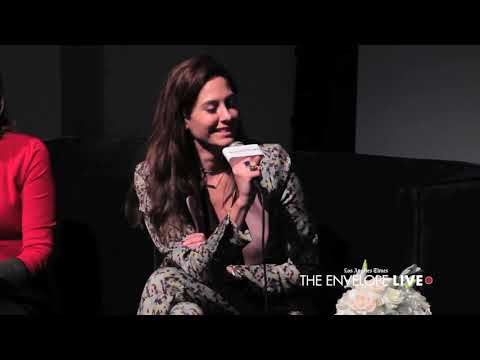 "A Star Is Born" costume designer Erin Benach talks about the secret scramble behind Lady Gaga's gold Grammys dress and how Grace Kelly inspired another one of the singer-actresses' signature looks.
Benach: Well the funny story about the gold dress is, because the gold dress precedes a scene where she has to get into the shower with Jack, we knew we needed multiples. Then the morning of shooting the Grammy scene, Stephanie — Gaga — called me up and said, "I think I want to wear the other dress." We got Gucci on the phone and they said they would build us another dress in Italy and send it to us in two days and it all worked out.
What about the blue one?
Benach: The blue one was a dress that I designed as well and it was inspired by a dress that Grace Kelly wore. We knew the stage was going to be very dark and I think the emotion for the scene was hopeful, and that is what we wanted to convey … not sadness but a hopefulness.
Ruth, in "Black Panther" there's a very specific set of colors that are being used for the outfits of different groups. Is there a story behind that?
Carter: Yes. [Director] Ryan Coogler had very specific ideas for the tribes and for the royal family. The royal family's color was purple; the border tribe represented colonization so he made a connection to the police and being policed, so the border tribe was blue; the river tribe was green for obvious reasons — plants and water — and then we had a mining tribe that he wanted to use a lot of oranges. The Dora Milaje, this vibrant red from the Maasai — different tribes have different color symbols. So you know, we delved into the tribes as well to sort of extrapolate what kind of colors would best represent them. So if the Dora Milaje had the Maasai palette it was using those vibrant reds and so on. So it was very specific. There were some holes so I just you know, filled in the blanks. Like the merchant tribe was based on the Tuareg of Mali and they use this beautiful aubergine and silver so we used a different sort of take on the purples and reds so that when you see them at the Warrior Falls it's very specific and you know exactly which tribe is standing where.
Caroline, is there a story behind the color yellow in "Beale Street"?
Eselin: [Tish] is in a yellow sort of costume for one of their dates, but there was more of a green story throughout and some of that was [because of] Baldwin's words specifically – the color green meaning fertility and growth and new life [so we] sort of dotted that through. … And there is a very yellow, sunny you know, sort of optimistic, innocent costume [Tish] wears on a date … that yellow was about being innocent and youthful.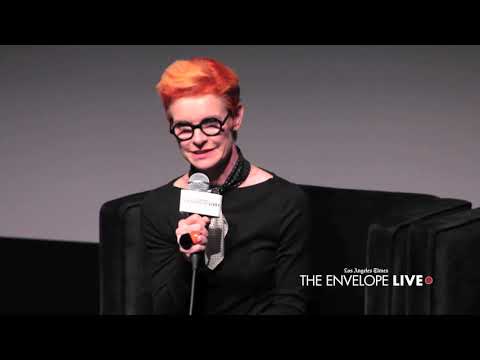 Why is there a bird on Mary Poppins' hat in the Emily Blunt-led sequel? "Mary Poppins Returns" costume designer Sandy Powell reveals the surprising way the original film influenced that decision.
Sandy, there's a bird on Mary Poppins' hat that the camera just zooms right in on when we first meet her. What's the significance of the bird?
Powell: Well, going back to the original "Mary Poppins" with Julie Andrews, she wore a hat with funny little daisies sticking up. I wasn't going to go that way with Emily Blunt's Mary Poppins but we had to put something on the hat, and Rob Marshall, the director, wanted something a little bit eccentric. I really didn't want [it to be] floral so birds were another option. Then I thought about the animatronic robin in the first [movie] — in "A Spoonful of Sugar" — so it was just my little reference to that robin.
Let's talk about "The Favourite" for a minute. Am I correct that the costumes were not completely historically accurate? I mean there was some denim in there, right? How did you decide to do that?
Powell: The cut of the costumes is historically accurate [to 1708] — for the men and the women — [but] the treatment of them is different; I used contemporary fabrics so there are kitchen servants in the film that are [wearing costumes] all made from denim. I wanted them to feel like work wear. I actually used jeans that we bought from thrift stores and turned them into corsets and bodices and men's waistcoats. And then court — where the colors are restricted to black and white — I used contemporary fabrics and Emma Stone's costume [in one scene] is an African-print fabric. A lot of the white [garments] are African fabrics because they had a really great texture and light. They were also inexpensive and I had very, very little money.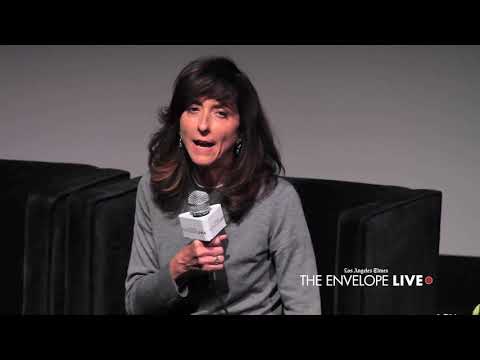 Mary Zophres, the costume designer behind the Neil Armstrong biopic, opens up about what inspired her to dress Ryan Gosling in that plaid sport coat.
Mary, there are some plaid suits that Ryan Gosling wears that make him stand out whether he's at a news conference or talking to the guys at NASA. Was that intentional?
Zophres: Yes, it's a sport coat and it's a tool that you often use — well, I do — when you're dressing your lead so that no one else surrounding them is in the same sort of thing. But it was actually inspired by a photograph that Ryan showed me from the Armstrong family — and it's not a photograph that's anywhere online — it's a personal photograph that's never been shared from his mother — of Neil in a plaid '60s sport coat [and] it said on the back, "You look so handsome, love Mom." And, honestly, tears came to my eyes — and Ryan's — it was just a really touching note. And it gave us this inspiration to find that for him. We used the sport-coat look up until Apollo 11. It changes over the years but it's very subtle.
For more musings on all things fashion and style, follow me at @ARTschorn
Get the Indie Focus newsletter, Mark Olsen's weekly guide to the world of cinema.
You may occasionally receive promotional content from the Los Angeles Times.