Fashion of Coachella: Who's wearing what at the music and arts festival?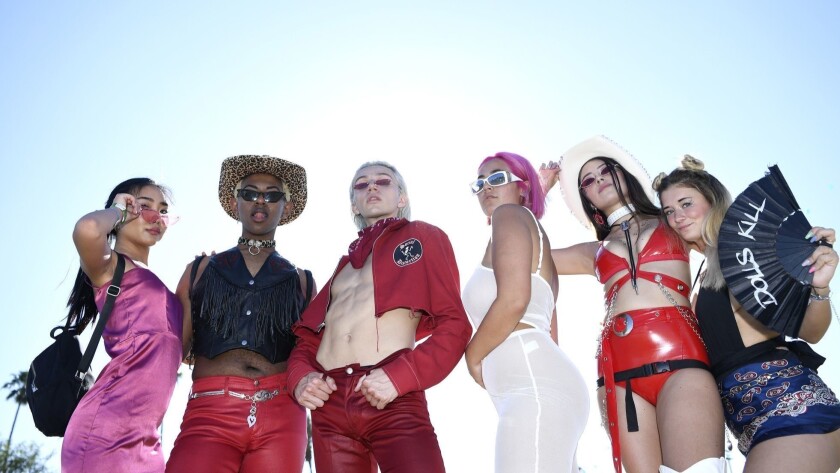 Palm trees, dust and sun might be part of the quintessential backdrop for the Coachella Valley Music and Arts Festival in Indio. However, during the past 20 years, the festival itself has in many ways morphed into a live fashion show where the grounds become a runway of sorts.
People from around the globe come to Coachella for the music and stay for the fun — but delight in the fashion. To capture the effervescent festival fashion, we made our way through the crowds, and here's what we found.
David Gatdula, a 27-year-old fashion merchandising student from San Francisco, used the word "monochromatic" to describe his look.
"I love the color pink," he said. "And I will be doing different monochromatic looks each day of the festival."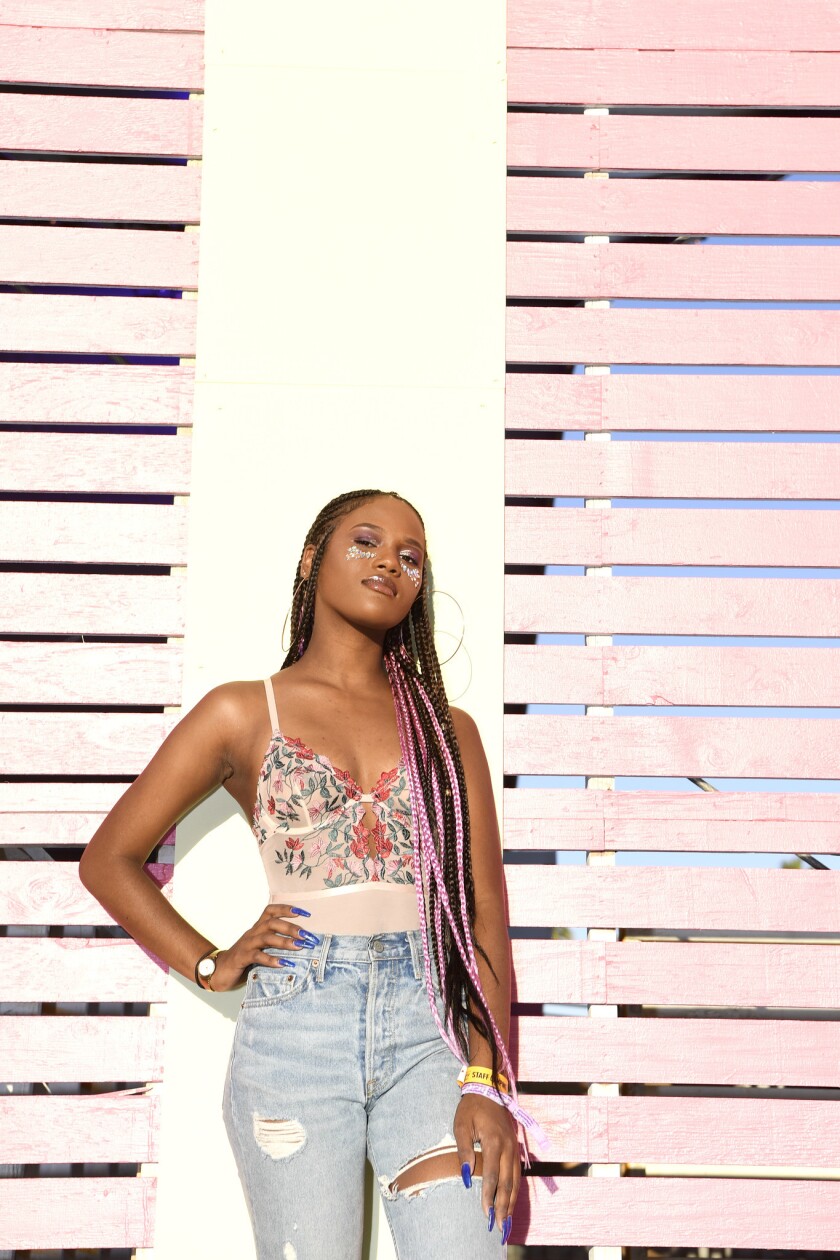 Bria Williams, a food industry worker from Pomona, wore a sheer pink bodysuit with floral detailing and distressed denim pants.
A first-time attendee, Williams, 22, said she found inspiration for her outfit by checking out previous Coachella looks on social media.
Less boho chic, more streetwear style at 2018 Coachella »
Dallas turned up at Coachella, but this wasn't stereotypical Texas fashion — as in big hair and cowboy boots.
Nikolas Painter, 21, who works for Apple, said he was drawn to the "geometric pattern of the pants and loved the bright color." Also, he said, "Growing up, I listened to a lot of punk and goth music, and I have found that has influenced my style."
Kathleen McNatt, 21, who works for the NHL, said her mesh pants were part of her daily life and that her main priority when putting together her outfit was to find something "comfortable, lightweight and that had my favorite color — black."
Together the looks of this Dallas duo appeared to bring a smile to the faces of onlookers.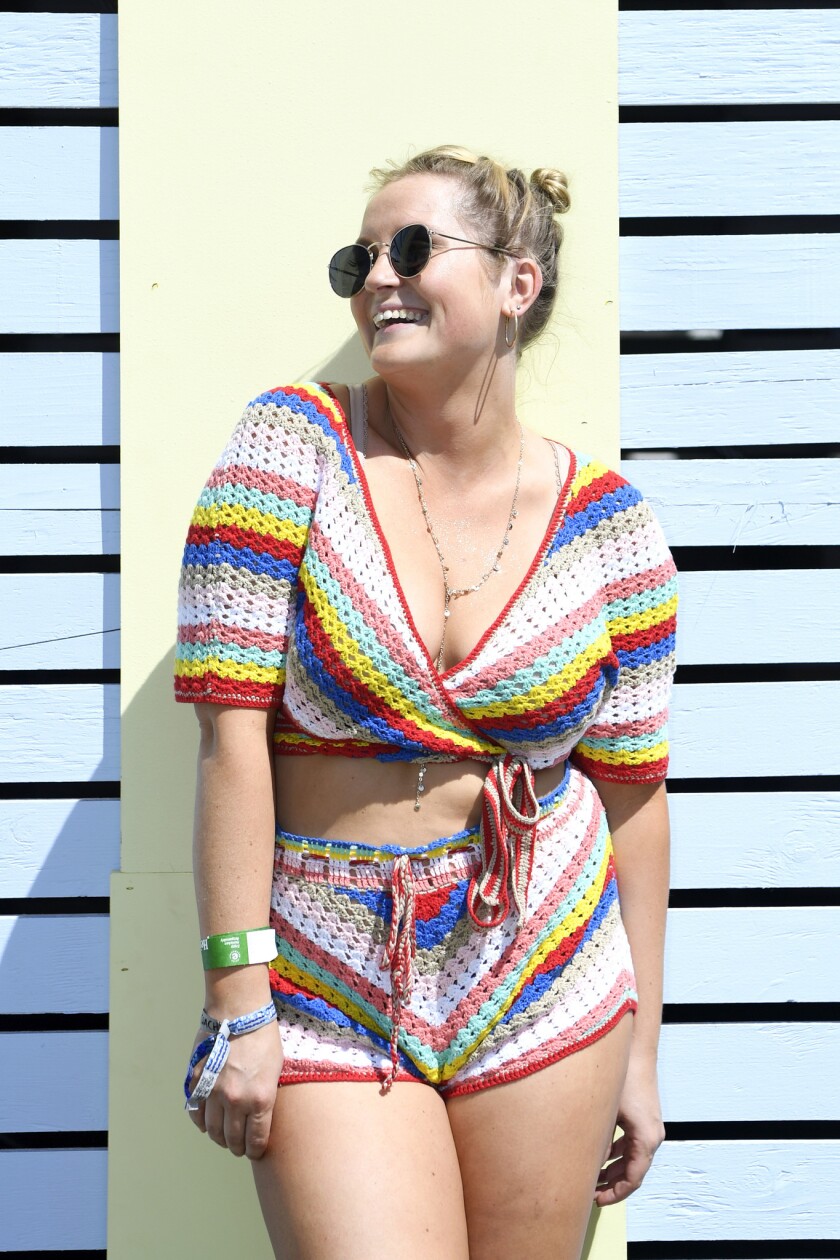 Alana Hutchinson, a 25-year-old events manager from Los Angeles, wore a rainbow-colored crochet crop top and shorts set from Wild Fox.
She said, "I found this set at a sample sale and was so excited to get it because I saw that [model and actress] Alessandra Ambrósio had worn the same shorts last year and thought that was so cool."
Daniel Ritz, a 29-year-old stylist from Las Vegas, wore an all-white look with red detailing that he said was influenced by his high school reunion. Asked to describe his look, he kept his answer short: "Just fun."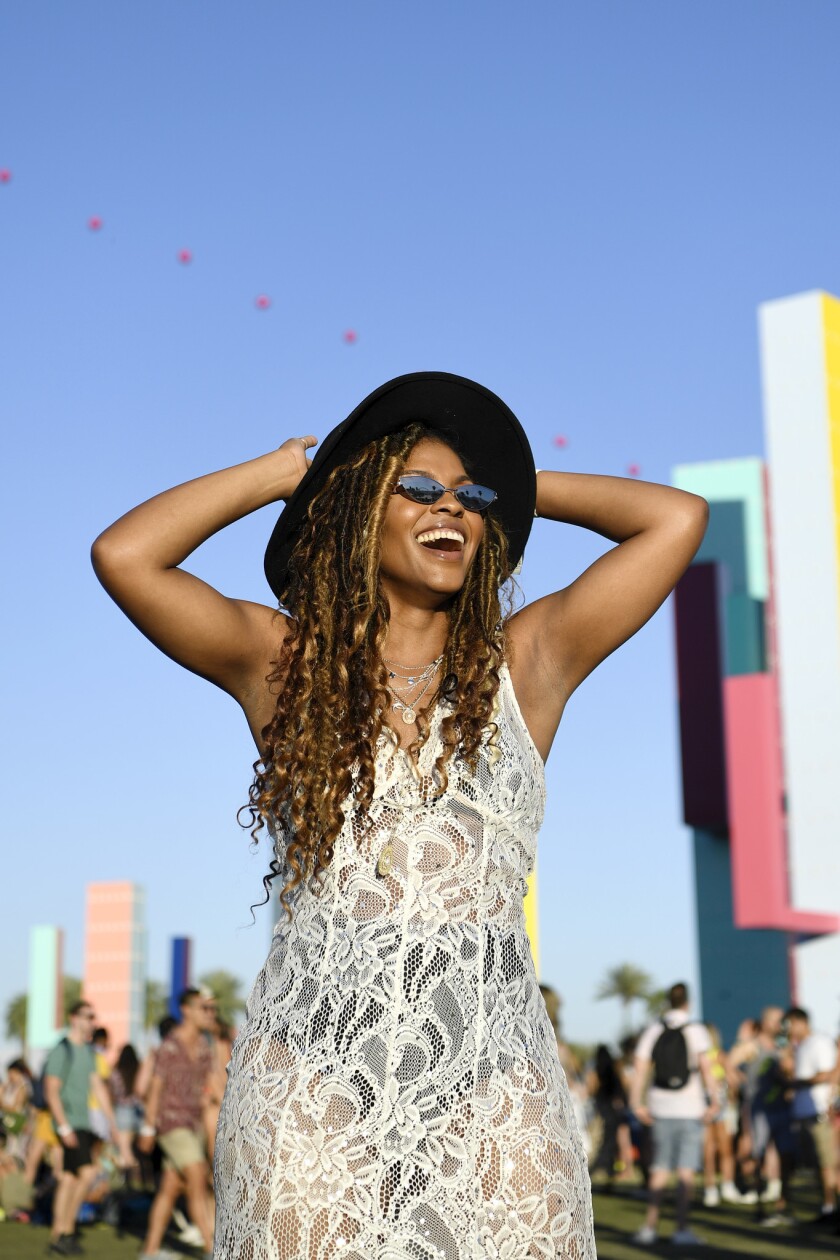 Keisha Gallien, who works in the oil and gas industry in Texas, rocked a boho-vibe style.
Gallien, 35, and her friends dubbed her dress, "the wedding dress." The Houston resident said her look was inspired by Coachella culture and vintage costumes.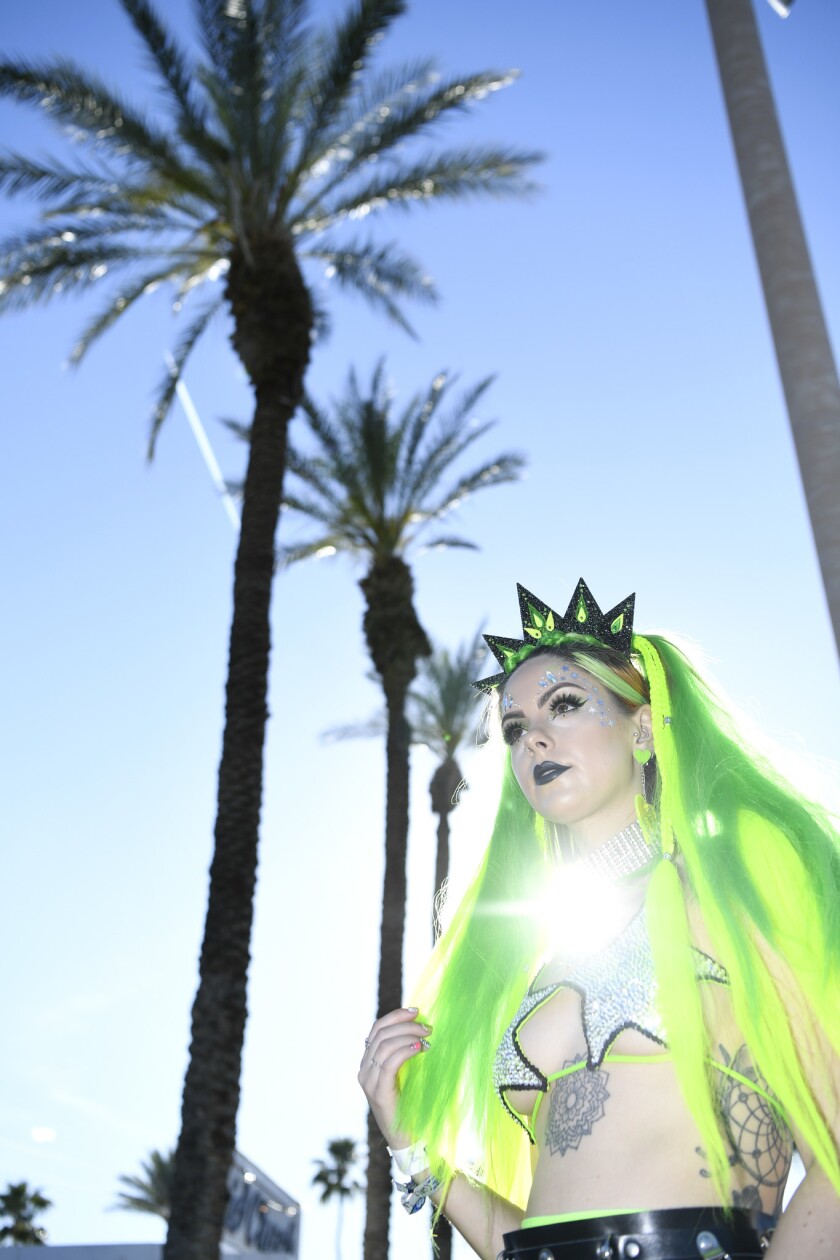 Sophie Hannah, a 28-year-old fashion and beauty blogger from the U.K., wore a "neon queen" look.
"I like to have a theme for every festival I attend, and this year I was really loving the neon trend," she said.
Emily Marcyzk, a FIDM student from Orange County, got her outfit from retailers such as Dolls Kill and PrettyLittleThing.
Marcyzk, 19, said she and her friends adopted a "year of the cowboy" theme. She put her own spin on the Western clothing trend by going with a "space cowboy" look.
Olivia Leones, a 25-year-old social media professional from Glendale, wore a nude-colored fringe bodysuit, pink fanny pack and anime-inspired face mask.
Leones said she was influenced by a look that Coachella headliner Ariana Grande recently wore in New York. "I am also really interested in anime and Asian culture, which helped shaped my look today," she said.
Andrés Felizzola, a 22-year-old student studying fashion design and sustainability at Orange Coast College, said he thrifted his entire outfits from Savers. "You just gotta have the right eye, you know?" said the Orange County resident.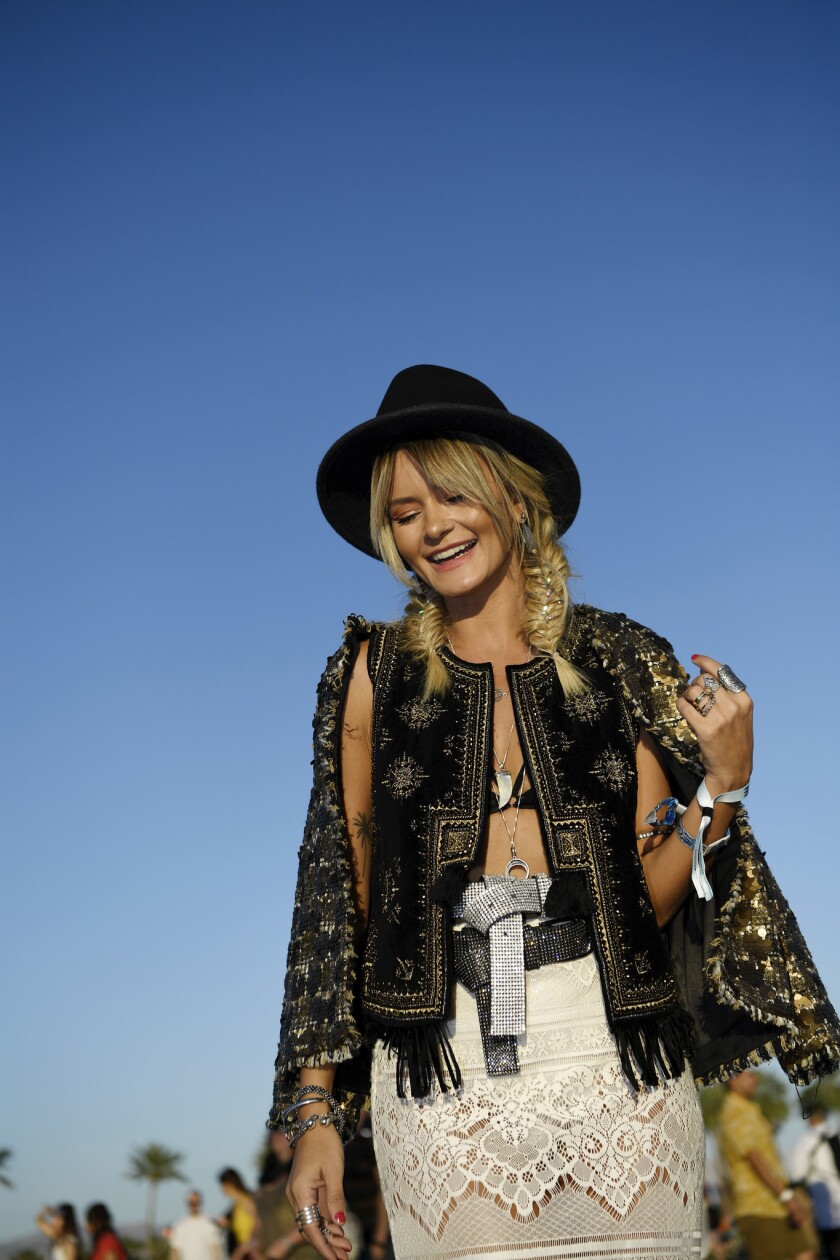 Mariana Dalla, a 34-year-old fashion influencer from Brazil, wore an outfit with plenty of interesting details to gaze at — from double belts to a vest with a cape-like silhouette and bohemian jewelry.
"I love the boho look for Coachella, and I like to mix different aesthetics — such as sequins and sparkles paired with Western accents like my cowboy boots," Dalla said.
Danielle Rene, a 23-year-old actress and model from Chicago, wore a desert-chic look with jeweled sunglasses, a crochet crop top and an ornate headband.
Asked what her favorite part of her look was, Rene said, "The fact my outfit is comfortable is definitely my favorite part."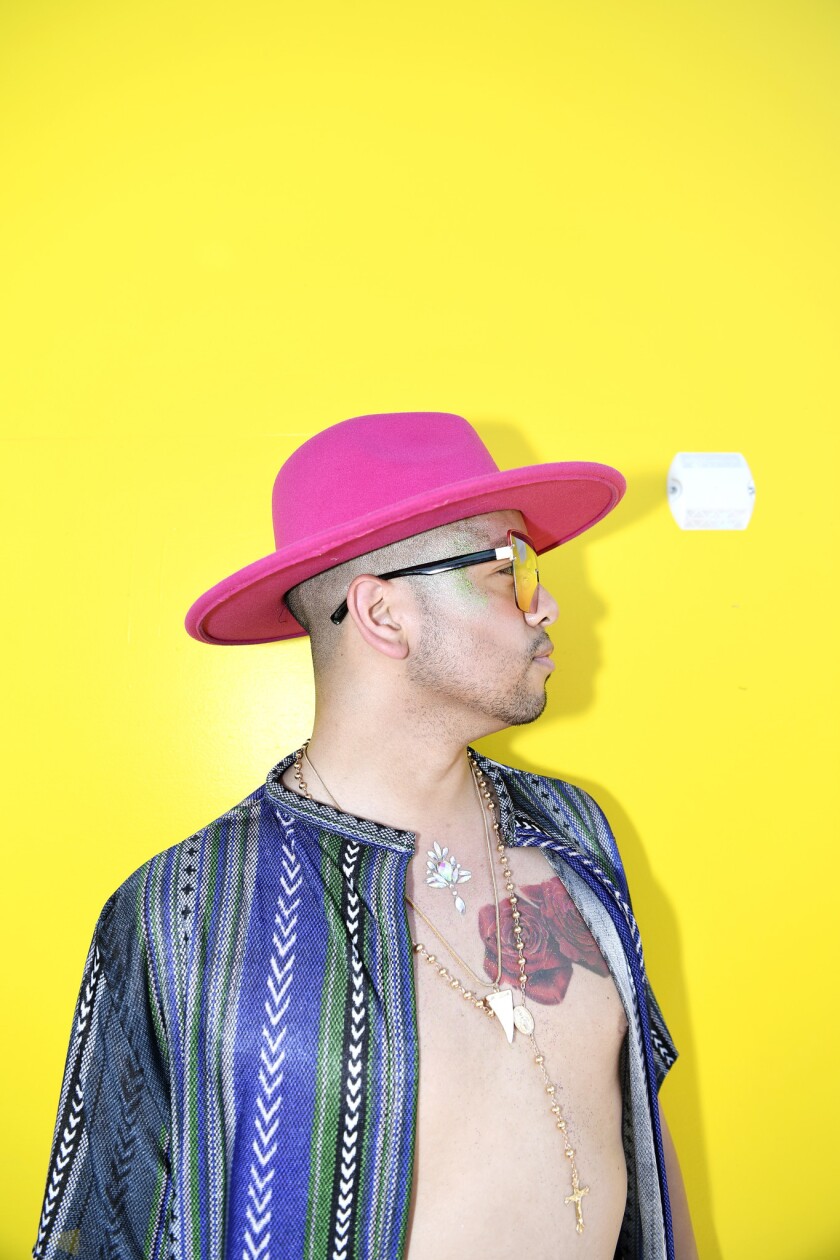 Roger Jacobo, a cosmetic surgery assistant from Coachella, Calif., went for a pop of color to set himself apart form the crowd. Asked what he liked most about his look, he said his hot pink hat.
Also, Jacobo, 28, said he wore his "fresh" outfit specifically for reggaeton singer Bad Bunny's performance.
Ashley Bowen, a 26-year-old model-actress from Alaska, wore a cohesive Coachella look with a prismatic-colored jumpsuit and shimmery bronze eyeshadow and turquoise tassel earrings to match.
Bowen said she was inspired by the sunset and on-trend neon colors for her look. "I just feel really free and open when I am wearing this jumpsuit," she said.
Jordan Murray, who works in the car-sharing industry, exuded a Rosie the Riveter vibe with her red bandanna and denim overalls. The first-time Coachella attendee, who's from San Francisco, described her look as "sexy and comfy."
Murray, 24, said her shirt from fashion brand For Love & Lemons was a "save-up kind of purchase."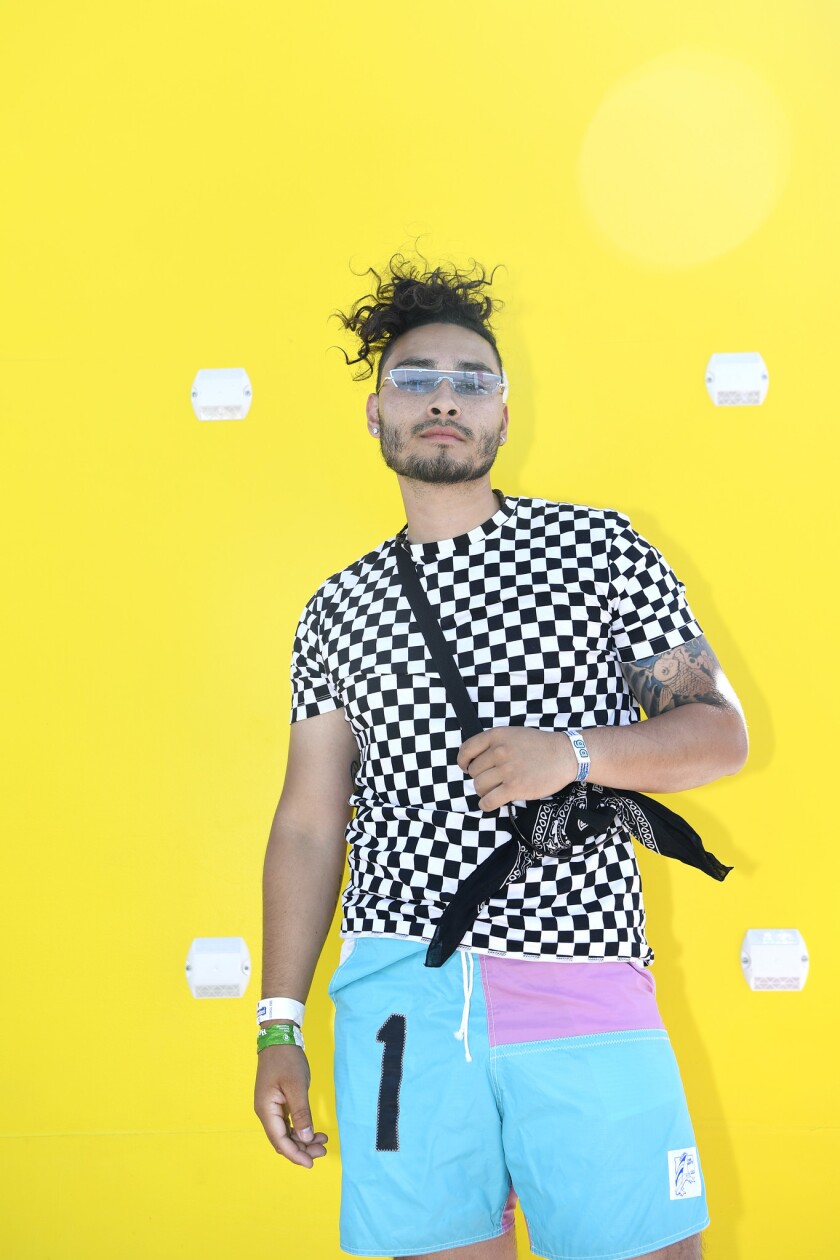 Nico Christilaw, an entrepreneur from San Diego, appeared as if he walked out of a graphic-arts painting.
Asked about his personal style, Christilaw, 24, said, "My outfit shows who I am. I am never going to copy anyone. You have to be yourself and love yourself. If you show your true colors, everyone is going to respect you."
---