Moschino, Golf Wang help Made LA usher in a summer of love atop a parking garage
It's a psychedelic love-in at the Moschino show presented at Made LA on June 10.
(Marcus Yam / Los Angeles Times)
There's no shortage of color at the Moschino. The show is "my love letter to L.A.," creative director Jeremy Scott explained afterward, "its colors, its vibrations, its mix of personalities."
(Marcus Yam / Los Angeles Times)
Some looks from the Moschino show.
(Marcus Yam / Los Angeles Times)
Beach attire, Moschino-style.
(Marcus Yam / Los Angeles Times)
The Moschino runway.
(Marcus Yam / Los Angeles Times)
Leopard print and more at the Moschino show.
(Marcus Yam / Los Angeles Times)
The Summer of Love returns at the Moschino show.
(Marcus Yam / Los Angeles Times)
Tyler, the Creator takes a walk on the runway for his Golf Wang fashion line, presented at Made LA on June 11.
(Marcus Yam / Los Angeles Times)
The Golf Wang runway.
(Marcus Yam / Los Angeles Times)
Creations for Golf Wang hit the runway.
(Marcus Yam / Los Angeles Times)
Golf Wang looks at the June 11 show.
(Marcus Yam / Los Angeles Times)
Tyler, the Creator, right, at his Golf Wang fashion show.
(Marcus Yam / Los Angeles Times)
A theatrical moment in the Golf Wang show.
(Marcus Yam / Los Angeles Times)
Hood by Air presents its Hallways capsule collection at Made LA on June 11.
(Andrew Boyle / Made LA)
The Hood by Air presentation at Made LA.
(Jessica Lehrman / Made LA)
It's hard to imagine the roof of a Los Angeles parking garage – much less one sandwiched between Staples Center and the 110 Freeway – as being a source of much happiness. But for a brief moment earlier this month, the L.A. Live event deck downtown was just that: a tented candy-colored garden of over-the-top creativity and unbridled joy that marked the debut of Made LA, a fashion-focused event open to the general public that included a high-profile catwalk collection presented by Italian luxury label Moschino, the runway debut of Tyler, the Creator's cheery Golf Wang line and a pretty good glimpse at what the future of fashion brand marketing might look like.
The two-day event, a partnership between AEG (which owns the venue) and global talent and fashion juggernaut WME/IMG (organizer of multiple fashion week events around the world including New York's Made Fashion Week), kicked off with a June 10 runway extravaganza that had Moschino's L.A.-based creative director (and recently signed WME/IMG client) Jeremy Scott showcasing the spring 2017 menswear collection and 2017 women's resort offerings.
Shown against an exotic garden backdrop of floral inflatables, the collection was a psychedelic love-in that managed to meld '60s and '70s references (think groovy floral appliqués, hyper-colored crochet work and newsboy caps) with a distinctly Eastern vibe that came courtesy of extensive shisha-style mirror work, embroidery and Sanskrit-style lettering. Oh, and there was a menagerie of animal motifs thrown in for good measure; some by way of zebra- and tiger-striped patterns (many combined with florals on the same garment), others by way of cartoonish prints that included crown-wearing elephants, monkeys and cobras.
The women's silhouette was defined by high-waisted, hip-hugging, flare-legged pants paired with a range of crocheted pieces including crop tops, bustiers, bikini tops, maxi-dresses and frock coats, with a particularly memorable look coming by way of model Anna Cleveland, whose billowy orange-and-purple dress had the trompe l'oeil effect of making her look like a six-armed mythical fashion goddess.
"It's my love letter to L.A. — its colors, its vibrations, its mix of personalities."
Jeremy Scott, Moschino creative director
The men's offerings, rooted in the suit silhouette with an occasional foray into swim trunk and biker jacket territory, included lace double-breasted suits, floral appliqué jackets, tiger-print tuxedos and a pair of board shorts covered with florals and, inexplicably, a purple elephant sporting a gold crown.
The collection's most noteworthy accessory was the hat – bucket hats, floppy lady-of-the-canyon lids, newsboy caps and mini-umbrella headpieces covered in the same riot of color and print as the clothing.
"It's my love letter to L.A.," Scott explained after the show, "its colors, its vibrations, its mix of personalities."
And, by all accounts, it seems L.A. sent a love letter right back. Unlike traditional runway shows, which are accessible only to fashion industry press and invited guests, tickets to the show were available to anyone willing to shell out either $250 (for a third- to fifth-row seat) or $400 (for a second-row perch) and, according to event organizers, all of those tickets sold out in advance of the show (though they declined to specify the exact number of tickets sold).
Scott's hometown stand also drew a constellation of star power to the front row, including Cindy Crawford and husband Rande Gerber, whose son Presley Gerber walked in the show; reality show personality Caitlyn Jenner; and hardcore FOJ (friend of Jeremy) Katy Perry. Asked after the show if she had a favorite piece from the collection, Perry responded: "Why would you make me pick just one piece?" With that, she turned to the nearby designer and gave him a congratulatory hug before adding: "Because I'm going to pick this piece every time."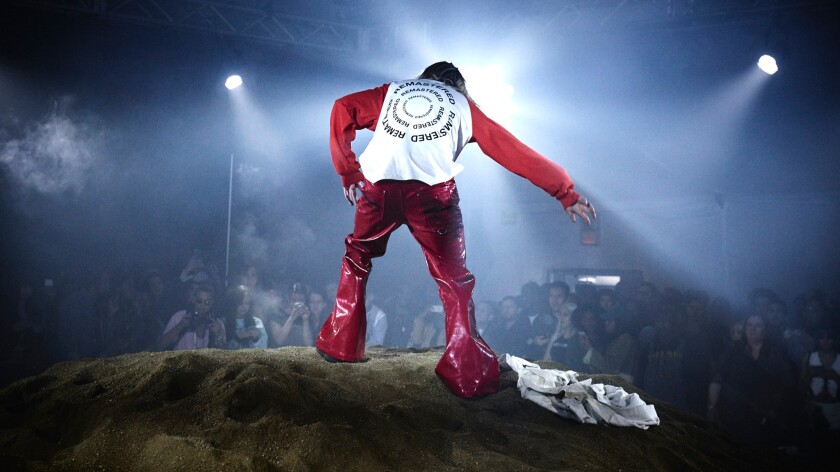 The following afternoon, things took a brief detour toward the dark and violent with the presentation of Hood by Air's "Hallways" capsule collection, during which a handful of bloody-faced models sparred and scrambled across an immense, dimly lighted mound of smoke-belching sand while a performer who goes by the name Yves Tumor provided verbal accompaniment in the form of singing, chanting and moaning.
Although flashing strobes and roiling smoke (not to mention the inexplicable bum-fights-at-the-beach scenario) made it difficult to get a bead on the clothes, "Hallways" appeared to layer a mix of collegiate and punk rock music motifs onto Hood by Air's now-familiar convention-upending silhouettes: a dress-like maxi-tee bearing the words "Total Freedom" alongside Edward Colver's famous photo of Wasted Youth's blood-streaked Danny Spira; a two-headed (make that two-hoodied) sweatshirt; outsize, flare-legged PVC pants; and a surfeit of dangling straps. The words "Minority Movement" – screen-printed in the serif typeface familiar to college sweatshirts – ran down the overly long arms of some pieces; the word "Remastered" repeated in a spiral pattern on the back of a red-and-white raglan-sleeve pullover shirt.
It certainly made an indelible impression, but anyone who plunked down the $20 price of admission hoping to get a good look at the actual clothes would have been better off logging into Hood by Air's website, where the capsule collection was simultaneously made available for preorder.
A few hours after Hood by Air's happening, a spirit-lifting antidote was administered in the form of a cheer-filled, sunflower-flanked runway presentation by Golf Wang. The fashion side project of 25-year-old L.A.-based rapper Tyler Gregory Okonma, better known as Tyler, the Creator (who, as you might have guessed by now, is also a WME/IMG client), the sportswear-meets-streetwear label has been around since 2012 but made its official runway debut at the June 11 show – which, like the Moschino and Hood by Air shows, was open to the ticket-buying public.
One of those who purchased a ticket was 15-year-old Emiliano Brooks of Whittier, who paid $90 to attend. "I'm really excited to see the show," Brooks said before the lights came down. Brooks explained that he'd first become familiar with the rapper's musical efforts and later his clothing collection. "I really like his message, which is to be who you are and to express yourself," Brooks said.
When the lights came down 1½ hours late (the start seemed to be waiting for tardy front-row guest Kanye West – more on him later), Brooks and the rest of the attendees were treated to a range of men's boxer shorts, T-shirts, chinos, short-sleeve button-fronts and ball caps in bright shades of yellow and blue. Some pieces simply bore the word "golf" in multicolored all-caps; others were covered in festive polka dots, yellow flames, wide vertical rainbow stripes or allover sunflower prints. Most pieces skewed men's to unisex with a few women's cropped T-shirts layered under overalls.
"I really like his message, which is to be who you are and to express yourself."
Emiliano Brooks, 15, of Whittier
The biggest surprise of the night – if not the whole two-day affair – came after the runway finale, when the rapper addressed the crowd to offer a touching, expletive-laden appreciation for their support. He then explained that, while he'd collaborated with Vans on shoe projects in the past, he'd made a big decision.
"I realized black people don't really own ... so I said, '... royalty checks. I'm going to start my own shoe line. And if it fails, it fails, but I wanted to see what the … happens.'" He added that the footwear line will be called Golf Le Fleur, and the first shoe is expected to drop before the end of the year.
Then, in a fun bit of stagecraft, he asked West (we told you we'd be revisiting Kanye) to come forward and deliver an envelope. After opening the envelope (and then briefly conferring with someone named Brad), the rapper explained its significance. "Each person who bought a ticket tonight is going to get a pair of my new shoes by the end of the year!"
As the crowd applauded wildly, Tyler, the Creator brought the evening to a close by pointing to various people in the crowd and offering up his best Oprah-on-giveaway-day impression. "You get a shoe! You get a shoe! You get a shoe!"
Pieces from the Golf 2016 runway collection (but not the yet-to-launch shoes) were made available for preorder at golfwang.com following the show, with delivery eight to 10 weeks down the line.
The big question coming out of Made LA's maiden voyage is whether this sort of hybrid industry/consumer event might be the solution to L.A.'s perennial fashion week woes (which include a several-year effort by a pre-WME-merger IMG to make an established L.A. fashion week a going concern). While that answer isn't likely to come quickly, one decision already has.
"Yes, we're looking at doing Made LA again next year," said Catherine Bennett, senior vice president/managing director for IMG fashion events and properties. "We're looking at dates with [partner] AEG but don't have a specific date in mind yet. I think, by all accounts, it was a great success."
Words that make the two-day, parking-lot-rooftop event feel even more like an L.A. love-in than it already did.
For more musings on all things fashion and style, follow me @ARTschorn.
MORE FASHION NEWS
Why office dress codes keep getting more casual
Want to make a summer splash? The one-piece is the swimsuit for the season
'Hamilton' costume designer on how he streamlined 18th century looks for a 21st century show
---