Handbag designer Kendall Conrad expands into footwear, brass jewelry
Fashion designer Kendall Conrad, who made her mark in handbags, is expanding into footwear and brass jewelry.
(Anne Cusack / Los Angeles Times)
Designer Kendall Conrad's self-titled collection of handbags, jewelry and shoes can be found in her three Los Angeles-area stores in Brentwood, Montecito and Venice.
(Anne Cusack / Los Angeles Times)
A new edition of Conrad's classic Marisol bag features a handstitched image on the front. Pictured here, Vallauris Marisol II in black bridal leather, $900 in Kendall Conrad stores.
(Anne Cusack / Los Angeles Times)
Though the line originally started with handbags, Conrad has added other items, like jewelry, to the selection. Pictured here, Gyro II gold plated solid brass bangle, $260, and Gyro I gold plated rings, $140.
(Anne Cusack / Los Angeles Times)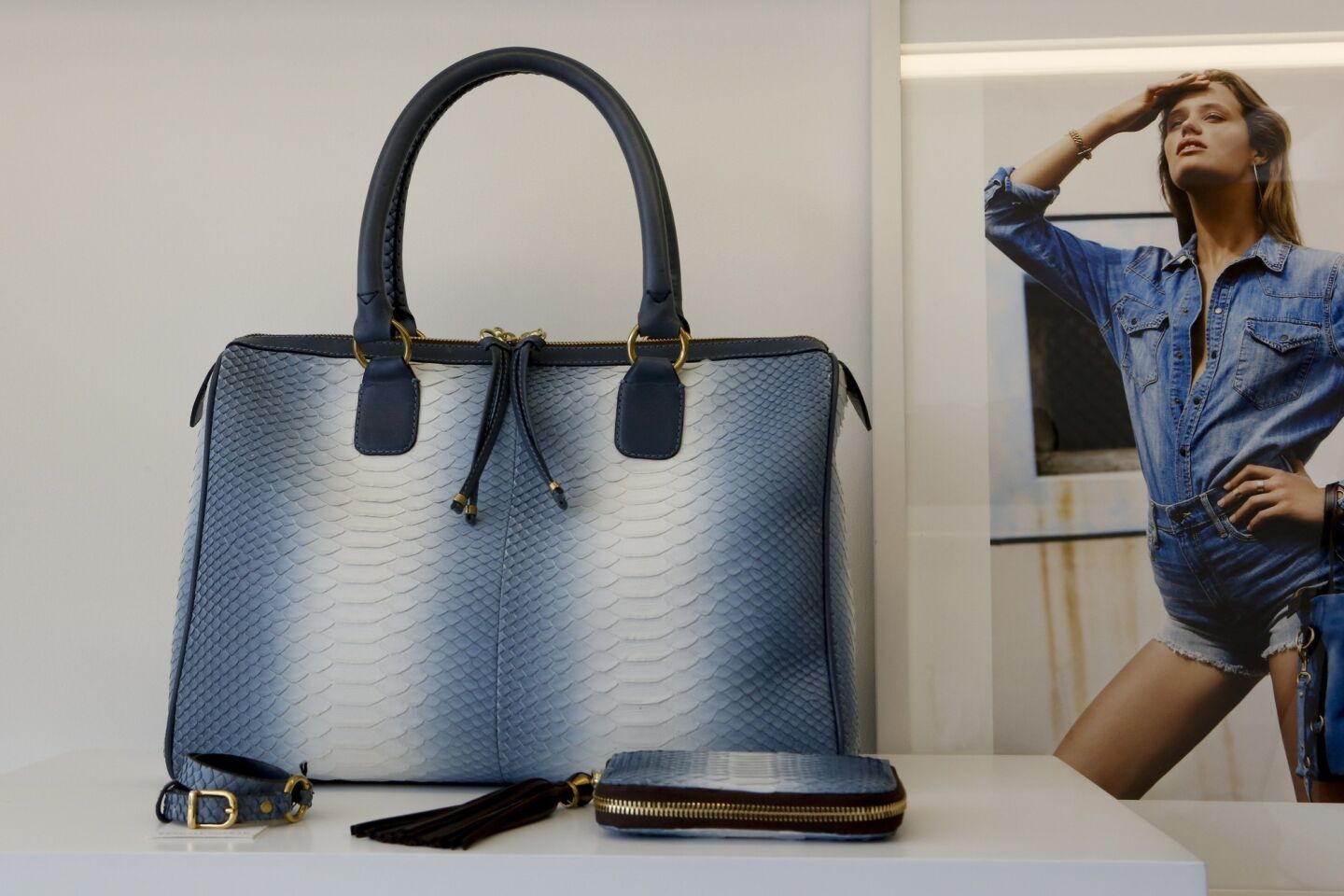 Conrad's newest collection is inspired by Pablo Picasso's Vallauris period. Pictured here, Narcisa II bag, $3,000; Pacha wrist wrap, front left, $320, and iPhone case and wallet, front right, $720.
(Anne Cusack / Los Angeles Times)
Many of this season's bags come in marine blue shades, in addition to more muted colors. Pictured here, Pacha bag in marine suede, right, $625; iPhone case and wallet in marine suede, front left, $380; Luz wallet in marine leather, back left, $450.
(Anne Cusack / Los Angeles Times)
In addition to marine blue, brass is a color option featured in Conrad's new collection. Pictured here, Pacha bag in brass leather, $670, and Pacha wrap sandals in brass leather, $420.
(Anne Cusack / Los Angeles Times)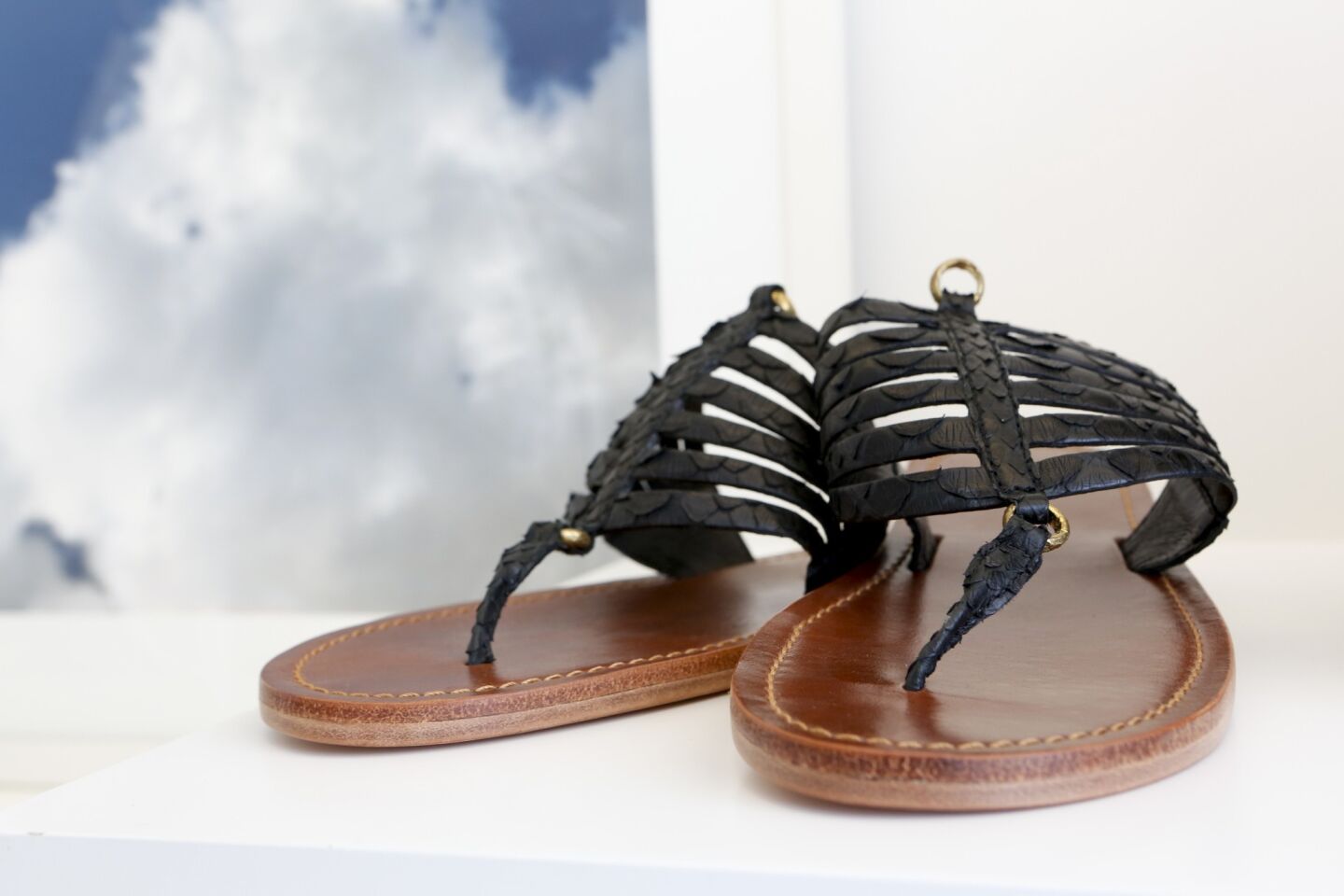 The "Cincha" sandal comes in four options, three leather and one snakeskin design. Pictured here, Cincha sandal in black matte snakeskin, $590.
(Anne Cusack / Los Angeles Times)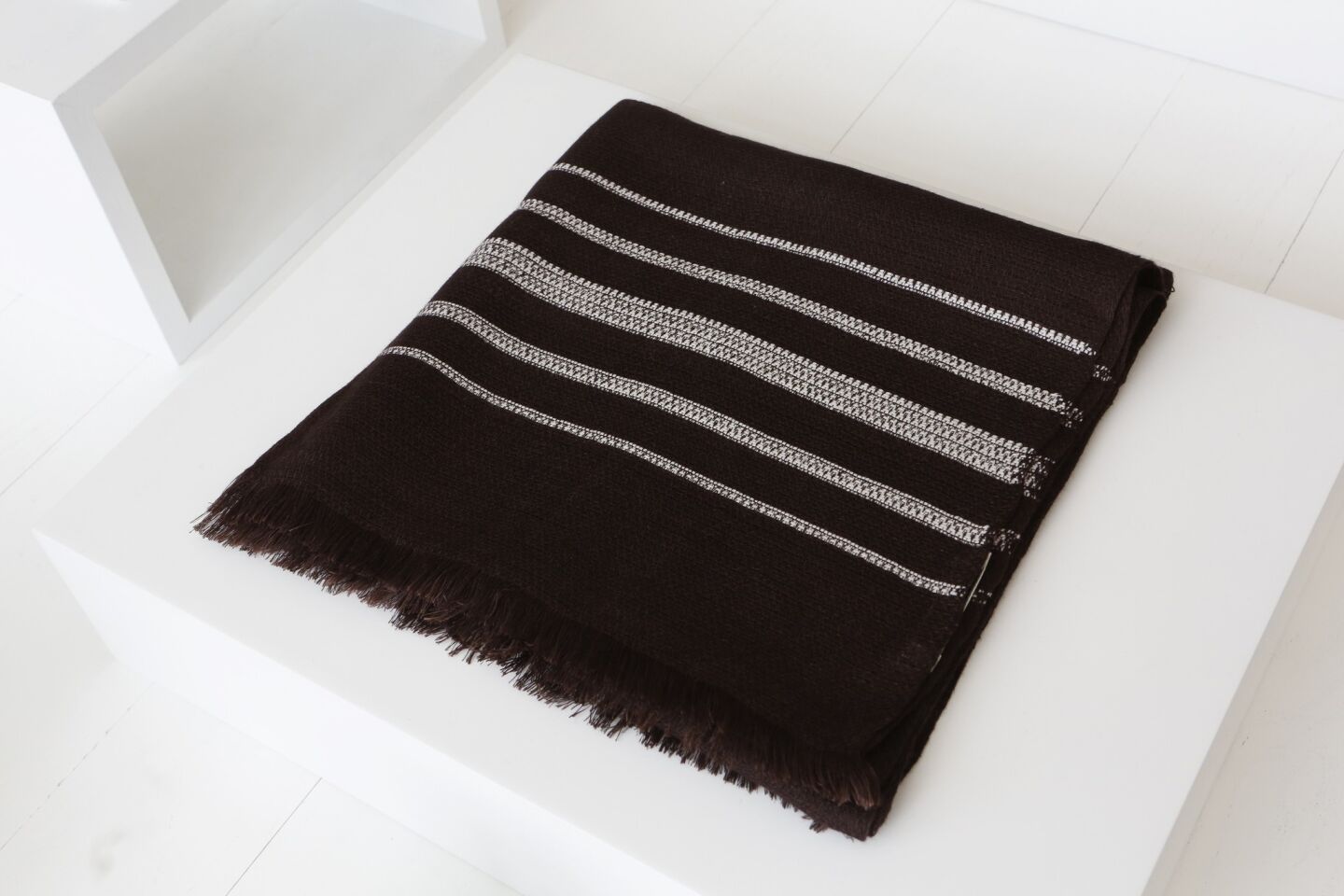 Conrad collaborated with I Pezzi Dipinti to create an exclusive line of handmade linen shawls and scarves. Pictured here, Vallauris scarf in chocolate and white stripes, $250.
(Anne Cusack / Los Angeles Times)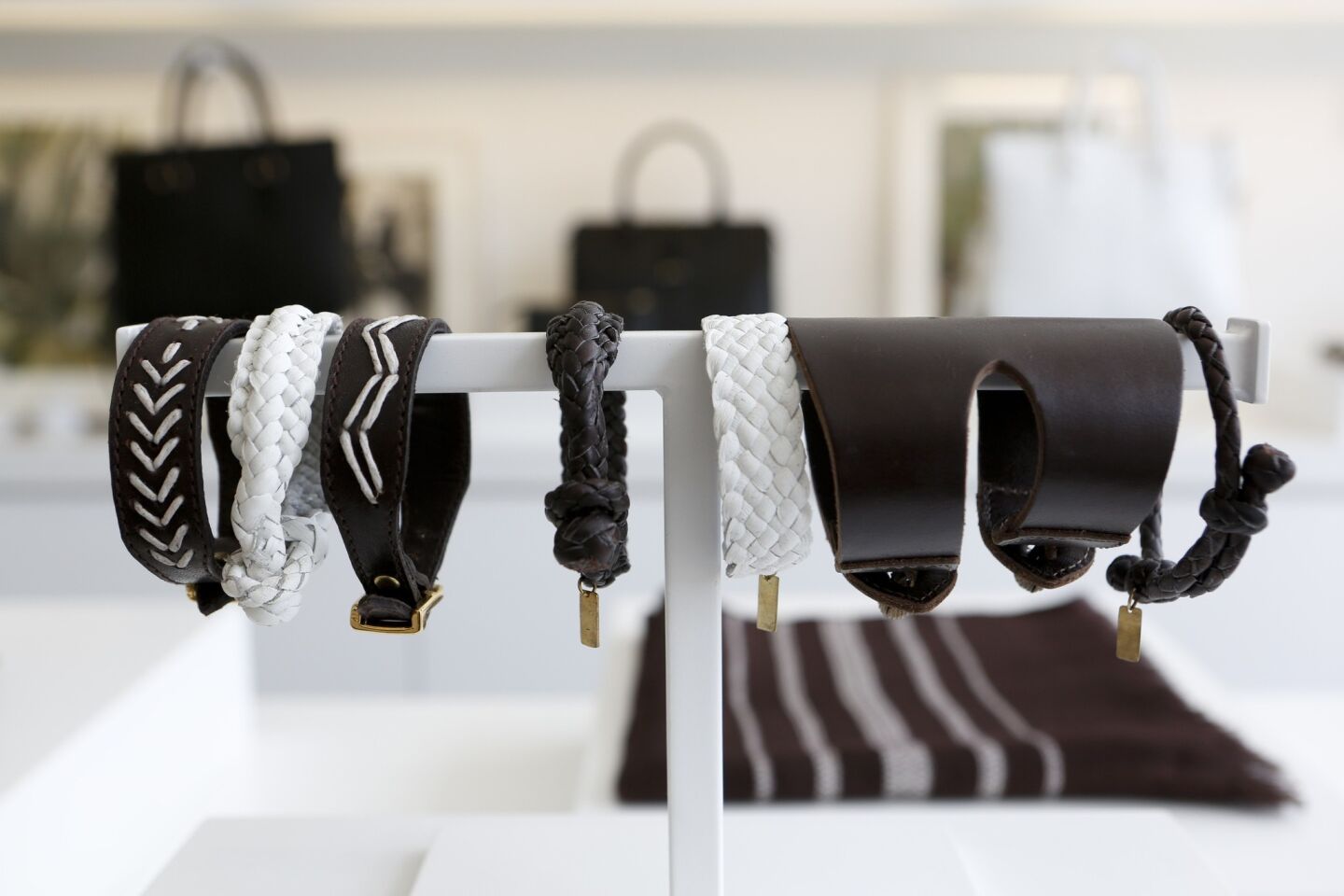 Hand stitched leather cuffs, ranging in price from $200-$215, are displayed at the store in Venice.
(Anne Cusack / Los Angeles Times)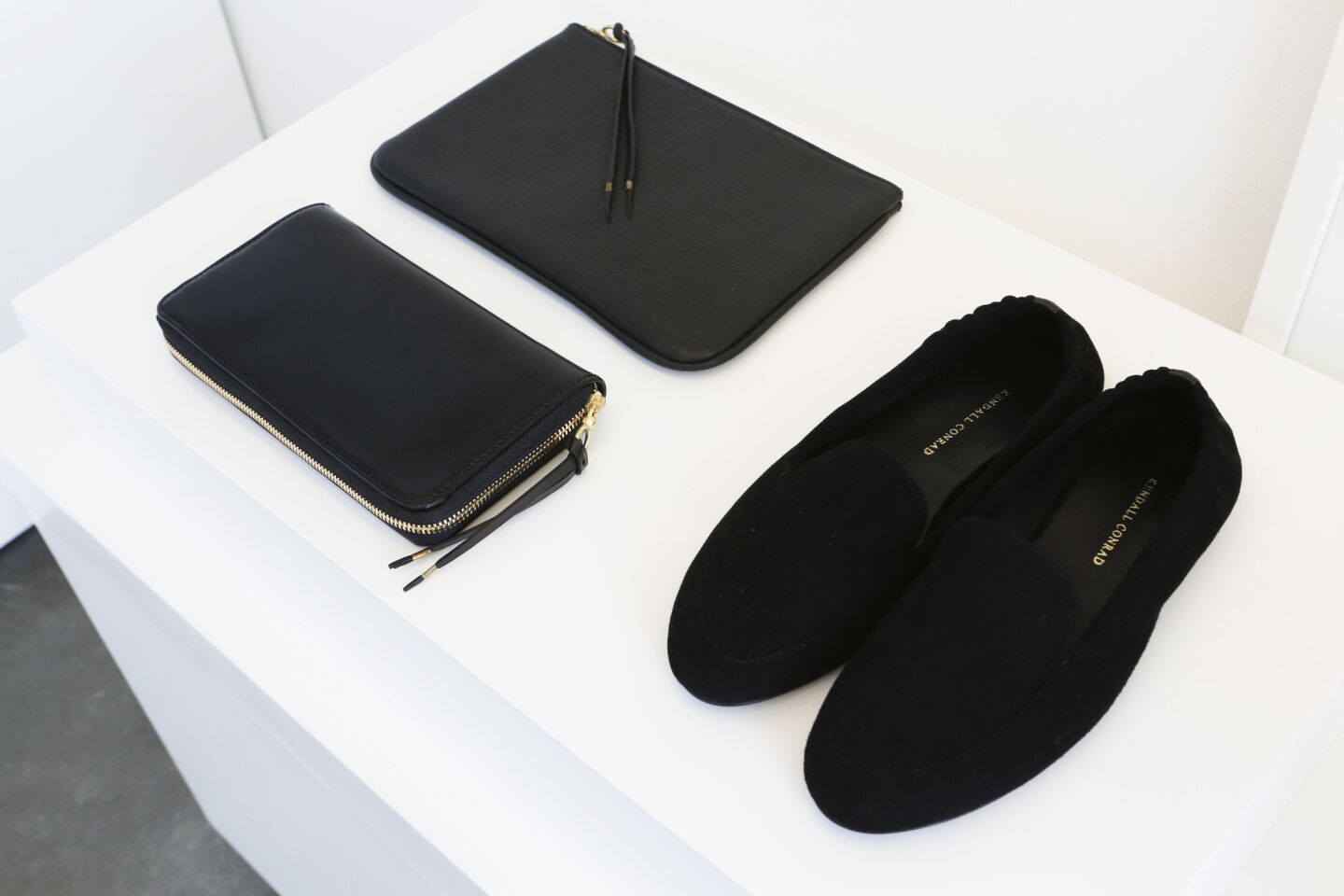 In addition to sandals, Conrad's line also has a pair of suede and lamb slippers. Pictured here, Manolete slippers, $450; iPad mini case in black Napa leather, top left, $290, and Luz wallet in black leather, bottom left, $450.
(Anne Cusack / Los Angeles Times)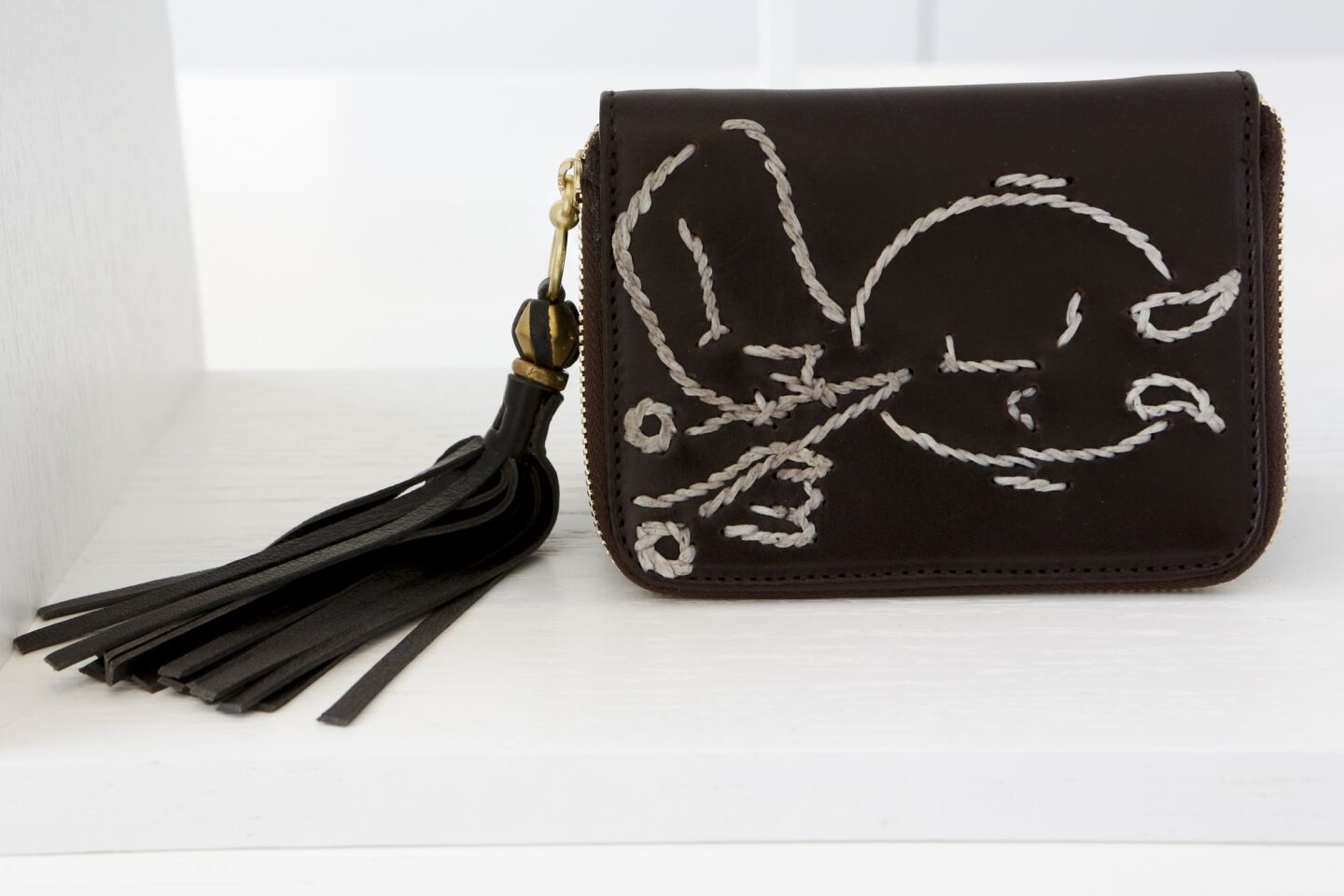 Conrad's iPhone cases also contain slots for credit cards, cash and business cards. Pictured here, Vallauris iPhone 4 & 5 case in chocolate bridle leather with faun image, $495.
(Anne Cusack / Los Angeles Times)
Accessories designer Kendall Conrad's face brightens on a recent morning in her sun-filled Abbot Kinney boutique as she flips through pages of playful owl sketches, images of black-and-white ceramic vessels with Minotaur faces and the color blue, Picasso blue.
She's turned to the books "Picasso: The Mediterranean Years" and "Picasso and Francoise Gilot: Paris-Vallauris, 1943-1953" to explain the arty inspiration for her spring Vallauris collection, which may be her best yet.
"He's my favorite artist ever, and a huge influence on me," says Conrad, who is dressed in denim cutoffs, a cashmere sweater and her own Pacha wrap sandals. "I zeroed in on the Vallauris period because that was such a happy time for him, when he was married to Francoise and living there with their small children. I was feeling springtime, happiness and beautiful blues."
The hues of the Cote d'Azur surf and sky are reflected in the collection's hand-painted ombre blue snakeskin Narcisa II bag ($3,000), the playful lines of Picasso's Madoura ceramics in the hand-stitched image of a faun on a black leather tote ($900). There's even a linen shawl ($980), made in collaboration with I Pezzi Dipinti, with white border stitching that resembles a line drawing. "It's naive, childlike, playful Picasso," Conrad says.
A former fashion model who used to split her time between Europe and L.A., Conrad returned to Santa Barbara, where she grew up, to raise children of her own. She started an accessories line, Tauro, in 2000 and quickly gained a following among tastemakers for her down-to-earth, Cal-Euro inspired handbags and leather cuff bracelets in luxe materials and muted colors.
"I couldn't find a bag I liked at the time, so I decided to make my own with a local saddle maker," she says. "I had him stitch up my sketch and it worked. Friends liked it and wanted one. Maxfield got behind me and [West Coast editor] Lisa Love put me in Vogue."
That bag — the Marisol ($525), a lightweight tote in bridle leather with hand stitching and two tassel details — is still a top seller.
She built a business wholesaling to about 50 stores, and then in 2007 pulled back, renaming the brand Kendall Conrad. Now, she sells out of her own boutiques in Brentwood, Montecito and Venice, and her website.
Business has been growing steadily thanks to bestsellers such as her iPhone case, a zip-around pouch with tassel detail that holds a phone and has slots for credit cards and cash. The style ($380 to $1,100) comes in leather, as well as alligator and snakeskin. For spring, she's added an optional wrist strap ($60). "It's all I ever take out at night," she says.
Other core styles are the Salamanca soft tote ($1,050 to $1,150) and the Campo ($980), an adjustable shoulder bag that converts to a backpack. "It's all about function," she says.
Conrad's handbags, which are produced in L.A., look particularly right at this moment, now that many women have overdosed on fashion logos and flashy hardware and are looking for something more understated.
The spring collection was 50% bigger than last season's, with eight new bag styles, including the Chiquita ($550 to $575), a small cross-body bag that comes in white, black or brass-colored leather and marine blue suede.
Over the last few years, Conrad has been gradually introducing new product categories, namely footwear (strappy flat sandals and minimalist suede slippers, $390 to $450) and brass jewelry. Pieces include organic-looking stacking rings and bangles ($36 to $310) that appear as if they could have been tumbled by the sea; "Toro" bracelets ($475) with tiny chaquetilla jacket, bull and flamenco dancer charms; and horn-shaped Islero hoop earrings ($220). New this season are Islero ear cuffs ($40), inspired by a bull's nose ring, which Conrad describes as "art for the ear."
Besides Picasso's, she has plenty of stories from which to draw inspiration. The designer's father was Barnaby Conrad Jr., described in his 2013 L.A. Times obituary as a "bullfighter, bon vivant, portrait artist, saloonkeeper to the stars, author of 36 books, and founder of the Santa Barbara Writers Conference." His 1952 novel, "Matador," sold 3 million copies, and John Steinbeck chose it as his favorite book of the year. Royalties from the book provided Barnaby Conrad with capital to open El Matador nightclub in San Francisco in 1953.
He took his family with him to bullfights in Spain and Mexico. And when Kendall started designing, it was the romance and pageantry of the sport, combined with her own passion for horseback riding, that drove her.
"The Islero collection of jewelry is inspired by the bull that killed Manolete, the most celebrated bullfighter of his day. Islero is a hero bull, a rock star bull," she says. (Her father's pencil-drawn portrait of Manolete, which he completed while visiting the bullfighter in Peru, is one of her most prized possessions.)
But despite her literary upbringing (Joan Didion, Gore Vidal and Ray Bradbury were regulars at her parents' house at Rincon Point), Conrad doesn't do much writing. "I hate it," she admits.
Her platform of choice? Instagram. Her account is a gorgeously curated gallery of images, including art, fashion photography and bullfighting of course. "I express myself there a lot," she says. "You can post your mood board ... people get a real sense of what your aesthetic is about."
Next up for the designer? She's going to start wholesaling again. And she's working with some new materials. For fall, she's making jewelry with wood from California walnut trees and more shawls with I Pezzi Dipinti, this time in cashmere.
"I don't have a title for the collection yet," she says. "But it will have a Spanish gypsy vibe. I can hardly wait."
KENDALL CONRAD
Where: 1121 Abbot Kinney Blvd., Bldg. 3, Venice
When: 11 a.m. to 7 p.m. daily
Information: (310) 399-1333; www.kendallconraddesign.com