Barneys New York has L.A. Stories to tell after its redesign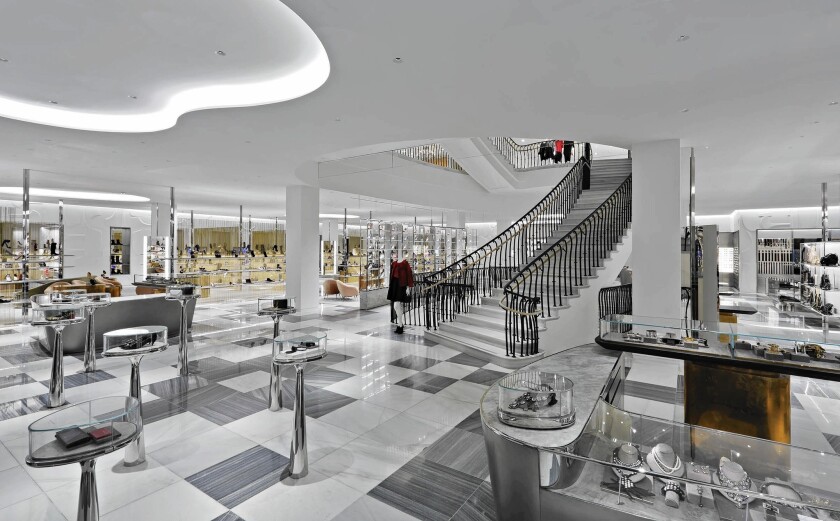 Los Angeles Times Fashion Critic
Just in time for its 20th anniversary, celebrated on Wednesday night, Barneys New York in Beverly Hills has had a face-lift.
The main floor, cosmetics floor and men's fifth floor have all been redesigned, and the store includes the first Freds restaurant on the West Coast, creating a new, see-and-be-seen scene in Beverly Hills, complete with terrace tables with views of the Hollywood sign.
Shoppers will notice the changes immediately. The store's curving Regency-style staircase remains the centerpiece, except now, that curving motif is being carried throughout the design of the store and its fixtures, which have a soft but modern style that might be described as organic minimalism.
In the expanded shoe and leather goods departments, much of the space is divided into alcoves, or curving displays with sheer brass rod curtains, creating openness but with twists and turns that encourage browsing and discovery.
The shoe department is now located on the east side of the main floor, and the corner window at Wilshire and Camden has been opened up to let some California sunshine in on $1,350 tweed sneakers and other offerings from Chanel (this is the first time Chanel shoes have been carried in the store).
Jewelry is displayed in glass and marble vitrines, each one designed with a different shape. There is a dedicated room for the rough-cut, surf-and-sea jewels by L.A.'s Irene Neuwirth, one of several local designers Barneys has championed and nurtured. Another one of those designers, Juan Carlos Obando, has his liquidy-luxe evening wear featured in the store's main windows on Wilshire.
Also on the main floor, there are dedicated spaces for Céline, Givenchy and Saint Laurent leather goods, although Mark Lee, chief executive of Barneys New York, explained on a recent tour of the space that unlike at other stores, the spaces are not leased out.
"That's one of our main points of difference," he said. "We're not a department store. We actually think of ourselves as a big specialty store. The whole world has been chopped up into stores-within-stores, with concessions and leases. We want to be the opposite. The intent was to brand the floor and the store as Barneys and not give it over to other individual brands, which is why you don't see another brand's logo, lamps or carpeting."
The goal of the new architecture and design was to let Barneys' eclectic gallery of luxury product from around the world really shine, Lee said.
On the fifth floor, Barneys' roots as a men's haberdashery, first opened in New York in 1923, show through the array of offerings, from classic Kiton and Isaia cashmere suits, to the latest loud-print Christian Louboutin high tops and Vans slip-ons displayed in the new shoe rotunda around the staircase. Edgier men's sportswear brands, including Junya Watanabe and Rick Owens, remain on the fourth floor.
And unlike the previous fifth floor restaurant, Barney Greengrass, which was hidden from the retail floor, Freds opens up onto the men's department. The eatery has a more modern, streamlined look, with seating that wraps around the outside of the building, for dining or cocktails.
The renovation of the Beverly Hills store began last year when the cosmetics department was moved to a newly created selling space on the lower level. It is part of a larger strategy by the retailer that also includes the renovation of the Madison Avenue flagship in New York. "What we started a few years ago at Madison is to claim our own identity in terms of what Barneys stands for, both from a merchandising and décor point of view," said Lee, a veteran executive of Gucci Group who has been Barneys' CEO since 2010, when he was appointed to turn around the fortunes of the struggling retailer owned by Dubai-based private equity firm Istithmar.
Barneys tapped New York-based Steven Harris for both the Madison and Beverly Hills projects, the first retail ventures for the architect known for high-end residential work. (Fashion designer Mary-Kate Olsen and Olivier Sarkozy recently hired Harris to renovate their Manhattan townhouse.)
Lee said the rest of the Beverly Hills store will be renovated within the next two to three years.
To celebrate the store's new look, Barneys' fall campaign is titled L.A. Stories, featuring photographs by Bruce Weber of style in the city, as seen on models, students, even a pizza deliveryman. There are exclusive L.A.-designed items available in store, and enhanced content on the website spotlighting L.A. designers and their favorite local spots. (Band of Outsiders designer Scott Sternberg, for instance, shares his favorite medical marijuana shop.)
"I know it often seems like we're very New York-centric, but we embrace L.A.," said Lee, who recently bought a 1950s bungalow in Beverly Hills with his partner Ed Filipowski, co-president of the fashion PR firm KCD. "L.A. is our number two market… And the lifestyle here has been exported all over the world."
For the opening celebration Wednesday night, Barneys partnered for the third year with Heart of Los Angeles (HOLA) to host a shopping event to raise funds for the downtown community center. A short film by Melodie McDaniel was screened, spotlighting the center's work creating educational opportunities for kids. And Barneys created a $50 "LA Stories" candle, for sale in store now, with 100% of proceeds to be donated to HOLA.
So what does L.A. smell like?
"Santa Ana winds?" Lee joked. "It's purely subjective," he said. "But I will go so far as to say it smells better than New York."
Barneys Beverly Hills
Where: 9570 Wilshire Blvd.
When: 10 a.m. to 7 p.m. Monday, Tuesday, Wednesday, Friday and Saturday; 10 a.m. to 8 p.m. Thursday and noon to 6 p.m. Sunday
Information: (310) 276-4400, https://www.barneys.com
---