Angela Bassett shares her skin care and style secrets and the list of designers she adores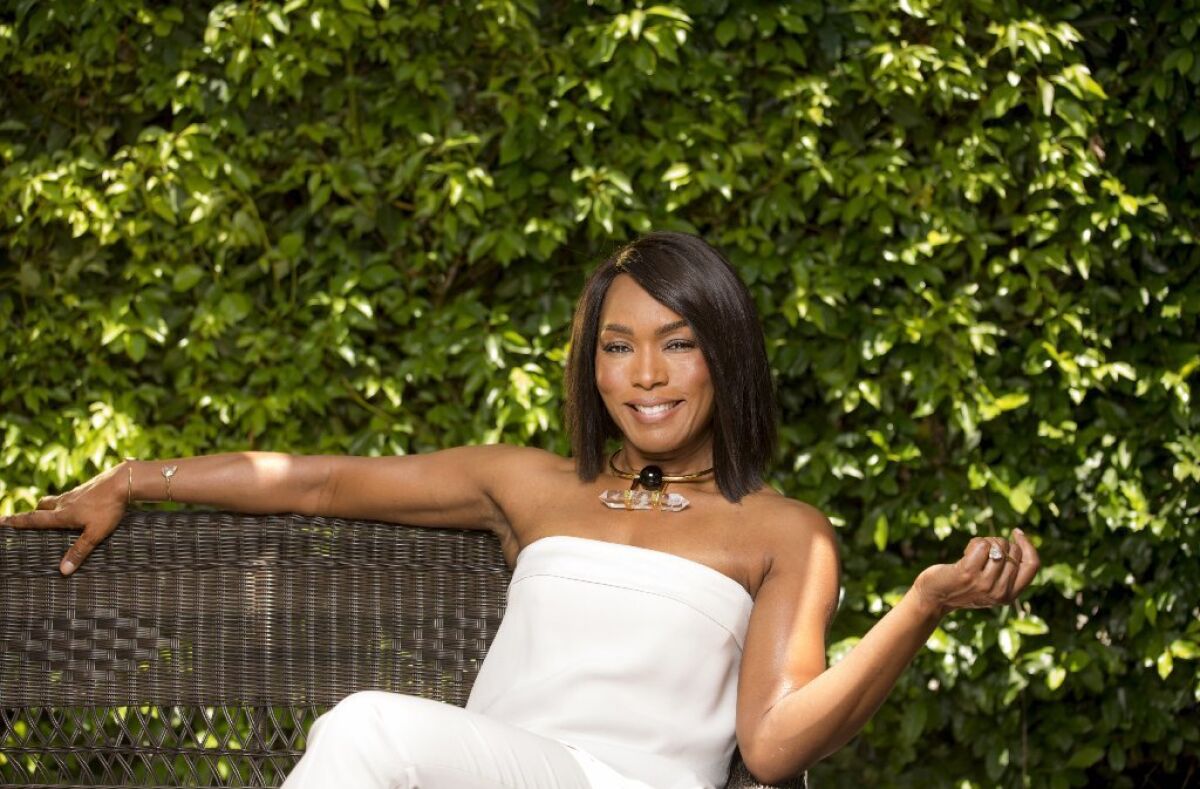 On a recent summer day, Angela Bassett took a break from filming Season 6 of "American Horror Story," which premieres Sept. 14 on FX, to have coffee in La Cañada Flintridge and talk about everything from her new beauty partnership to her diet and fitness tips.
One of the first things you notice about her is her radiant skin — a beauty signature. So it makes sense that the 58-year-old Academy Award and Emmy nominee and Golden Globe winner teamed up with German doctor Barbara Sturm, a skin specialist and former orthopedic surgeon, to create a luxury skin care collection primarily for skin of color.
The unisex Dr. Barbara Sturm Darker Skin Tones line (products range from $70 to $300; available at www.supertanker.us and Shen Beauty) debuted in July with two cleansers (foaming and exfoliating), two face creams (lighter and richer formulations) and hyaluronic serum.
"Angela and I started by sharing beauty philosophies, including things we learned from our mothers and grandmothers," said Sturm, who counts Cher, Jada Pinkett Smith and Rosie Huntington-Whiteley among fans of her Dr. Barbara Sturm skin care collection, which launched in 2011.
"We recognized that skin of color has its own special set of needs and that, strangely, there had never been a luxury ingredient skin care line developed to address these needs," Sturm continued. "I got to work on the science, and Angela got sample after sample to test with friends and family and generate comments. This process took nearly two years until we felt we had it just right."
And all of their work led us to a coffee date with Bassett. Here's an excerpt from our conversation.
Tell us about your new skin care line.
I have a lot of access to things and I love lotions and potions and trying this and that. But after a while, I get overwhelmed. … There can be power and truth in simplicity. It either works for you or it does not. It's consistent or it's not. Backed by not just your hopes but by results that you can quantify and visibly see. And that seemed to be Barbara's [philosophy] as well. I was really impressed by her research and background as a scientist.
And you saw a gap in the market for skin care products for darker skin tones?
Skin is skin, but African American skin has particular attributes. It's robust and thicker. We have natural sunscreen. It can be oily, which can aid you as you get older. It has a lot going for it, but we can also get hyperpigmentation in the sun. So we are trying to deal with various color differentials in our skin. And the keloid scarring, if you're prone to that, can cause any little scratch to become something. So we address those sensitivities.
Did you ever have problems with your skin?
My mother imprinted on me early in life to take care of my skin. When you're an adolescent, hormones are jumping and you see that playing out on kids' faces, along with the environment and diet and all the sweating with sports. You can be a mess. My mom saw there was an acne problem with her siblings. So when I was in eighth or ninth grade, she took me to a dermatologist.…
She probably only made about $9,000 a year. That made an impression. And who knew I would go into the industry I'm in, with all the observation and scrutiny? When I met Barbara, I had stripped and inflamed my skin and created breakouts and rashes. So she got it under control again.
What is your typical beauty regimen?
I use my cleanser, hyaluronic serum, light cream and Dr. Sturm eye cream. If I'm going to work out, I use an oxygen spritz by Skin By Mamie [Bassett's facialist in New York]. I like Miss Dior fragrance, and I always put on coconut oil — skin is the biggest organ! Today I put on a little Dior mascara and lip gloss by my makeup artist D'Andre Michael. We've been together for years.
I use Bobbi Brown blush to give my cheeks some rosiness and I like Kevyn Aucoin foundation. I would have to spend an hour if I wanted to look half as good as what D'Andre does. But I can't do all that. So I try to keep my skin in good condition so I don't have to depend on foundation. For hair, I work with Randy Stodghill. I just try to be classic and look healthy; I don't want to try too hard to be anything.
Whose beauty in Hollywood do you admire?
I admire Lupita [Nyong'o]'s natural beauty — the perfection, the luminosity, the even skin, the natural hair, and the play along with it. Gorgeous. Another pretty girl is Zoe Saldana. Salma Hayek has a beautiful, voluptuous figure and lovely hair. And Nichelle Nichols. I haven't seen her in a while, but she was an icon to me — graceful and classic and just joyful.
You're in amazing shape. Any secrets?
Last year, I started doing TRX training with Rob Thompson of Get Fit By Rob. We start with low cardio — maybe run half a mile, then lift barbells while stepping up onto a bench and do a few machines.… He gives me food goals that I plug into MyFitnessPal app. I bring chicken and steamed broccoli or asparagus with me to the set — good lean protein, vegetables and salad. I just found this P28 [High] Protein Bread and I add tuna fish with yogurt, Dijon mustard, a little paprika and pepper, a couple olives and red bell pepper. It's protein with protein. So you've got a sandwich without feeling guilty!
Guilty pleasures?
Red wine and cake. That's a terrible combination! Not together. Red wine with chips. And cake.
What are some of your favorite fashion brands?
I really like Victoria Beckham dresses; the silhouettes fit so well. And I am a big fan of Givenchy, Proenza Schouler and Zac Posen — especially for red carpet. BCBG Max Azria is also a great brand and well-priced. For shoes, I wear Giuseppe Zanotti, Jimmy Choo and Rene Caovilla.
What are you wearing now?
This is just [a simple turquoise maxi-dress with spaghetti straps] I picked up, and I've had this sun hat for a long time. It's made by a friend of mine from New York, the milliner Jacqueline LaMont, and it works to keep the sun off my face. I didn't grow up understanding the importance of that because, you know, African Americans have a natural sunscreen.
But now that I have kids, I'm always saying, "Cover up and wear your sunscreen." My cousin gave me this [silver] cuff bracelet with the 23rd Psalm inscribed on it. I love cuffs. I love bold jewelry. These hoop earrings are by Simone [Smith], LL Cool J's wife. And I'm wearing FitFlops [black with studded detailing] because I have flat feet so the arches keep them cushioned. I just like to put on some slip-slides and keep going. Be casual.
And last, how do you define beauty?
Real joy and peace from the inside. I think that's what's meant by aging gracefully. The wonder of life. The goodness of others. People who have a level head, a ready smile and are open to expression and creativity, things that are positive. I think that's where it starts, as opposed to being obsessed with that which ultimately fades and diminishes.
---