Attico designers take inspiration from 'Grey Gardens' as they build on their 'modern vintage' approach
Don't call them "it" girls. While many in today's social-media driven world can only dream of being anointed such a title, Giorgia Tordini and Gilda Ambrosio, the Italian designers behind Milan-based fashion label Attico, aspire to be known for much more. In fact, Tordini groans when their early beginnings are brought up.
"Ugh. That's a painful topic," Tordini said during a recent interview at Saks Fifth Avenue in Beverly Hills, where Attico's spring/summer 2018 collection is available. (Fall 2018 selections from the label will be available at the Beverly Hills store, and some pieces can be pre-ordered now on www.saksfifthavenue.com.)
Admittedly, the women first attracted paparazzi attention as guests at Paris, Milan and New York fashion weeks, but they now prefer all focus to be directed toward the well-dressed women who have quickly embraced Tordini and Ambrosio's self-described "extravagant" and "exaggerated" label since its 2016 launch.
"The exposure helped us," Tordini said of the duo's early days. "It was a tool for us to let everyone know we were launching a brand. Of course, we are the best ambassadors."
Attico has since racked up more than a few celebrity fans. Margot Robbie, Naomi Watts, Michelle Williams and Naomi Campbell have all recently been spotted in the label's designs. "When we started, we would have never thought we would see it, in [only] five seasons, on so many girls," Tordini said. "Every time, we're like, 'Oh my God.'"
Attico's spring/summer 2018 collection was inspired by the 1975 David and Albert Maysles documentary "Grey Gardens," and it's as eccentric and eclectic as the women in the film. Pieces include a tie-dyed silk wrap dress, a red sequin evening gown, satin embroidered black bags and glitter open-toe mules, with items ranging between $142 for a bag to $2,725 for a wrap dress. "Of course, in our world, money's a bit different," Tordini said, acknowledging that the label's pieces are significantly more opulent than the designs worn by "Grey Gardens" mother-daughter duo, Edith and Little Edie Beale.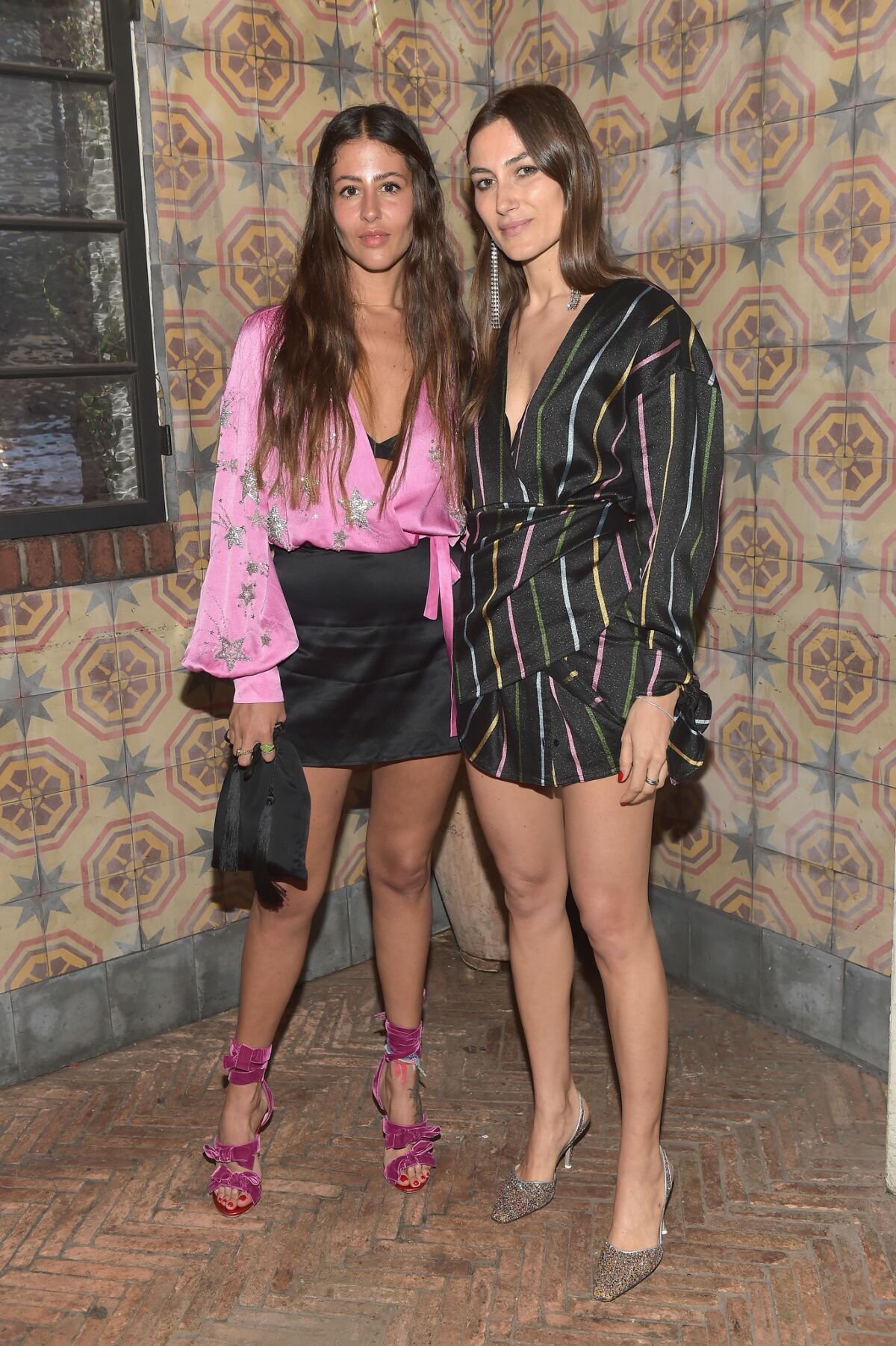 The line's variety stems from the designers' opposing tastes. Tordini typically opts for more minimal, clean and classic looks, while Ambrosio prefers pieces that are bold and daring. "The challenge, since the beginning, was how to mix these two very different styles with each other," Tordini said. "We've been trying to find a code for the brand, and now it's very clear what it is."
They call Attico's aesthetic "modern vintage," explaining that all pieces are inspired by different eras. "Attico is always a mix of decades," Tordini said, likening it to entering someone's closet where you might find anything from a 1940s-inspired tea dress to an '80s look with puffy sleeves. "That's how our closets are — a big mix of things," she said.
Tordini and Ambrosio first met through mutual friends. "We had a good feeling about each other," Tordini said, adding that they had similar backgrounds, having both attended fashion school and consulted for various brands.
"We both had been in the fashion industry for a while," said Tordini, sharing that upon joining forces, Attico came together within six months. "We already had the right partners for distribution and production. So we said, 'OK, let's do it.' It happened just like that," she said.
Their concept for the label surrounded two women living in a penthouse. ("Attico" means penthouse in Italian.) Tordini said they initially wanted to address "what women wear while lounging."
The brand has grown significantly since then. While its first collection featured 38 pieces, mostly luxurious robes and slip dresses, Attico has since evolved to include separates, eveningwear, shoes and bags. Like any ambitious label, the goal is to become a lifestyle brand, and the pair hope to one day open a Los Angeles-based boutique.
"We come to L.A. often because we find so much inspiration here," Tordini said, sharing that they usually visit twice a year. "L.A. is a good place for us to create." The two usually spend their time visiting museums and vintage stores.
However, this recent visit proved to be mostly business with a work-related brunch in Venice Beach with Rosie Huntington-Whiteley and a Saks-hosted dinner at A.O.C. in West Hollywood with fellow influencer-turned-designer Chiara Ferragni. "We always get a hotel with a pool and we never go to the pool," Tordini said. "But it makes us feel safe to know that the pool is there in case we have five minutes of free time."
For fashion news, follow us at @latimesimage on Twitter.
---