Emma Stone, Lupita Nyong'o and John Krasinski pop in for star-studded BAFTA tea
So many guests at Saturday's star-studded BAFTA tea party at the Four Seasons Hotel Los Angeles crowded in to greet "Mary Poppins Returns" star and Golden Globes contender Emily Blunt and her husband, actor-writer-director John Krasinski, that a jam-up occurred in the doorway to the party venue. As the power couple inched into the room, Rob Marshall, director of Disney's "Mary Poppins Returns," closed in for a hug.
Nominee Regina King remained outside the ballroom for a while, avoiding the crush. Nominated for "If Beale Street Could Talk" and "Seven Seconds," the actress told us, "They're totally different roles … and yet they're similar because they both deal with women that are dealing with systemic issues in America.… I just feel lucky that they both happen to fall in the same year — as one shines light on the other."
Inside and outside the main ballroom, star power defined this shindig.
The event
The BAFTA tea party, put on by BAFTA Los Angeles at the Four Seasons Hotel, paid tribute to the film industry's top talent by celebrating this year's winners and nominees. Presenting the event for BAFTA — that's the British Academy of Film and Television Arts — were American Airlines, BBC America, Jaguar and Land Rover.
The scene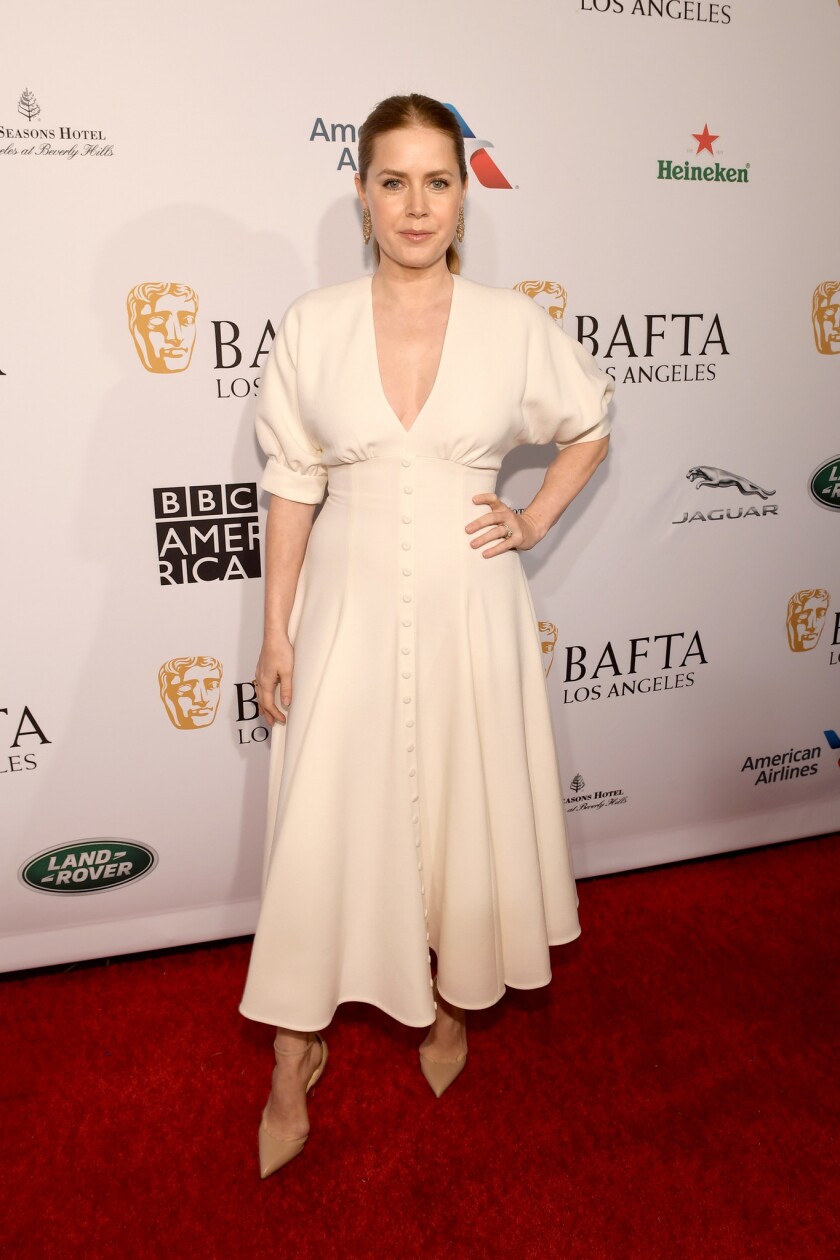 A traditional high tea, the afternoon affair offered a generous supply of scones, sandwiches and tea cakes, along with tea and cocktails. However, most guests appeared to spend more time mingling than munching.
The crowd
Golden Globe nominees stopping by the event included actors Glenn Close, Melissa McCarthy, Rosamund Pike, John David Washington, Willem Dafoe, Olivia Colman, Elsie Fisher, Viggo Mortensen, Amy Adams, Claire Foy, Emma Stone, Rachel Weisz, Timothee Chalamet, Adam Driver, Caitriona Balfe, Rachel Brosnahan, Sacha Baron Cohen, Daniel Bruhl, Patricia Clarkson and Thandie Newton as well as directors Alfonso Cuaron, Adam McKay, Peter Farrelly and Spike Lee and "The Favourite" co-writer Deborah Davis.
More conversations
Appearing in "The Favourite," "Boy Erased" and "Mary Queen of Scots," rising star Joe Alwyn called it an honor to be at the Golden Globes, adding, "To be in a movie that people respond to so well is a bonus on top of that."
Coleman Domingo described his experience in "If Beale Street Could Talk" as "incredible, especially because it's James Baldwin's words and that means the world to me." Calling the film "a tragedy wrapped in a love story," he added, "I'm so blessed in my career to be a part of things that really matter."
There was plenty of style in the room, but we had to ask Songwriting Hall of Famer Diane Warren about the messages on her jacket — a starburst reading "pow," a musical note and rhinestones spelling out the word "love." She replied, "What could be better than 'pow, music and love.'"
Ellen Olivier is the founder of Society News LA.
For fashion news, follow us at @latimesimage on Twitter.
---