King Tut-themed Discovery Ball raises more than $1.6 million for California Science Center
At the California Science Center, actors dressed as excavators strode through the crowd on Friday night, carrying equipment to reconstructed archaeological digs.
Their appearance during cocktail hour was part of the annual Discovery Ball, which offered guests a chance to preview the center's new "King Tut: Treasures of the Golden Pharaoh" exhibition.
On hand were other characters including fictitious Egyptologists offering to interpret the names of guests in hieroglyphics as well as women carrying parasols explaining how they whiled away the hours as their men searched for King Tutankhamun's tomb.
All of this was just to set the scene before guests stepped into the actual exhibition and before dinner.
---
The event
The Discovery Ball, an always-elaborate annual affair, raised more than $1.6 million for the California Science Center. The 20th-anniversary event offered guests a first look at the largest King Tut exhibition that has ever toured.
It also offered them a lamb shank dinner beneath the space shuttle Endeavour; after-dinner dancing alongside flappers and bare-chested Egyptian men; and as a finale, a private Imax screening of "Mysteries of Egypt."
According to organizers, the "King Tut's Treasures" exhibition is nearly triple the size of any previous tour and has more than 150 artifacts on display from the life and death of the 19-year-old Egyptian ruler. This time there's scientific DNA analysis presented in the exhibition to describe King Tut's health, ancestry and death. Also on display are alabaster bowls, gilded sculptures, ebony-and-ivory inlaid chests, golden gem-set jewelry and more.
Also, videos help tell the exhibition's stories, including one that begins with Howard Carter, the British archaeologist who unearthed the tomb in 1922, and ends with snapshots from recent times including Steve Martin, Cher, Madonna and Johnny Carson, all decked out as pharaohs.
The crowd
Ascending the stage in the center's Samuel Oschin Pavilion, Los Angeles Mayor Eric Garcetti made a reference to ancient Egyptian mythology, jokingly pointing out the space shuttle Osiris, a.k.a. the Endeavour, which was transformed through video mapping to resemble a mummy's tomb.
Garcetti welcomed guests including astronauts Robert Curbeam, Greg Johnson, Danny Olivas and Garrett Reisman; and Los Angeles Football Club members Tyler Miller, Aaron Kovar and Walker Zimmerman. Raul Anaya and Dennis Arriola served as event co-chairs.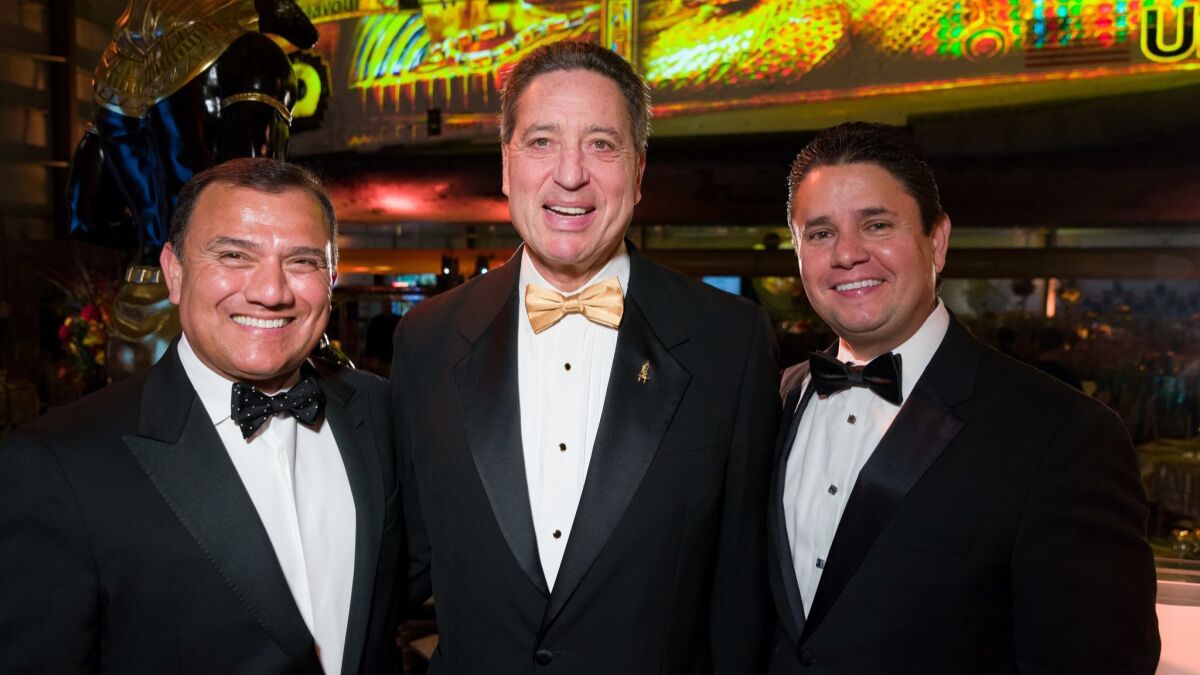 The quote
"At a time when we think that we can't come together as a nation, just look around here," Garcetti said. "Democrat, Republican, folks from every ethnicity, every age — we come together because as Americans and world citizens we believe in the large human family that has brought us here together — a family that aspires to reach the heavens in vehicles like [the Endeavour].
"And we aspire to be together to think about the history that has brought us here, whether it's the Egyptian underworld, or whether it's the way that nature works [in the exhibitions] just behind the doors here," he continued.
Before leaving the stage, Garcetti also spoke about the recent ground-breaking ceremony for the Lucas Museum of Narrative Art. He recalled filmmaker George Lucas telling him that he could imagine the day "there will be a child from this neighborhood who will walk into [the Lucas Museum] and see what we did when we were imagining Star Wars — what it would be like to go into space — and then that same child can go to the opposite end of Exposition Park and go in here and see how we actually did it."
The numbers
More than 900 guests attended the gala with tables for 10 ranging from $10,000 to $50,000 and individual tickets priced at $2,500 for two.
'King Tut: Treasures of the Golden Pharaoh'
Where: California Science Center, 700 Exposition Park Drive, Los Angeles
When: Through Jan. 6, 2019
Info: (323) 724-3623, californiasciencecenter.org
For fashion news, follow us at @latimesimage on Twitter.