The L.A. vintage shop that has the fashion world knocking on its door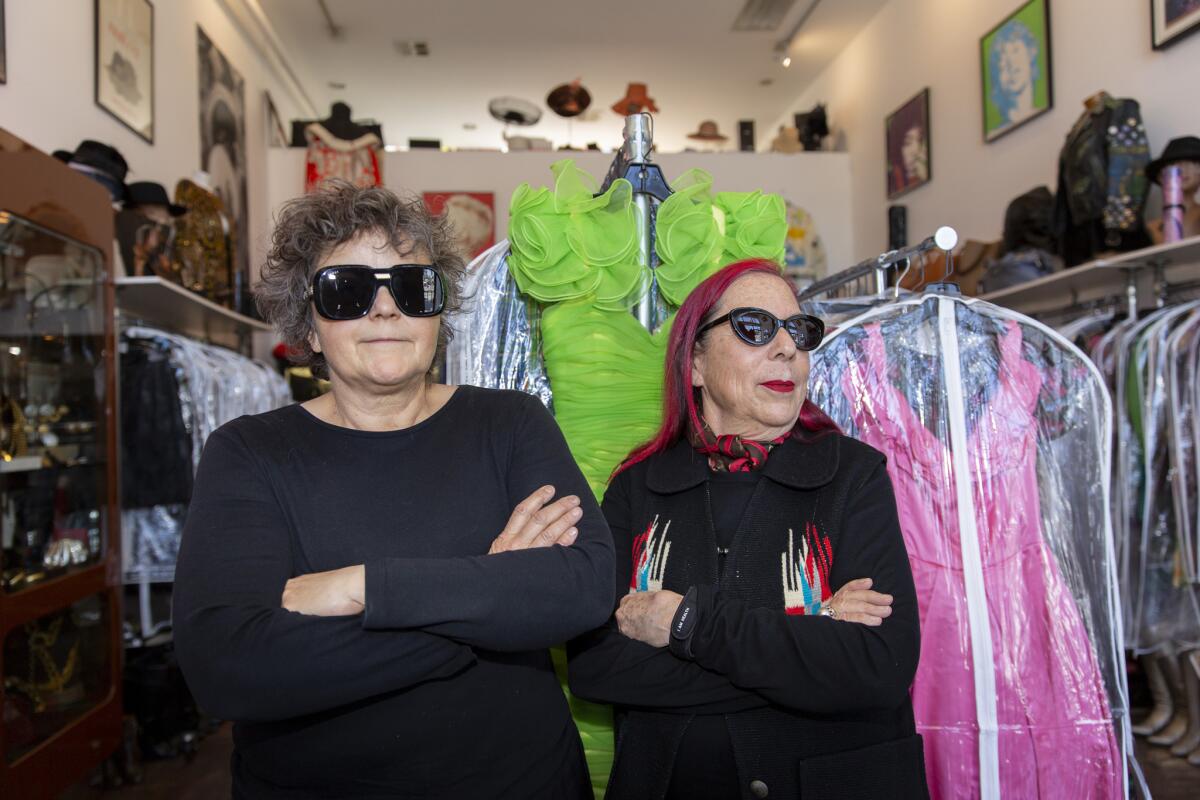 Supreme may have transformed Fairfax Avenue into a global destination for streetwear, drawing lines of box-logo fanatics so long and unwavering that the brand recently had to institute a text-message paging system to better manage its ritualized Thursday "drops."
But some of the world's most sought-after stylists, costume designers and creative directors keep closer tabs on a tiny, nondescript storefront just a few doors up the street.
The shop, Catwalk, looks to the untrained eye like any other vintage store. There is no line outside and no fanfare to greet you, just three scruffy terriers — Betty White, Lil Mary and Gina — that hang out near the front door and bark hello. The floor is crowded with racks. It is roughly the size of a large walk-in freezer.
Yet Rihanna's head stylist, Mel Ottenberg, stops in regularly for what he calls "the exceptional mix of extraordinary clothes." Tamara Mellon, co-founder of Jimmy Choo, says that "a lot of the great Jimmy Choo designs came out of that store." And stylist Law Roach, whose clients include Zendaya and Ariana Grande, and who recently styled Grande's pink fever dream of a video for "7 Rings," refers to the shop's owners, Renee Johnston and Michelle Webb, as his "fashion fairy godmothers."
Wander into Catwalk and you are likely to encounter both Johnston and Webb, because they do not employ anyone else. On a recent Saturday afternoon, the two could be found thumbing through a cluster of racks near the front of the store that many "fashion dignitaries," as they describe their customer base, regard as a kind of secret oracle.
As Betty White patrolled the floor, Johnston read the racks like an anchor delivering the nightly news: "Fringe is happening. Fringe is not dying. Tie dye is not dying. Floral is happening. Punk plaid is happening. Leopard never went away."
Johnston, a reserved woman with shoulder-length hair dyed a Manic Panic shade of red, used to be a costume designer. She did the costumes for "This Is Spinal Tap" and worked as a staff stylist for Larry Flynt's Hustler magazine in the 1970s. Webb, wearing all black and Dapper Dan glasses, produced videos for En Vogue and Das EFX in the 1990s.
Ask their ages and they will demur, offering only that they are "age appropriate" and "the O.G.s of Fairfax." (They opened Catwalk in 2001, ahem, three years before Supreme came to the block.)
Partners in life as well as in business, Johnston and Webb decided to transition out of the entertainment business in the late '90s. At first, they sold antiques in addition to vintage clothes, mostly at fairs and flea markets. Then came "the bungee cord incident." The two were securing a set of Danish modern furniture to the roof of Webb's Suburban when a cord snapped loose and hit Johnston in the head. "It was like a psychic gong went off her in head," Webb says.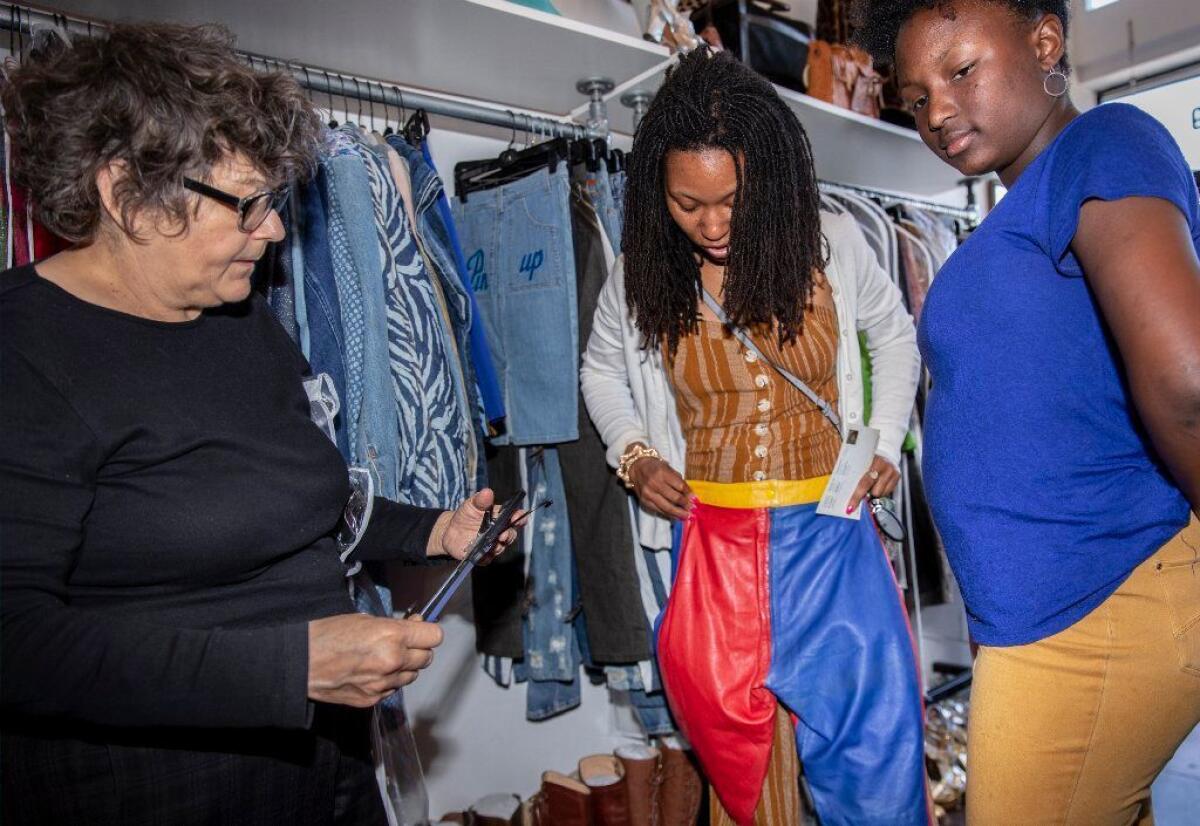 They resolved to focus on clothes and set up shop on Fairfax. The store's name is a nod to the runway, of course, but also to their landlady, Julie Newmar, who portrayed Catwoman in the 1960s TV series "Batman."
Their entertainment credentials are key to the hyper-niche service Johnston and Webb provide. They apply what many describe as an encyclopedic knowledge of pop culture and fashion history to the vintage trade, unearthing rare pieces for an even more rarefied clientele.
Lady Gaga shot a series of videos in Catwalk for her fashion blog more than a decade ago. It was from Catwalk that Miley Cyrus got her "telephone purse," a '60s handbag-slash-working-phone that she wore in a 2016 appearance on Jimmy Fallon's "Tonight Show." When Kanye West turned up on the store's doorstep a few years back, nobody was there to let him in.
But celebrity stylists, not celebrities, speak Johnston and Webb's language most fluently. Roach has bought many pieces at Catwalk — a favorite item is an early-'80s Gucci windbreaker that "folds itself into a pouch" — but he often stops by just to talk with the owners.
"They're very quiet if they don't know you," Roach says. "When they warm up to you, they start to share their knowledge of fashion history. You can end up in there for hours."
Ottenberg also goes for the conversation. "You instantly know when you start talking to Michelle and Renee that they really saw it all," he says. "I want to go in there. I want to talk to them about the '70s. I want to talk to them about styling for Larry Flynt. And I want to discover."
To wit: "I went in there recently looking for Alaïa dresses and Montana leather jackets, and what I ended up finding and going crazy over were bootleg Vuitton windbreakers from the '80s that they found in a warehouse somewhere."
Trevor Andrew, a.k.a. Gucci Ghost, the graffiti artist who tagged interlocking Gs all over New York City until Gucci's creative director, Alessandro Michele, tapped him to collaborate on a capsule collection, was wandering by the store last year when he spotted a neon sign glowing in the window. "Need money for Gucci," it read.
The shop was closed, but heeding the siren call, Andrew returned a few weeks later. "I was blown away by the amount of knowledge and depth of their collection," he says. "It's a museum."
Three Gucci Ghost leather jackets now hang in the store, at $10,000 each. (There is no renting the runway at Catwalk. All pieces must be bought.) More Gucci is stored in what's known as "the back room" — an extensive vintage archive, organized by designer, just beyond the store counter and behind a retractable gate. Almost no one is allowed there.
"The urban legend is that they have hundreds of thousands of pieces," Roach says. "That's part of the appeal of Catwalk: It's this small, almost cramped storefront, but there's this door that leads into this mecca of vintage that nobody's ever seen before but we've all heard existed."
Johnston and Webb say they have let only a select few into the back room — John Galliano, Jean Paul Gaultier, Betsey Johnson — but they let a reporter and photographer take a quick look.
The space is about three times the size of the store and packed wall-to-wall with racks of black garment bags. Manila tags dangle from all the pieces, composing something of a taxonomy of fashion. (Sample tag: "Versace. Blk. Fruit Dot Shirt. Sheer Rayon? 80s/90s. Sz. XS.")
Who pulls from this reference library, exactly? A customer visiting two years ago might have spotted two racks parked in the main store: one containing Frances Bean Cobain's Coachella wardrobe, the other a broad selection of jewel-tone Versace jeans. The latter was compiled for Lou Eyrich, the costume designer for FX's "The Assassination of Gianni Versace: American Crime Story."
"I can call them and say, 'Hey, I'm about to start this Versace thing. It's from 1989 to 1997. What do you have?'" Eyrich says. "And they'll drop what they're doing and start looking through their archive."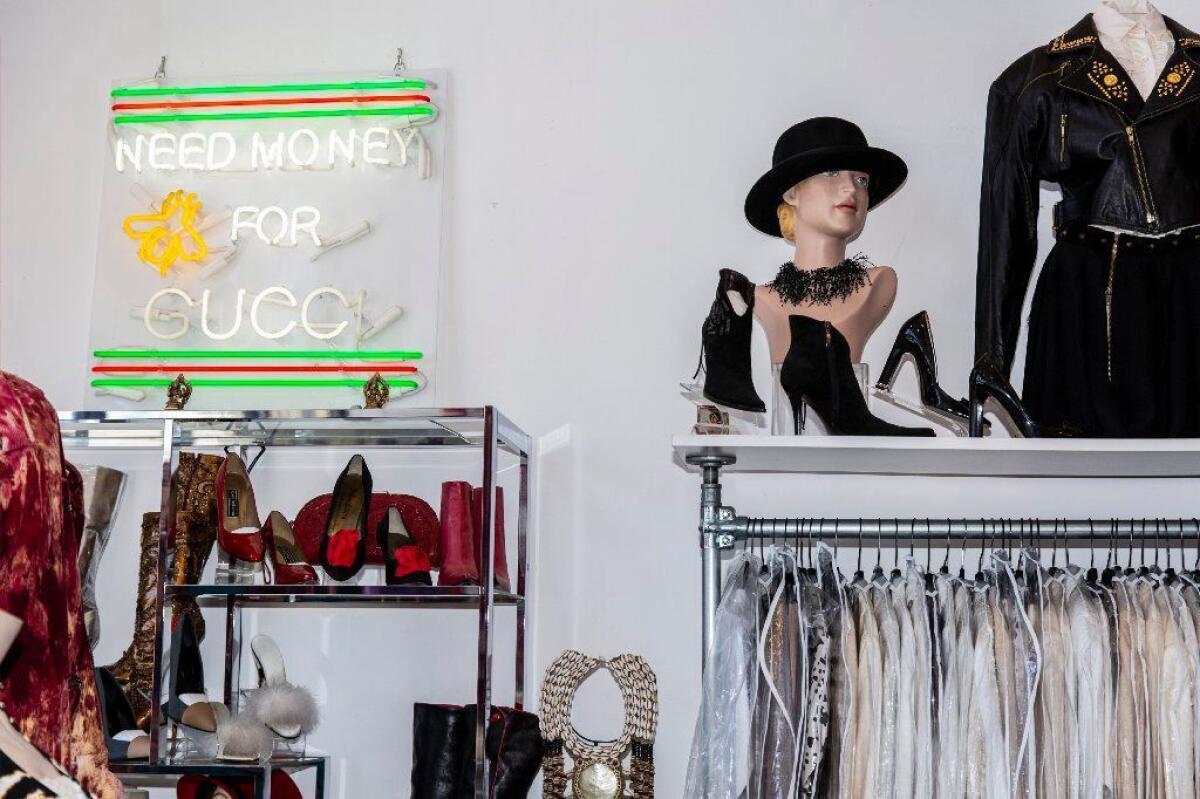 Some of the pieces appear in the FX series, Eyrich says, while others were purchased as reference materials for items that needed to be remade. Anyone can view the period's Versace collections online or in books, she adds, but "it's helpful to be able to lay your hands on a piece and go, 'Oh, that's what it looks like, that's what it feels like."
Catwalk's finds have made it to the big screen too — worn by Leonardo DiCaprio in "The Wolf of Wall Street," Rooney Mara and Cate Blanchett in "Carol" and Alan Arkin in "Argo," among others.
Sometimes a design team from a fashion house will show up in search of a pattern or shoe that the company hasn't made in decades but is looking to revive. Tamara Mellon says she has gone to Catwalk for design inspiration for more than a decade. "It can be silhouette," she says. "It can be a heel shape. It can be toe shape. It could be a piece of hardware."
Some portion of Catwalk's clientele is un-categorizable. Last month, a small film crew live-streamed a detailed tour of the store's inventory to 7,000 viewers in China. Members of the crew then took orders, paid for everything with one credit card and shipped it themselves.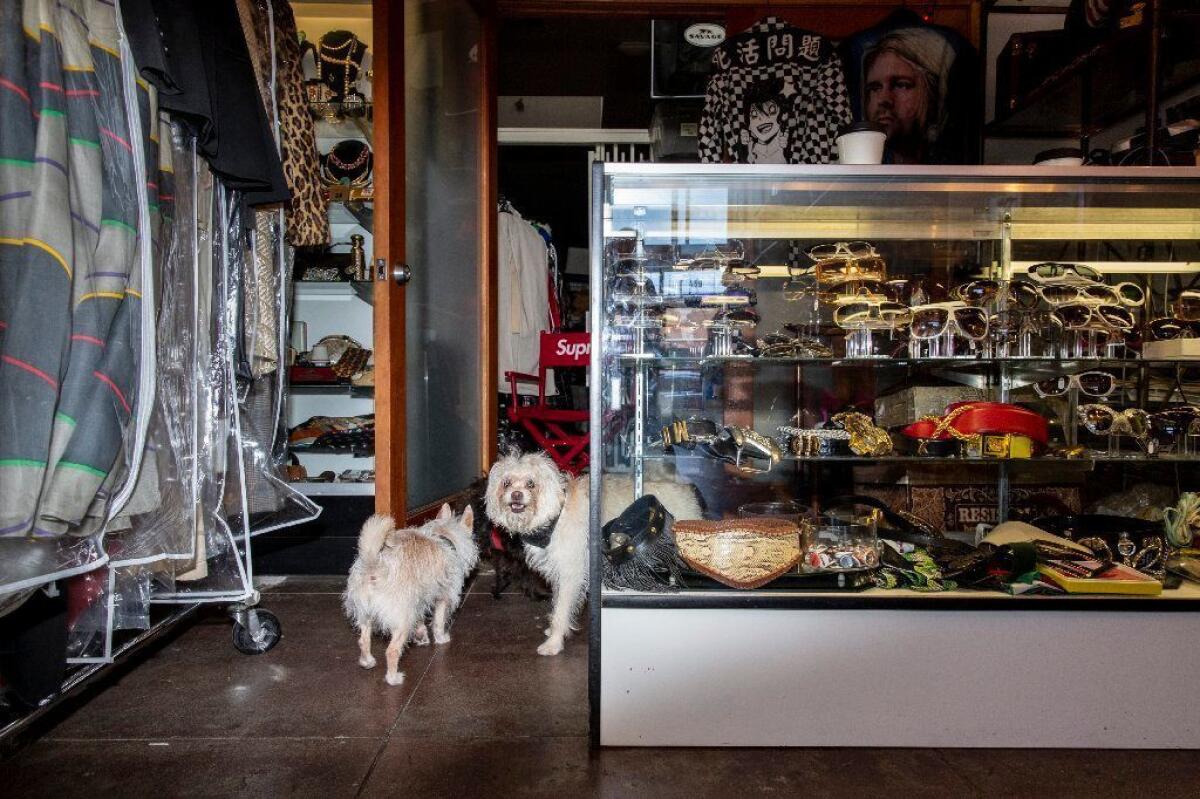 In recent years, Johnston and Webb have outfitted "rich Burners" (people who take helicopters to Burning Man) and "rich DJ children" (people who fly on private planes between Los Angeles and Dubai). They have also dressed Lil Miquela, a computer-generated avatar-robot who has 1.5 million followers on Instagram and her own stylist.
Lil Miquela is known to wear brands like Chanel, Supreme and Vetements. But Johnston and Webb put her in a graphic black-and-white ski jacket with two large horse profiles on the front and fringe hanging off both sleeves. Because: Fringe is happening. Fringe is not dying.