Karla Welch is having a good year. Named the No. 1 most powerful stylist in Hollywood this year by the Hollywood Reporter, she is responsible for dressing some of the biggest names in La La Land and the music industry.
Welch was the stylist behind the sartorial tour de force of both Sarah Paulson and Ruth Negga during last year's awards season, and she dressed Justin Bieber for his recent (albeit shortened) world tour. Karlie Kloss, Olivia Wilde and Lorde are just a few of the other names on her impressive client list.
Of course, being an in-demand stylist means there is very little rest for the fashion weary.
Summer's final weeks find Welch prepping for yet another awards season with yet another duo of contenders: Elisabeth Moss ("The Handmaid's Tale") and Tracee Ellis Ross ("black-ish"). "We all moan about awards season but we love it," says Welch during an interview in late July. "I've already done all my outreach for the Emmys, so you kind of know who [my clients] are wearing, but you don't know what they're wearing yet. I always leave things a little bit open to chance as well. May the best dress win."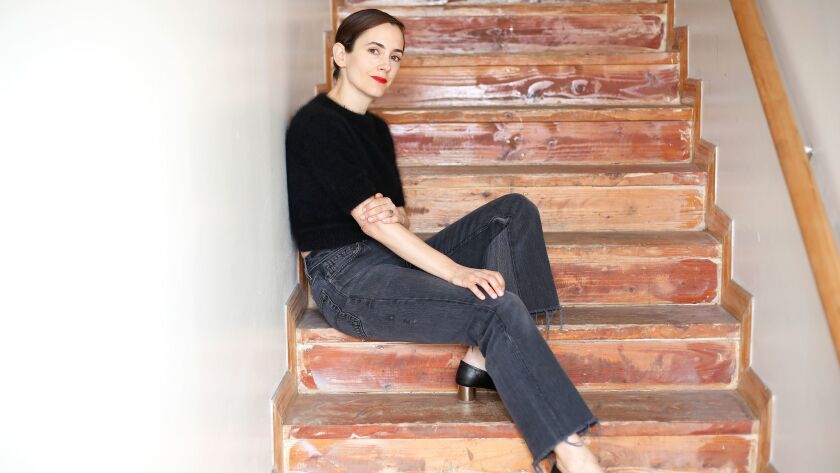 So does Welch feel pressure coming off an awards season as laden with best-dressed lists as last year's was for her and her clients? "I think inherently I always feel pressure, but it's not pressure I feel externally," she says. "I place very high expectations on myself and for my clients. For [my team], it's just making sure — from a logistical point of view — that we're buttoned up. We've got to cross our T's and dot our I's, and prepare, prepare, prepare."
But it wasn't always red carpets and stadium tours for Welch. She grew up in the tiny town of Powell River, British Columbia, working for her father in the clothing store he owned for 47 years. "It made me love fashion, but because my dad was a one-man show, it also instilled a work ethic in me and an idea of customer service," says Welch, who did everything from dust the shelves to design the window displays at the store.
It's a long way from Powell River to working with the world's top designers, and that's not a fact that's lost on the stylist. "To get something special made for you — to get to wear someone's art — is such an honor," she says of designers creating custom pieces for her clients. "A lot of times people forget about that part of it. We bypass what we see on the runway and what we see in a magazine, and we get to create these special relationships — for me, with a Nicolas Ghesquière or Pierpaolo [Piccioli] — and that's such a gift. I'll remember those moments on my deathbed."
Welch may be a master of red-carpet fashion, but it's certainly not all she does. She is also responsible for making sure Bieber and Lorde — two of music's biggest acts — take the stage looking the part. "Actors are a vessel for their director; musicians are their vessel," she says. "They're hyper-creative, so it's a different type of pressure. Lorde, for me, is like a Picasso. It's a gift creatively to get to work with someone like that. And with Justin, he's so fearless, so it's fun, and we can go crazy. It's an amazing amount of creative freedom."
Welch recently found another creative outlet that involved Bieber: In early August, she launched Hanes x Karla, a collection of white T-shirts inspired by one she handmade for Bieber while he was on his Believe Tour. "I think there is nothing more iconic and democratic than a white T-shirt," Welch says. "I wanted to have a well-designed one that was affordable, one that I'd wear over and over again. Justin and I made custom tees five years ago out of Hanes fabric, so I was thrilled to bring our ideas to everyone."
It seems nothing — not a collaboration with a rock star, a nonstop awards season, a client list of Hollywood's most famous faces or ranking No. 1 on a much-buzzed-about list — can rattle the always calm, cool and, it should be noted, kind Welch. For her, everything goes back to the work ethic her father instilled in her long ago. "I'm horribly unsentimental about moments in my life," she says. "The day the Hollywood Reporter told me I was No. 1 on the list, I think I did a 'Woo-hoo,' and then I went back to work."
For fashion news, follow us at @latimesimage on Twitter.
ALSO
Elisabeth Moss and stylist Karla Welch on creating a feminist red-carpet story for 'The Handmaid's Tale'
Before the Oscars, Ruth Negga opens up about fashion and the future
Laverne Cox takes a starring role in Beyoncé's new Ivy Park campaign
---