Drew Barrymore, Katy Perry attend Children's Hospital Los Angeles gala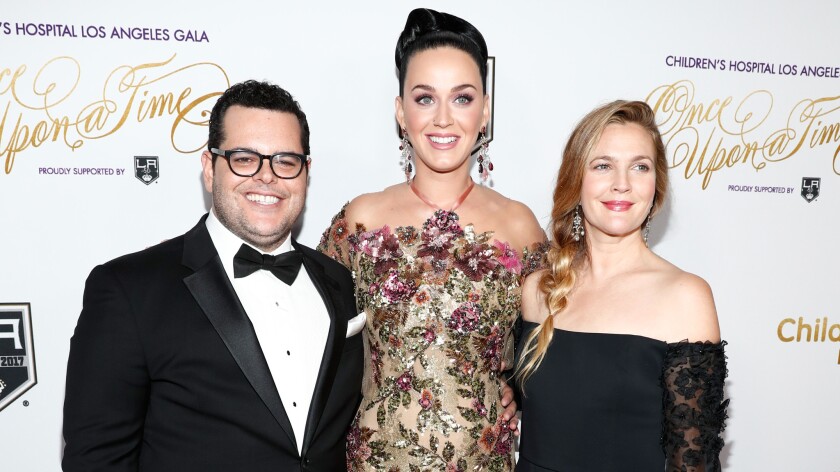 In a conversation with Katy Perry before dinner at Saturday's benefit for Children's Hospital Los Angeles, the pop superstar's eyes filled with tears as she recalled a December visit to the hospital when she learned about its music therapy program.
There, in the neonatal intensive care unit, she met a mother cradling her infant, who was struggling to survive.
"She had written a song about bringing her baby home," Perry said as she told the story. "I can barely speak about it because I was so moved. I want to tell this story on stage tonight, but I hope I don't cry."
More than 1,200 guests filled the Event Deck at L.A. Live in downtown Los Angeles for the gala, which raised $4 million to support the hospital's pediatric medical care and research. Honored for their support were Drew Barrymore, the L.A. Kings hockey team and the Billy and Audrey L. Wilder Foundation.
Also at the gala were actors Eric Stonestreet, Jessica Capshaw, Holly Robinson Peete, Katharine McPhee, Jamie Lee Curtis, Alex Meneses, Teri Hatcher and Colin Egglesfield; Kings president Luc Robitaille and players including Dustin Brown, Anze Kopitar and Drew Doughty; and hospital officials including president and chief executive officer Paul Viviano, chief of medical staff Mark Krieger and board co-chairs Lynda Boone Fetter and Arnold Kleiner and others.
As host, Grammy-winning singer and actor Josh Gad, also known as the voice of snowman Olaf from Disney's hit film "Frozen," didn't skimp on the political jokes. "It's a good thing we're all surrounded by doctors tonight because I have a feeling most of us are on the verge of a nervous breakdown," he said.
Speaking of his visits to the hospital, he noted, "It's particularly humbling when the staff points to me and says, 'It's Olaf,' and the children respond, 'No, it's not. That's an overweight 30-year-old man doing a terrifyingly spot-on impersonation of Olaf.' "
Barrymore, who wore an off-the-shoulders black gown, has been active with the hospital and its patients and their families. She and her cosmetics company Flower Beauty have annual Mother's Day activities to pamper the mothers of sick children.
In accepting her award, she said it's the personal experience that means everything.
"When you're totally thrown in and the reins are off, and you're bareback riding, you just get into it," Barrymore said. "If you don't make it personal in life, it's not happening."
Before she performed, Perry glittered in her Marchesa gown, chosen, she said, for its fairy-tale qualities, in keeping with the night's "Once Upon a Time" theme. "At midnight, it turns into a pumpkin," she joked.
After she sang three numbers, Perry, having already changed from one colorful gown into another, had to grab a napkin to dry her eyes as she began talking again about the mother and her sick infant.
"Every time I talk about it, it makes me emotional," she said. "I'm a really open human. So I feel everything."
Perry concluded her five-song set by thanking the audience for its love and support and offering these closing remarks, "Children are vulnerable. We have a responsibility."
Ellen Olivier is the founder of Society News L.A.
---