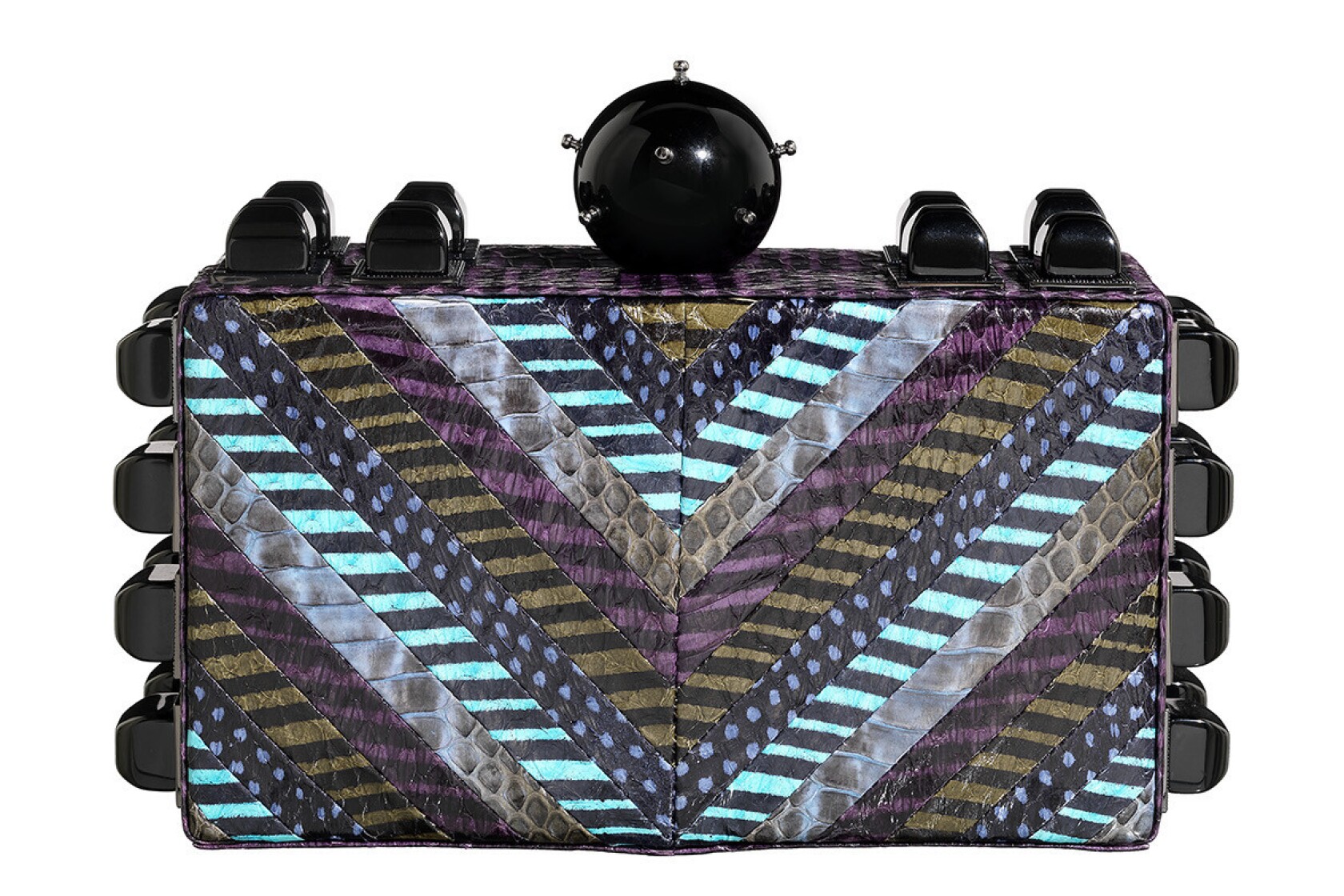 Tonya Hawkes mixed snakeskin Blue Agate clutch with lucite detailing and gunmetal finish, $1,230 at Kirna Zabete in New York, (212) 941-9656 and kirnazabete.com
(Tonya Hawkes)
Michael Nelson Lydia clutch with Maasai beading, 18-karat gold-plated frame and hand-cut resin push-lock, $1,895 at michaelnelson.eu.
(Michael Nelson)
Lee Savage Negative Space garnet pony hair and leather clutch with gunmetal brass hardware, $2,150 at Barneys New York in Beverly Hills, (310) 276-4400 and barneys.com.
(Lee Savage)
Kotur for Operation Smile gold-plated brass clutch with faceted crystal clasp, $395 at koturltd.com.
( Kotur)
Edie Parker Flavia Merry hand-poured acrylic clutch, $1,495 at edie-parker.com.
(Edie Parker)
Charlotte Olympia It Makes You Happy galvanized brass and wood clutch, $2,295 at Charlotte Olympia in Beverly Hills, (310) 276-1111 and charlotteolympia.com.
(Charlotte Olympia)
Caterina Zangrando Plexiglas sphere clutch with Swarovski crystal detailing, $2,170 at valerydemure.com.
(Caterina Zangrando)
Los Angeles Times Fashion Critic
This holiday season, clutch bags are conversation starters.
Rather than holding onto big-name designers, women are choosing accessories from under-the-radar talents, such as the New York-based Lee Savage, whose minimalist, Donald Judd-like designs have been worn on the red carpet by Jessica Alba, Diane Kruger, Kate Beckinsale and others.
Colorful, modern arty designs by Tonya Hawkes, Lolita Lorenzo and Caterina Zangrando would look as fine decorating the living room mantel as they do completing a holiday ensemble. The same goes for Michael Nelson's festive-looking bags, festooned with beadwork made by a cooperative of Maasai women. Another fab feel-good find is Kotur's textured gold-plated clutch, with 100% of net proceeds benefiting the charitable organization Operation Smile.
For more retro glamour purses, Edie Parker's glittered acrylic box bags are also making an impression in Hollywood, where they've been carried to the Emmys, the Oscars and beyond. They've been updated for the holidays with seasonal sentiments splashed across the front, in words such as "Merry" and "Ho, ho, ho."
And for the truly fearless female, there's Charlotte Olympia's "It Makes You Happy" bag, shaped like a tequila bottle and guaranteed to be the life of any party.
Ingrid Schmidt contributed to this report
---