Beyoncé slays in Balmain, Cardi B pays homage to TLC and other Coachella standout style moments
Yes, the Coachella Valley Music and Arts Festival is first and foremost about the music (it's right there in the name after all), but it also provides an unparalleled opportunity, both on stage and off, for fashion brands to cut through the clutter.
Here are the acts — and the brands — that made for some of the standout style moments during Coachella's first weekend. (Alas, the story behind David Byrne's stylishly quirky three-pocket suit jacket will remain unanswered for now.)
Haim
For Haim's main-stage set on the night of April 14, two of the three sisters were onboard with the metallic trend that glimmered and gleamed across the grounds of Indio's Empire Polo Club — Danielle Haim in metallic silver flare-leg trousers and Alana in silver metallic shorts. All three were dressed in bespoke ensembles created by Chloé's creative director Natacha Ramsay-Levi.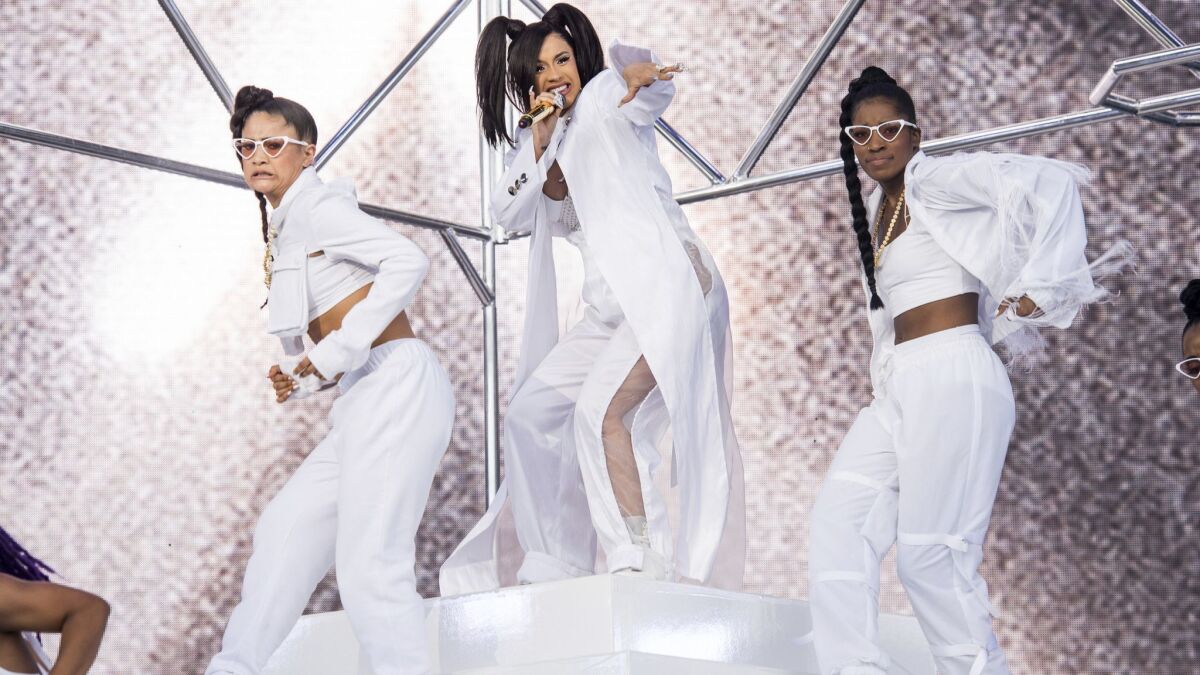 Cardi B
Barely a week after revealing her baby bump to the world during a "Saturday Night Live" performance, rapper Cardi B took to the main stage the evening of April 15 in an all-white custom Alejandro ensemble that included a mesh-covered bustier, high-waisted, wide-legged trousers with sheer side panels on each leg and a white, floor-length coat. What appeared at first blush to be simply a fashionable, functional maternity-meets-athleisure look ("pregthlesiure" anyone?) turned out to be an homage to the style of '90s all-girl group TLC, who made baggy track pants and mesh-trimmed bra tops a thing. (Earlier in the day the rapper dropped a sly hint by posting to her Instagram account a photo of TLC members Rozonda "Chilli" Thomas, Tionne "T-Boz" Watkins and the late Lisa "Left Eye" Lopes in the all-white track-pants-and-tops outfits from the 1996 Grammy Awards.)
Taking the TLC connection one (dance) step further, Cardi B's backup dancers wore all-white custom crop-top-and-track-pant outfits created by TLC's 2018 tour costume designer Brea Stinson.
Beyoncé
Beyoncé and her stylist Marni Senofonte enlisted one of fashion's big guns, Balmain's creative director Olivier Rousteing, to design the five (count 'em — five!) costumes Mrs. Carter wore over the course of her two-hour barnburner of a set on Coachella's main stage April 14. Rousteing, you may recall, designed costumes for Beyoncé's 2016 Formation World Tour. (He also designed the costumes worn by the dozens of dancers and musicians on stage for Beyoncé's Coachella debut.)
Queen Bey took to the stage in a regal ensemble that appeared to channel Egyptian Queen Nefertiti by taking the basic black bodysuit (a Beyoncé staple) up a whole lot of notches by adding glittery embellishments and strings of sparkly baubles around the neck, bejeweled dangling earrings the size of drink coasters, a black and gold beaded cape, and a towering gold-accented headdress to top it all off. Another bodysuit — a long-sleeved number in shimmery holographic latex accented with military-style metallic braiding at the shoulders — came later in the show and was paired with fishnet stockings and garter belt straps attached to a pair of thigh-high boots.
One of the most eye-catching looks was decidedly more casual — a yellow collegiate hoodie bedazzled with the Greek letters Beta Delta Kappa (the B and K a reference to her initials, one assumes; the mysterious D could be a nod to her maternal grandmother Agnèz Deréon or perhaps something else — paired with distressed denim cutoff shorts (not Balmain, according to the Hollywood Reporter, but vintage Levi's reworked by Coal n Terry Vintage) and white, patent leather knee-high Christian Louboutin boots with iridescent fringe detail.
A fourth outfit — a sheer black mini-dress with a honeycomb pattern (a nod to the Beyhive fan base, no doubt) — also evoked the notion of a Bey-centric fraternity/sorority thanks to an intricate purple and silver crest that included images of, in no particular order, Queen Nefertiti, a clenched fist, a honey bee and a snarling panther-like cat. A heraldic banner beneath the crest read "Beyoncé 2018" with her name rendered in Greek-style letters.
When the much-rumored Destiny's Child reunion did finally happen, there was a costume change for that too — a sequinned, camouflage-patterned, one-sleeved bodysuit with matching thigh-high boots. Group members Kelly Rowland and Michelle Williams were also clad in the same sequined camo pattern — one in track pants and a crop top and the other in short shorts and a bra top.
It was, hands down, the wardrobe that won the festival, and the buzz it generated — particularly with the next-day announcement that Beyoncé was donating $100,000 in scholarships to black universities — made it a win-win for the first black woman to headline Coachella.
And if you missed seeing Bey do her Sasha Fiercest in the above looks live, you're out of luck. However, keep an eye out for fresh Beyoncé photos on Saturday. Rousteing reportedly created a whole different wardrobe for the singer's second-weekend performance at Coachella.
For more musings on all things fashion and style, follow me at @ARTschorn.
---