Converse pays homage to L.A. style by partnering with streetwear brands, sports teams and a tattoo artist
Over its 100-plus years of existence, the Converse Chuck Taylor sneaker has remained instantly recognizable, even as collaborative partners over the seasons — Missoni, the Gap, John Varvatos and Nintendo among them — have come and gone, each imprinting its own identity on the stitched canvas upper and rubber sole. Los Angeles is a lot like that too, with street scenes and cityscapes that seem to endure even as those that give the city its texture and vibrancy move through.
So it seems only fitting, then, that the Nike-owned Converse brand has paid homage to the City of Angels as of late, rolling out collaborations and forging partnerships with local streetwear brands, sports teams and a tattoo artist to the stars.
"Los Angeles is a style-driven city, unique to itself, and there is nowhere in the world like it," said Paul Mittleman, vice president and creative director at Converse. "It's glitzy in some parts and gritty in others. Youth culture is at home here, and we wanted to tell this story through four different lenses."
Mittleman was speaking specifically about the brand's recent collaborations with four influential streetwear brands: Babylon LA, Rokit, RSVP Gallery and Clot, each of which created its own iterations of the Chuck 70, Fastbreak and One Star Court Classic sneakers and accompanying apparel, guided by a basic black-and-white color palette to which they could add an additional pop of color. The end result was 30 different footwear and apparel styles that launched around the world last month, with apparel prices starting at $45 and footwear priced at either $110 or $120.
For Babylon LA co-founder Lee Spielman, it was about bringing what he called a "technical spin on classics" to the iconic brand.
"I wanted to elevate the classic silhouette and to step outside the box instead of using common materials," Spielman said. On the Fast Break high top, he used a reflective silver fabric alongside off-white suede, and added the same touches to a collection of basketball shorts, hoodies and jerseys "so they catch the sun when you move around," he said.
The collaboration provided an opportunity to "pay homage to the role that Converse played in the cultural backdrop of our upbringing," said Ryan Barcena, who co-founded Rokit with his brother Bam Barcena and Nico Guardalabene. "It's always been a shoe that's been a part of our lifestyle with basketball and skateboarding, and our brand started where those two sub-cultures meet." Bam Barcena said the brand's orange circle logo appears on the shoe, with the same design details running through the apparel and the footwear.
Edison Chen, co-founder of Clot, said he was "humbled at being allowed to represent" given that he is not a Los Angeles native; originally from Hong Kong, he said the themes within the L.A. Pack "resonated within our internal DNA."
"Clot has always had the mission to bridge fashion and culture between the East and West, and this collaboration showcases L.A. culture and my move to L.A. 10 years ago," he said. His top pick from his collaboration — the Chuck 70, made with a knit upper and accented with leather, and which he says is ideal for people to add their own patches or to be "cut up and destroyed."
At the heart of the collections though, is accessibility: All the designers involved in the latest Converse collaborations said the focus is less on athletics and more on the love of the game.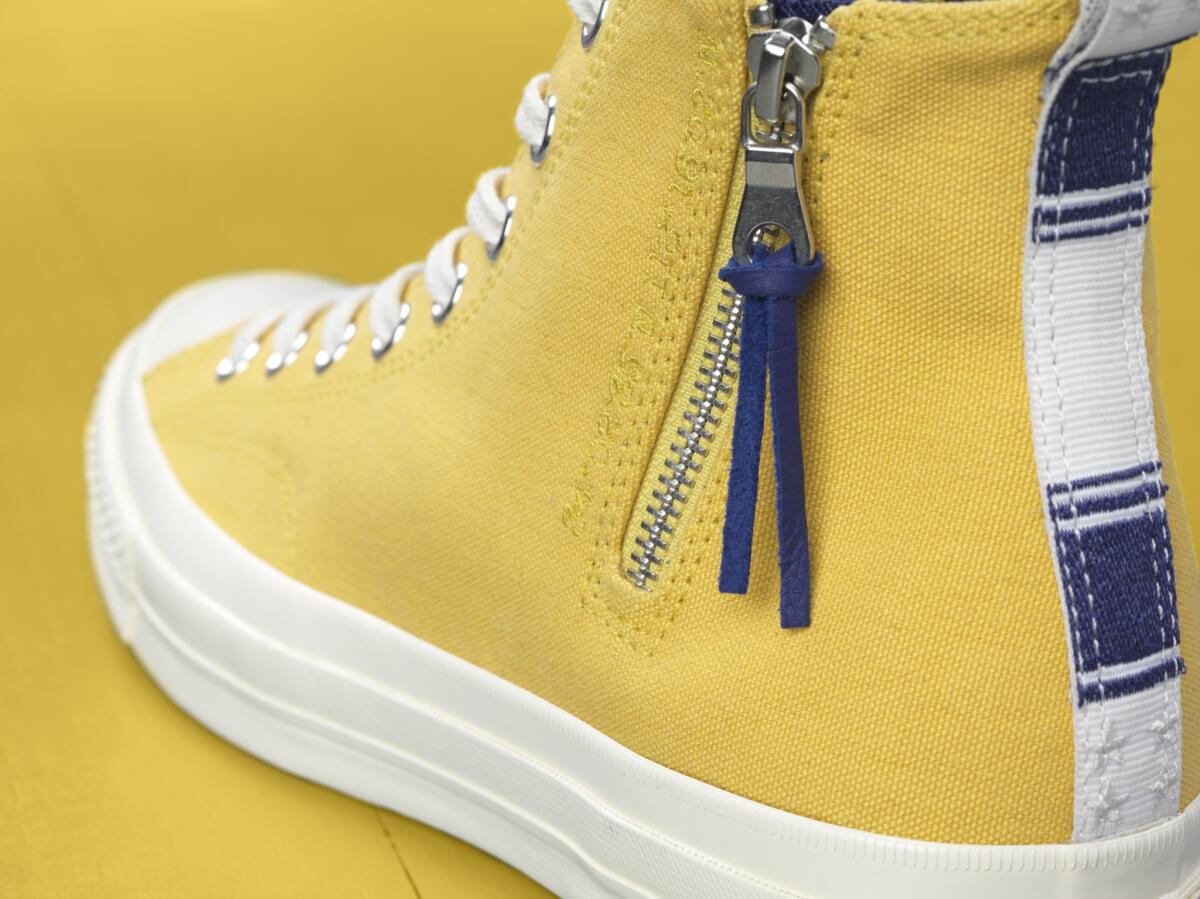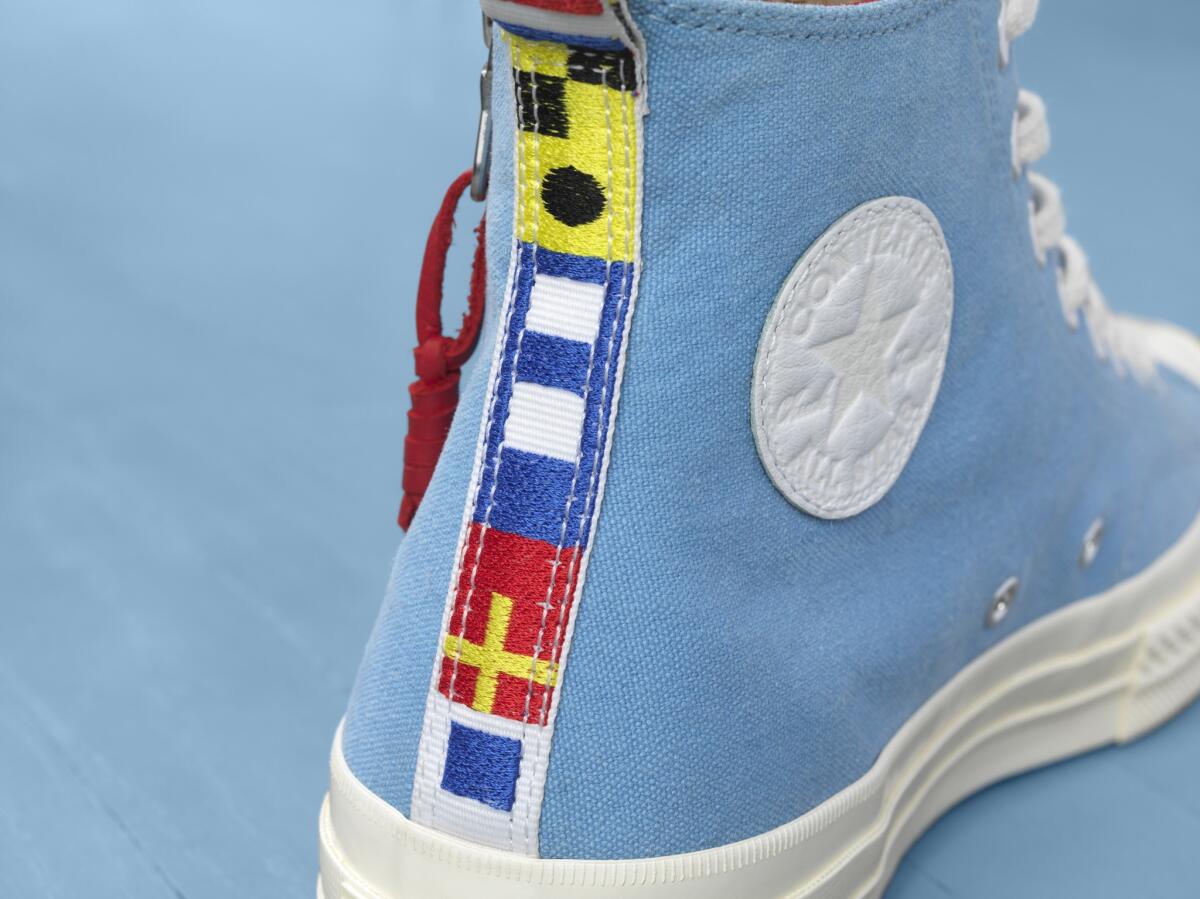 "Artistry and basketball were the muse for this collection," said Don Crawley, a.k.a. Don C, founder of RSVP Gallery. "I love the basketball community because you don't have to be able to hoop to appreciate the game and style."
But Converse's aesthetic nods to L.A. are, like the city itself, about more than just streetwear. Last month, the label's ongoing collaboration with the NBA has nods to the Lakers and the Clippers that include Chuck 70s served up in each team's colors (stonewashed yellow for the Lakers, baby blue for the Clippers) with the coordinates of Staples Center (where both teams play their home games) appearing alongside a side zipper ($125 each at www.converse.com).
And for those whose love of Los Angeles runs more than skin deep there was an opportunity — albeit a very brief one — to snap up one of three styles of limited-edition Chuck 70s created in partnership with born-and-raised Angeleno and tattoo artist to the Hollywood elite Brian Woo, a.k.a. Dr. Woo. (The collection quickly sold out at Converse but can be purchased through other online retailers.) Woo covered the kicks in intricate glam/Goth needlework spiders, laser-engraved spiderwebs and a lone housefly on the left shoe's white toe box.
Mittleman said he's happy that the collaborations open up a portal to local street culture — and the world's understanding of it.
"L.A. is different now from what it was historically," he said. "It's massive in terms of its importance in the world. And these designers have each told their own story of L.A. for people who may have a hard time otherwise understanding it."
Twitter: @latimesimage