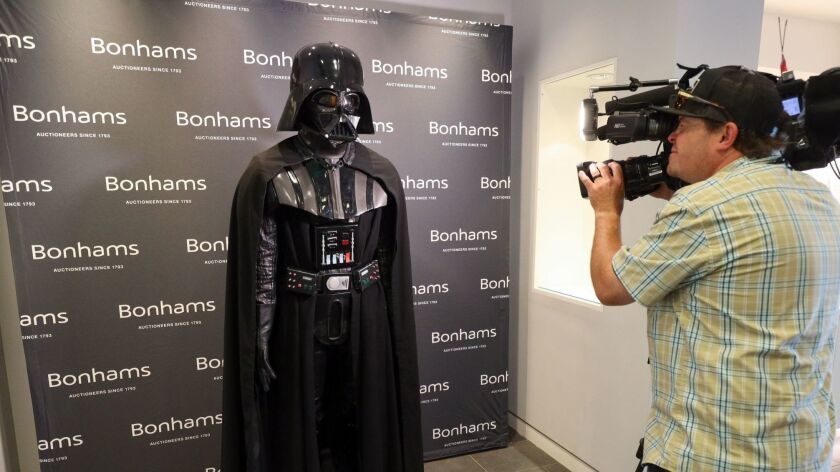 Darth Vader might have ended up muscling Paul Newman and Elizabeth Taylor aside as a marquee entertainment name among high bids in the auction world. However, the galaxy may never get to find out.
The "Star Wars" villain's costume was suddenly withdrawn from a Tuesday auction, according to auctioneer Bonhams' website. The live auction, which could be watched online, was set for 1 p.m. Pacific time.
In a similar vein to how Newman's Rolex Daytona watch and Taylor's rare jewels set records at auction, Bonhams aimed to fetch at least $500,000 for a complete Darth Vader costume when it went on sale in Los Angeles on Tuesday.
In a statement, Bonhams officials said Tuesday, "Bonhams, together with Mr. [Bryce] Kermit Eller and the Lucas Museum of Narrative Art, agreed to withdraw from auction the Darth Vader costume from 'The Empire Strikes Back.'"
Asked if Lucas Museum, which was founded by "Star Wars" creator George Lucas and is being built in L.A.'s Exposition Park, would acquire or exhibit the costume, Bonhams spokeswoman Sung-Hee Kim said, "We would be delighted if that is the case, but it's up to the museum."
Lucas Museum representatives didn't respond to a request for comment on Tuesday.
Prior to its auction, there was buzz about the rare "Star Wars" costume.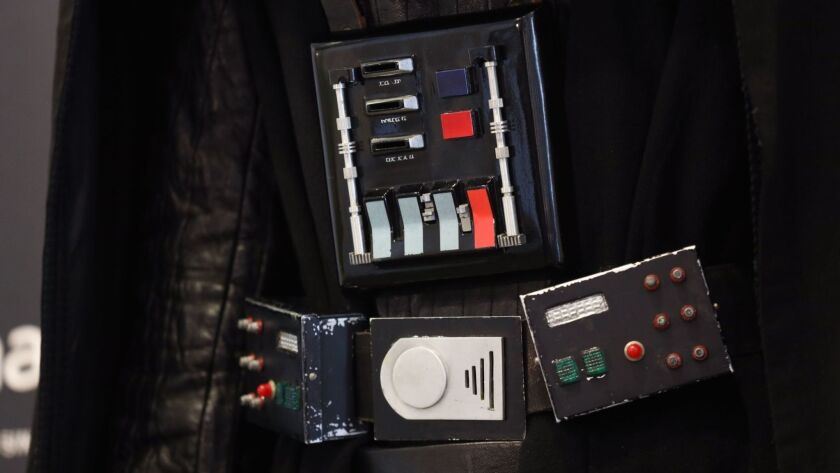 "If you sat 'Star Wars' people down and said, 'If you could have anything from any of these films, what would you want?'," said Catherine Williamson, Bonhams' director of entertainment memorabilia in Los Angeles, "they would want a lightsaber, they might want one of the droids, and they'd want this costume."
Eller, who performed as Vader for five years at various events including the 1978 Academy Awards, had planned to consign the costume, which is a complete set composed of 17 pieces. Sized for his 6-foot-4 frame, the outfit includes the iconic helmet and face mask, a belt that lights up with batteries, two capes, gloves, a chest box and a pair of men's black leather riding boots measuring size 15/16. According to Bonhams' website, Eller made personal appearances as Vader through 1981 before storing the costume in his garage.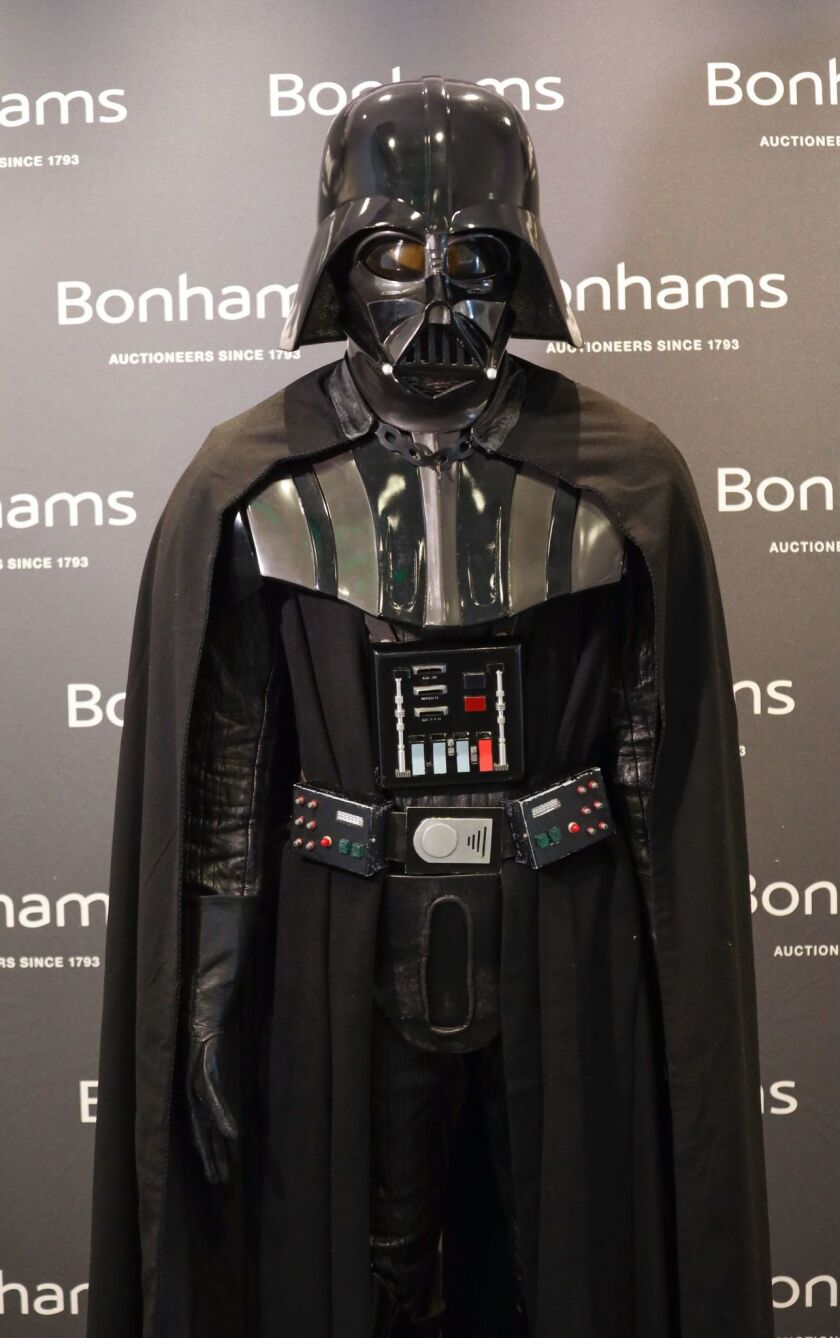 "It's nearly impossible to find something like it," Williamson said. "A lot of the principal shooting was in the U.K. What trickled out generally stayed overseas. You wouldn't necessarily see it in Los Angeles."
Eller became interested in selling the Darth Vader costume after a friend, director William Malone, sold a prop of Robby the Robot from the 1956 science fiction flick "Forbidden Planet" for more than $5.3 million through Bonhams in 2017.
The "Star Wars" costume, which initially stood out for having the highest estimated price, set between $500,000 and $1 million, was going to be part of Bonhams' live auction titled "TCM Presents … Wonders of the Galaxy."
Eller also had planned to unload a crew T-shirt from "A New Hope" and a pair of black gloves that were worn in "A New Hope" before he used them for his public appearances as Vader.
Other items that were initially listed in the auction included a burgundy satin baseball-style jacket from the 1982 futuristic movie "Blade Runner," a trio of zombie costumes from Michael Jackson's "Thriller" music video and a wig worn by Taylor for her role in "Cleopatra."
In the auctioneer's catalog, Eller said he would like to see the costume go to "someone who could really, really appreciate it, and it could be a source of excitement and wonder."
---