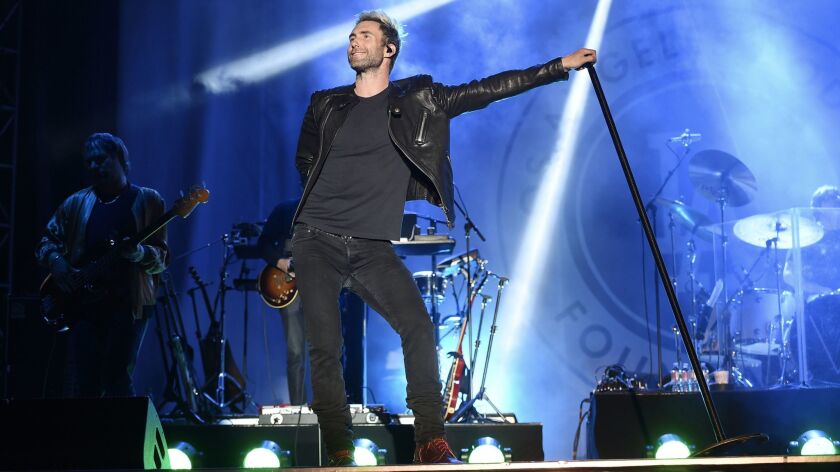 From onstage at the Blue Diamond Gala, a benefit for the Los Angeles Dodgers Foundation, Maroon 5 frontman Adam Levine took a break to describe the day he first "experienced the power of the Los Angeles Dodgers."
He then recalled that as a 9-year-old Oakland Athletics fan, he accompanied his grandfather to the first game of the 1988 World Series, all decked out in A's attire, expecting the Oakland team to win.
"Then what happened was … one of the best moments in sports history — the unthinkable, the craziest thing happened," Levine said. "Kirk Gibson hit that home run, and though my dreams were temporarily crushed … this place was so loud … I couldn't help but understand and appreciate the entire legacy that had gone on here."
Levine said he decided at that moment, "I'm going to stick with the Dodgers from now."
The event
Featuring hour-long sets by two Grammy Award-winning bands, Maroon 5 and Earth, Wind & Fire, the June 8 gala began with a festive cocktail party and dinner buffet beneath a tent at Dodger Stadium.
Although an intimate affair for a concert, at which guests enjoyed the show from plush sofas and small seating sections on the baseball field, the gala raised an impressive $1.5 million.
The program
Dodgers manager Dave Roberts, host Kevin Frazier of "Entertainment Tonight" and team chairman Mark Walter took turns at the podium, with Walter thanking the bands, event chairs and players, "who gave up one of their very rare nights off at home during the summer for being here tonight."
A short live auction then offered guests a chance to travel with the team to San Francisco, enjoy owner's perks at Dodger Stadium or play softball on the field. The lots surpassed the goal of $100,000 to build the 48th Dodger Dreamfields program in underserved communities in the greater Los Angeles area.
The crowd
Celebrities Ariel Winter, Eric Stonestreet, Mackenzie Hancsicsak, Parker Bates, Lonnie Chavis, Vanessa Grimaldi, Nick Viall, Haley Joel Osment, Heather Morris, Loretta Devine, and TV personalities Mario Lopez, Alfonso Ribeiro and Larry King as well as Prince Jackson joined Dodgers players Clayton Kershaw, Joc Pederson, Yasiel Puig, Adrian Gonzalez, Justin Turner, Logan Forsythe, Corey Seager, Josh Fields and others, along with Orel Hershiser, Steve Garvey and more.
The conversations
Chatting with us on arrival, Devine said she and husband Glen Marshall attend most of the Dodgers' home games. "The Dodgers are all here tonight in suits. So that's going to be something exciting to see," she added.
On asking Osment, a self-described "huge Dodger fan," about his iconic "I see dead people" line in "The Sixth Sense," he told us, "It's amazing how long a life that line has had. One of the most bizarre things happened last year when the Dodgers did movie quotes on the big screen. Yasiel Puig said the line. That was a pretty cool moment."
The numbers
With tickets beginning at $1,000 and sponsorship packages ranging up to $100,000, the gala attracted 1,500 guests to raise funds, which will go toward expansion of the foundation's Dreamfields and Reviving Baseball in Inner Cities programs.
Please consider subscribing today to support stories like this one. Already a subscriber? Your support makes our work possible. Thank you. Get full access to our signature journalism for just 99 cents for the first four weeks.
Fashion Videos
Ellen Olivier is the founder of Society News LA.
For fashion news, follow us at @latimesimage on Twitter.
ALSO
Viva Las Vegas! Jeremy Scott takes Moschino on a rip-roaring road trip to Sin City
Meet Bethany Yellowtail, a Native American fashion designer who's inspiring a whole generation of women
Show your rainbow stripes with stylish Pride Month items celebrating the LGBTQ community
---