How RuPaul's DragCon became big business for the beauty industry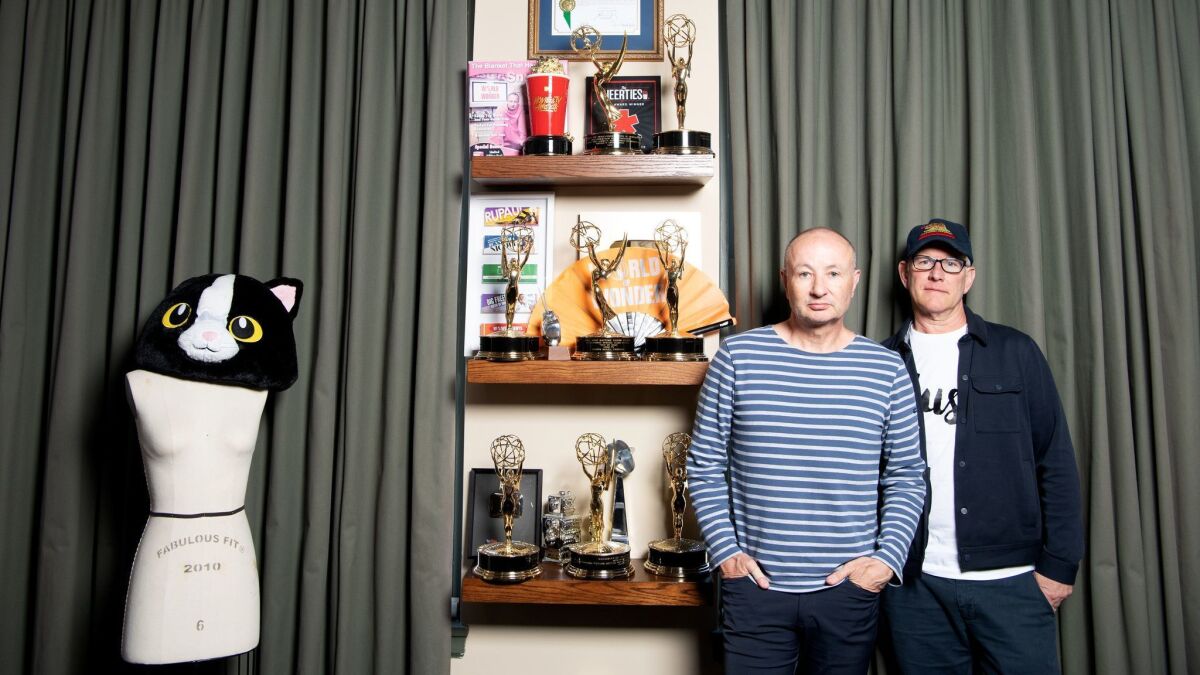 On a sunny spring morning in April, the founders of World of Wonder Productions, Fenton Bailey and Randy Barbato, were at their headquarters in Los Angeles, a grand 1930 building on Hollywood Boulevard. The Art Deco relic once housed the Directors Guild of America, and it still retains much of its Old Hollywood charm. But Bailey and Barbato have made it their own.
In the lobby, a sculpture of a melting disco ball dripped off one end of a counter. Nearby, a glowing neon sign spelled out "YASS." In a fourth-floor conference room, one throw pillow featured a rendering of Caitlyn Jenner. Another displayed purple block letters that read "WERK."
Though they have created a wide variety of TV shows and films, Bailey and Barbato are best known as the producers behind all things RuPaul. They produce "RuPaul's Drag Race," its spinoff "RuPaul's Drag Race All Stars" and, as of 2015, RuPaul's DragCon — the annual convention and live pep rally for the fiercely devoted viewing audience that has coalesced around the reality TV juggernaut.
DragCon represents World of Wonder's foray into events and retail, and it proved an immediate success. Profitable from the start, the convention is now bicoastal, with a second event held in New York every September. Together, the conventions drove $8.2 million in merchandise sales in 2018.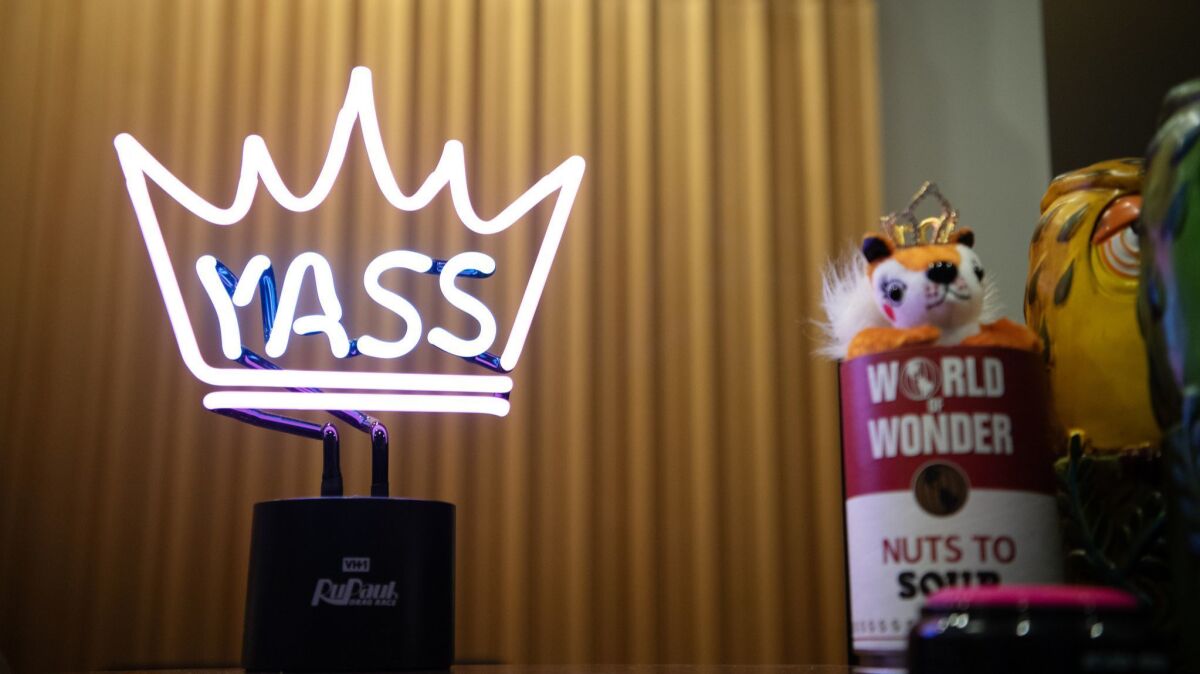 Now in its fifth year, DragCon will return to Los Angeles May 24-26. More than 50,000 people are expected to descend on the Los Angeles Convention Center for a weekend of panels, performances and a chance to glimpse celebrity queens walking the pink carpet.
There will also be merch, of course. Some 400 vendors will sell wigs, glitter, corsets and all manner of drag accessories, arranged into alleys with names like "Tuckahoe Lane." But the overwhelming majority of vendors will be beauty brands — and they won't be hawking their wares only to queens.
As drag culture has gone mainstream, so have drag makeup techniques. DragCon, in turn, has evolved into a premier destination for beauty lines catering to an ever broadening market.
You won't find many traditional beauty companies at DragCon. The convention tends to attract brands like Sugarpill and QVC darling Mally Beauty. "L'Oréal is not there yet," Fenton said. "It is kind of the younger, more cutting-edge brands."
Celebrity makeup artist Mally Roncal attended DragCon in New York last year. Her brand, Mally Beauty, will be sponsoring this month's convention in L.A. Roncal, who has known RuPaul, Bailey and Barbato since the '90s, credits "Drag Race" for making it acceptable to wear what's known as "full beat" — heavy, impressively executed makeup.
For Roncal, DragCon was a no-brainer. "We're obviously there to support Ru, but it's also eyeballs. I can't tell you how many middle-aged females came through," she said of her 2018 booth at DragCon in New York.
Nicole Faulkner, director of global artistry at Morphe Cosmetics and a makeup artist for "Drag Race" judge Michelle Visage, said she has noticed a shift in the beauty world over the last five years. "Before, it was enhancing your natural beauty," said Faulkner, who is also known as Lipsticknick. "But now with Instagram, people are obsessed with that art of transformation."
Faulkner's colleague Emine ErSelcuk, vice president of global retail at Morphe, points to contouring, dramatic brow shaping and "creating a cut crease," in which contrasting shades of eyeshadow are juxtaposed to dramatic effect. "So many of the techniques influencers are using originated in drag," ErSelcuk said.
The rapid growth of DragCon speaks to Bailey and Barbato's knack for spotting a pop-culture moment before the rest of the world catches on, though they insist they've always just pursued what they love.
"I suppose, early on, Randy and I just thought: You know what? We're gay, queer, and we love pop culture," Bailey said. "It may seem like we're on the outer edges now, but we just love what we're doing, and in time it's bound to drift to the center."
Bailey and Barbato, both 58, met at New York University film school in the 1980s. Eventually they dropped out and started shooting public access shows and short films, some starring a young club kid named RuPaul. "The stardom of Ru was completely fully formed the first time we set eyes on him," Bailey recalled.
They founded World of Wonder Productions in 1991 in their sixth-floor walk-up in the East Village. (Bailey and Barbato were a couple at the time.) The following year, they produced the music video for RuPaul's first hit single, "Supermodel."
In the decades since, World of Wonder has created dozens of films and TV shows, including 2003's "Party Monster," about the convicted murderer Michael Alig, and 2000's "The Eyes of Tammy Faye," about the fallen televangelist Tammy Faye Bakker. When they moved to Los Angeles in the mid-1990s to work on a documentary about the Rodney King riots, their real estate agent — a petite woman who sat on a phone book to drive her giant gold Mercedes — was among the characters who inspired them to create "Million Dollar Listing." It is now one of Bravo's crown jewels.
"RuPaul's Drag Race" premiered on the Logo Network in 2009 and moved to VH1 in 2017. It has won nine of the 23 Emmys for which it has been nominated. The idea for DragCon came from RuPaul, who wanted to bring the show's stars and fan base together in a physical place.
Many of the acts who perform at Drag Con are talents championed by World of Wonder — examples of their ability to discover "charismatic personalities who jump off the screen," as Frances Berwick, who heads NBCUniversal's Lifestyle Networks group, put it. "We're drawn to people who don't edit themselves to fit in and appear mainstream," Bailey said. "People who aren't waiting for someone else to give them permission — who are out there producing their own stuff," Barbato said.
The New Orleans bounce star Big Freedia, who worked with Bailey and Barbato on six seasons of the Fuse series "Big Freedia Bounces Back" and a forthcoming documentary about gun violence, is one such personality. "They saw a vision for me," Big Freedia said by phone. "They saw I was a star and had courage to back me on every level."
Yet as a demographic study, DragCon surprises: 40% of attendees are straight and 60% are female. One of its most popular spaces is something called the Kid Zone, where children can participate in "Drag Queen Story Hour" (tickets to the convention are free for children under 10). "I think drag queens are the Disney princesses of today, but free from the gender stereotyping and all that Snow White baggage," Bailey said.
Beauty brands have participated from the start, but many now use the event to release new collaborations, often with booths and stunts that match the bravado and theater of the queens.
For last year's convention, the cosmetics company Anastasia Beverly Hills created a giant pedestal shaped like one of its most popular products, Dipbrow Pomade, and offered it up as a set for attendees who wanted to take pictures.
"People waited for two hours to take photos," said the company's president, Claudia Norvina Soare. This year, Soare will unveil a collaboration with an over-the-top booth. "They're kind of our bravest self," she said of the queens. "We're there to support the queens and interact with the fans."
Customer experience is also top of mind for Lit Cosmetics, a leader in body and face glitter known for a bestselling product called Daily Wear Glitter Base. From the company's inception, in 2002, it noticed orders for some of its wildest colors coming from individuals in disparate, seemingly random locations. They soon realized those customers were drag queens.
Lit has always catered to a niche customer — the company supplies glitter to Cirque du Soleil productions worldwide — but as YouTube and then Instagram became ubiquitous, the company saw a marked uptick in more mainstream, everyday customers. Founder Jodie Perks (she prefers the title "glitter boss") views DragCon as an opportunity to interact with customers, get feedback on products and promote new launches. "It's kind of like a little family," she said.
For World of Wonder, DragCon embodies the kind of experiential, multiplatform, personality-driven company they've been trying to build for decades. "I remember a hundred years ago, before the 'Supermodel' video came out, saying to each other, 'Can you imagine if this came out and if it was a hit?'" Barbato recalled. "Back then, the idea of it was just so outrageous."