Amy Adams, Lupita Nyong'o, Kristen Stewart and other honorees shine at Elle Women in Hollywood Awards
Standing onstage before a gathering of the entertainment elite at Monday's Elle Women in Hollywood Awards, Elle magazine's editor-in-chief Robbie Myers, outfitted in a combination of Jonathan Simkhai and Calvin Klein Collection, praised the night's eight "powerful and talented" honorees for "invigorating and re-imagining how women are represented on and off screen."
As evidence that their influence has helped to change the culture, Meyers noted, "for the first time in forever, that princess is no longer the most popular Halloween costume for little girls. This year they want to be superheroes."
Held at the Four Seasons in Beverly Hills, presented by L'Oreal Paris and Hearts on Fire Diamonds and supported by the Calvin Klein Collection, the star-studded event featured honorees Amy Adams, Kathy Bates, Felicity Jones, Anna Kendrick, Aja Naomi King, Helen Mirren, Lupita Nyong'o and Kristen Stewart. Presenters were Jeremy Renner, Sharon Stone, Ron Howard, Ben Affleck, Regina King, Joseph Gordon-Levitt, Mira Nair and Dakota Fanning, while Anthony Anderson was host for the annual affair.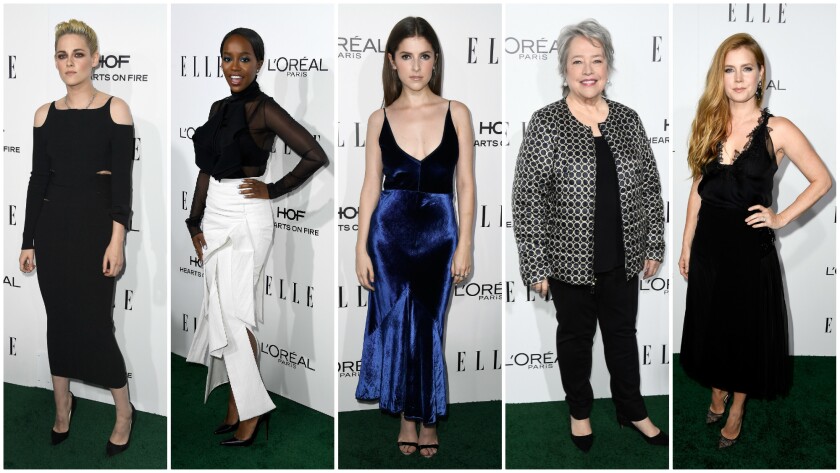 As guests dined on Alaskan halibut, presenters and honorees delivered remarks, alternating between powerful statements, humor and at times, tears.
Said Stewart, "I would be remiss if I didn't say how much I would look forward to a time … when there's not a need for a special night for women, when half of the population doesn't have an asterisk beside it … when the questions, 'Hey what's it like to be a woman in film? What's it like to be a female director? What's it like to be a woman in comedy?' are questions of the past."
For her part, Adams acknowledged the men in the room. "We talk a lot about women," she said, "but we really do love that we have such a supportive male community that comes out on behalf of women in Hollywood."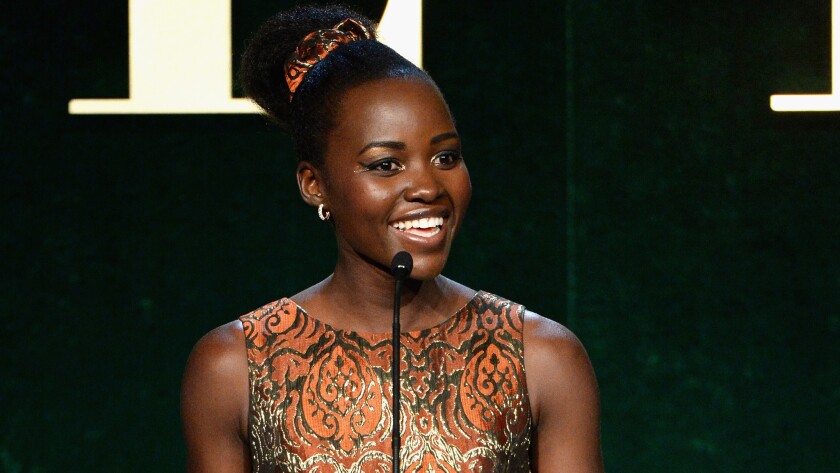 Nyong'o had tears in her eyes as the Academy Award winner reflected on how Nair, director of "Queen of Katwe," had been as a mentor to her. "This is what I do best by the way, cry," she said.
Affleck introduced Kendrick by speaking of her signature smart and witty self-deprecating style, while extolling her talents, which he said now include author of the essay collection "Scrappy Little Nobody." Then tossing in a brief reference to politics, he added, "It's like 'The Art of the Deal' [co-written by Republican presidential nominee Donald Trump] for millennials except it's insightful and not written by a lunatic."
Said Kendrick, "Every year, I think yes, this is a good group," recalling the always extraordinary roster of honorees, noting that she always sees a screen legend, up-and-comers and perhaps one surprising choice, the "left of center," which this year — as Affleck could have predicted she'd say — she figured to be herself. Yet the 5-foot-2-inch actress happily pointed out that as a bonus, "This year no one in the group is above 5-foot-6."
Mirren, an Academy Award winner, recalled her teenage fantasies of a man with a cigar arriving in a big black car to discover her before forwarding her imagination to today's teen — this time awaiting a small electric car "and out will come a woman."
"To make you proud you chose to honor me tonight, I am going to be the nastiest of all the nasty women."
— Helen Mirren
Mirren said she didn't look at the award as a recognition of past accomplishments, "but as a reminder to step up my game in the future." Then she added, "To make you proud you chose to honor me tonight, I am going to be the nastiest of all the nasty women."
As she wrapped up festivities, Bates said, "In a million years I wouldn't have dreamed I'd be on the cover of a fashion magazine. Let's be honest, right? Ace Hardware, maybe."
After an anecdote about the importance of humility, the Academy Award winner continued, "Now looking back on 50 years of some great parts and a lot of pay-the-rent parts, I realize it was being different that actually opened the door for me in my career, and I wouldn't have it any other way."
And recalling a particularly memorable exchange from the most recent presidential debate, Bates said, "We even have a nasty woman about to become leader of the free world."
Ellen Olivier is the founder of Society News L.A.
---