Emmys fashion: Braids, locs and natural hairdos are reinvigorating Hollywood style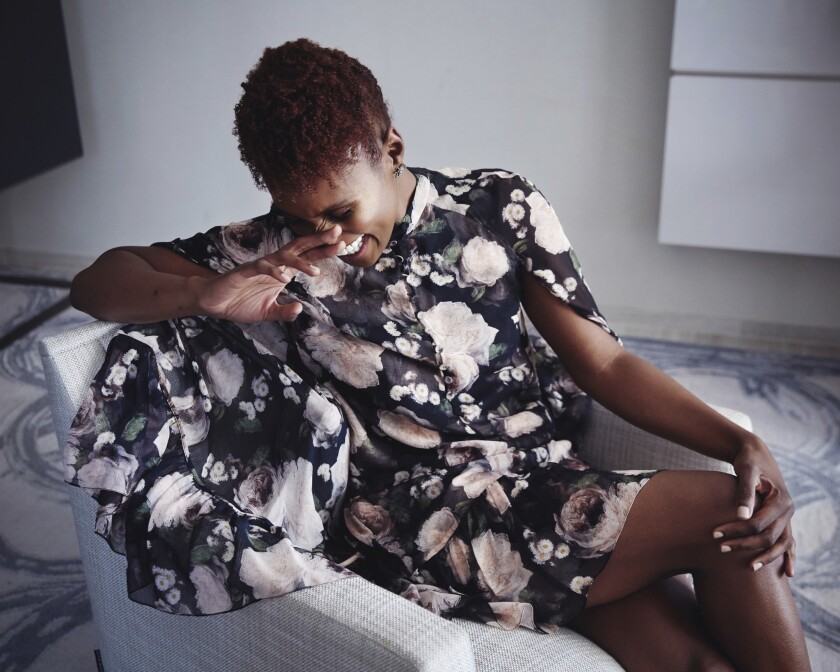 If your idea of red-carpet hair is loose, side-swept waves, demure chignons and sleek center-parts, it's time to broaden your scope. In the Hollywood scene, braids, locs and Afros of every circumference are fast becoming staples of the step-and-repeat set.
Expect to see prime proof of this curly aesthetic shift when the 70th Primetime Emmy Awards ceremony airs on NBC on Sept. 17. (The Creative Arts Emmys are this weekend, and FXX will broadcast those awards Sept. 15.)
From "Atlanta" star Zazie Beetz to "The Handmaid's Tale" actresses Samira Wiley and Kelly Jenrette, this year's list of nominees is studded with black actresses who have embraced natural and textured hairstyles on the red carpet, for photo shoots and beyond.
In recent years, Emmy hopefuls Viola Davis and Susan Kelechi Watson have made grand entrances flaunting voluminous coiled strands and thick, textured up-dos. Lead actress in a comedy nominees Issa Rae and Tracee Ellis Ross often rock curly and braided styles on-screen and off, in major beauty campaigns and in their everyday Instagram posts. Their curls are shaking up the present while paying homage to the past.
Straightened hair — whether achieved by chemical treatments, weaves or wigs — has long been the norm for black women who've broken into mainstream Hollywood and made it onto A-list red carpets. But it's a new day, and couture gowns are now being paired with twist-outs and gem-encrusted goddess locs.
" 'Old red carpet' was us mimicking other people's styles and what they were wearing," celebrity natural hairstylist Felicia Leatherwood says, referencing Euro-centric beauty standards. The L.A. native is responsible for the intricate coils, twists and textured pompadours Rae has worn on HBO's "Insecure," at awards ceremonies and on magazine covers. Leatherwood also styled Watson and trophy winner Lena Waithe for last year's Emmys (the latter of whom recently buzzed her hair down to a close-cropped cut).
She credits musicians including Jill Scott as well as male athletes such as Allen Iverson with bringing '70s-inspired natural hairstyles back into the spotlight in the early aughts, noting that actresses overall were much slower to adapt to the natural-hair looks.
"Everything was about, 'Straighten your hair; straighten your hair!' " Leatherwood says. "Now, they're discovering that natural hair can be beautiful."
Two days before she creates Rae's 2018 Emmys look, Leatherwood will host Kurlz on Film, an annual L.A. event that highlights independent films promoting self-love and empowerment. Billed as a "Naturalista's Night Out," the gathering will give curl devotees a chance to interact with the films' creative teams as well as prominent hair-care experts.
"We're rediscovering ourselves," Leatherwood says of this burgeoning beauty renaissance. "We're learning more about the melanin in our skin. We're learning more about our history. That's all going to bring you to a moment of feeling proud."
Lacy Redway, a versatile stylist who has worked with Awkwafina, Sarah Paulson and Angela Bassett, says, "This whole movement is so important because it's a way of us reminding everyone what matters to us, our culture and our identity." She'll once again groom Beetz for this year's Emmys.
"Sometimes, Hollywood and the fashion world see something doing well; then it becomes a sell-able marketing thing," Redway says. "But I think that the women who've helped to resurface what it is to have natural hair in Hollywood aren't doing this as a trend. It's not something they're doing just because it's going to make noise."
Redway links the recent rise in high-profile natural styles to the increasing number of strong black female lead roles. "I think that's allowed [actresses] to feel their positions are more secure, so they can be their authentic selves," she says.
Both stylists say social media has also played a crucial role in fostering a broader natural-hair resurgence. A vast array of YouTube channels, Pinterest boards and Instagram accounts dedicated to natural hair have helped to increase visibility, offering a wealth of inspiration and information.
Leatherwood's own tutorial channel offers how-to clips featuring Rae's most in-demand styles. She says fans have reached out, telling her that the videos inspired their prom and wedding looks. Meanwhile, Redway talks both hair and heritage on Instagram. She recently educated her followers on the historical significance of the box braids she created for "BlacKkKlansman" actress Laura Herrier.
However, for every flawless finger-coiled coif or traditional African style that hits the awards show circuit, there's still a tangle of naysayers. Oscar winner Lupita Nyong'o and hairstyle chameleon Zendaya have both made headlines for running afoul of red-carpet fashion critics. To buck deeply-entrenched beauty trends is to court criticism.
"There's an intense level of unspoken strength when a black woman walks that carpet in a 4C 'fro or graces the podium with elegant cornrows," says Nai'vasha Johnson, who's styled Emmy nominees Adina Porter and Wanda Sykes as well as past winner Uzo Aduba. (In natural hair-care nomenclature, the term "4C" refers to the curly hair type with the most densely-packed coils.)
The bicoastal stylist also works with a growing number of up-and-coming young actresses — lovingly dubbed her "baby-girl clients" — who are eager to wear curly styles. Storm Reid, Logan Browning and Sasha Lane have all stepped out wearing Johnson's curly creations. For "Grown-ish" star Yara Shahidi, she's created textured geometric bobs and Bantu knots offset by playful baby hair wisps.
"It's important to me to create looks that both young fans want to emulate and more mature fans are inspired by," Johnson says of her "classic beauty-meets-modern flair" red-carpet approach.
Although she and Redway have a hand in shaping the current natural hair boom, both are wary of being marginalized as solely curly-hair stylists. Likewise, Redway wants to steer clear of pigeonholing natural-leaning actresses.
"As black women, we have the freedom to wear our hair in so many different styles," she says. "I don't think that if an actress wears their natural hairstyles, they should become these 'natural-hair ambassadors.' If, tomorrow, they want to straighten their hair, they can. And I don't think that should be used against them to say they're against the movement."
For fashion news, follow us at @latimesimage on Twitter.
---