Emmys: Sarah Silverman and Trevor Noah toast rise of female TV directors at Variety and Women in Film party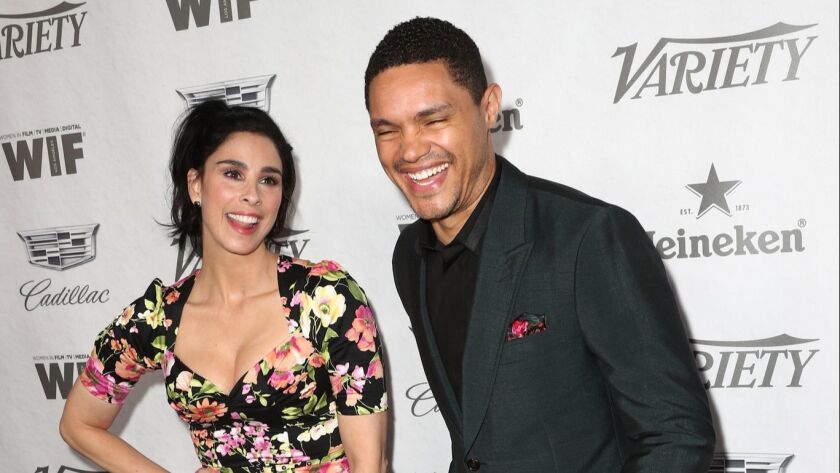 If it t wasn't enough to mingle with some of TV's brightest stars, party-goers at the Variety and Women in Film shindig had a special bonus Saturday night: a performance by Australian pop sensation Troye Sivan.
The singer-songwriter congratulated the crowd both before and after his three-song set, saying: "If you're here tonight, it means you're either nominated for an Emmy, or at least you know someone who's nominated for an Emmy, and that's pretty ... cool." Later, he added, "I hope you guys are all patting yourselves on the back. This is really an incredible night."
Among the A-listers on the scene were Tiffany Haddish, Sarah Silverman, Trevor Noah, Ann Dowd, Sterling K. Brown, Darren Criss, Charlie Heaton, Jeffrey Wright, Betty Gilpin, Constance Wu, Jenna Dewan, Alice Eve, Samira Wiley, Laverne Cox, Karamo Brown and Jonathan Van Ness.
So many TV stars and creative talents crowded into Cecconi's in West Hollywood for the spirited affair that at times guests could barely navigate their way from the patio into the restaurant. Yet no one went hungry, as servers seemed to have no trouble coming through with seemingly endless trays of pizzas and canapés.
And more than a few people managed to squeeze into the fray to request a selfie with Caitlyn Jenner.
At an official photographer's request, Angela Sarafyan posed beside a Cadillac that had been furnished by the party's premier sponsor. Already in her second gown of the day, the "Westworld" actress said she would probably go through six or seven dresses before the long weekend ended, including the Lela Rose gown she wore to this party and the Prabal Gurung number she'd worn to the earlier BAFTA Los Angeles tea.
As executive producer of "Queer Eye," Rob Eric also said he'd come from another party, in his case, a Netflix toast, celebrating all the streaming service's Emmy nominations, more than any other entity. Last week, Eric's show took home three Creative Arts Emmys out of four nominations.
Before the evening ended, Kirsten Schaffer, Women in Film's executive director, took a few moments to address the crowd. "We've made some progress in women directing television for the first time," she said, "but a lot of the other statistics have not moved. For those of you who have helped move the numbers, I want to thank you. Thank you for all your work that you've done towards gender parity inclusivity. And for those of you who want to do more, you can call me. We'll help."
---