For Katie Lowes and Adam Shapiro, appearing onstage together at Tuesday's "A Grand Night" benefit for Center Theatre Group, was a labor of love for the couple.
"We're making our Ahmanson stage debut tonight — together," the "Scandal" actress said in a conversation during the event's cocktail hour. She added that she and her husband also made their Broadway debuts together in "Waitress" last year. "And tonight," she added, "we're getting to do a duet."
"It's our pleasure to be here," Shapiro said. "The Center Theatre Group is the rock of L.A. theater, our theater home in L.A. We try to come to every opening we can at all three theaters — the Kirk Douglas, the Taper and the Ahmanson."
"We love it as a date night," Lowes said. "We get a nanny. We meet friends. We get some tacos or we go downstairs to the brasserie, and the work is always stupendous."
The event
"A Grand Night," which commemorated the Center Theatre Group's 50-plus years of presenting landmark musicals, raised $1.2 million for CTG's productions and educational programs. The gala evening featured musical performances at the Mark Taper Forum, a pre-show cocktail party in the Ahmanson Theatre lobby and a post-show dinner on the Ahmanson stage.
The show
Bob Martin, cowriter and star of "The Drowsy Chaperone," acted as the night's announcer for a lineup of theater stars, who took turns telling stories, singing their favorite Broadway tunes — or both. They included Lowes and Shapiro, Darren Criss ("How to Succeed in Business Without Really Trying"), Lea Michele ("Spring Awakening"), Obba Babatundé ("Dreamgirls"), Barrett Foa ("Avenue Q"), Erich Bergen ("Jersey Boys"), Tracie Thoms ("Rent"), director Casey Nicholaw ("Book of Mormon"), playwright Dominique Morisseau ("Ain't Too Proud"), actor-filmmaker-singer Seth MacFarlane and, from "Falsettos," Nick Adams, Nick Blaemire, Audrey Cardwell, Eden Espinosa, Thatcher Jacobs, Bryonha Marie Parham and Max von Essen.
If you missed the gala evening, here are a some highlights.
Before launching into the song "Cry for Me," Bergen reminisced about falling through trap doors at "Jersey Boys," slamming his knee in "Anything Goes" and hitting his head against a wall in "Venice." "I sang one song and went to the hospital," he said.
Lowes and Shapiro chose to sing "Suddenly Seymour," having previously performed the "Little Shop of Horrors" number together at their wedding rehearsal dinner about seven years ago.
Foa jokingly re-created a community production of "Les Misérables," which he said featured a relative's hairdresser's granddaughter in the chorus, along with a variety of actors of mismatched ages, types and singing abilities. Alternating voices for each line of "One Day More," the "NCIS: Los Angeles" actor elicited a steady stream of laughter through the performance before finally wrapping up as the audience rose to give him a standing ovation.
Before singing "Easy As Life" from "Aida," Thoms spoke of the many times she'd auditioned for the show, which closed before she ever got to sing the song onstage.
"I'm a huge fan of this place," said Criss, after thanking CTG for the many shows that start in L.A. and for the touring versions of Broadway shows for those who missed them in New York.
Just before she and Criss paired up for "Broadway Baby," Michele added, "This is such a special evening. I know everyone here realizes that, but getting to just hear everyone sing tonight — these are the real singers of the world."
Although not present, Sting performed a song from his musical "The Last Ship" in a video projected against the theater wall. The 17-time Grammy-winning singer will star in the show when it arrives at the Ahmanson in January.
Later in the evening, guests also felt Sting's presence. Between dining on a smoked salmon salad and Cape Grim fillet of beef, two high bidders in an auction paid $11,000 each for VIP packages to the show's opening night in 2020.
However, the show didn't end there. As a finale to the post-performance dinner, as the triple-chocolate-mousse dessert was about to be served, Tony nominee Carmen Cusack serenaded gala guests with songs from "Bright Star" and "South Pacific."
The crowd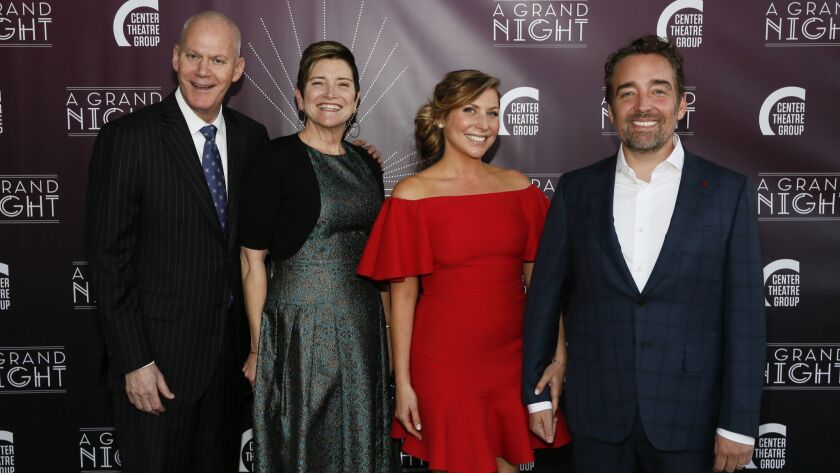 CTG Artistic Director Michael Ritchie joined dinner hosts Jana and Trevor Bezdek, performance co-chairs Matthew Walden and Richard Weitz, and co-chairs Karla and William Ahmanson, Kiki Ramos Gindler and David Gindler, Patricia Glaser and Sam Mudie, Ellyn and William Lindsay, and Laura and Jamie Rosenwald.
The quotes
"CTG has never done an annual gala. Now we want to do it every year," said Jana Bezdek. "That's the plan."
Said Walden, "There were lots and lots of [performers] who wanted to be here. It was just a matter of figuring out people's schedules. You have so many people coming up in the theater, and they don't often get a chance to get up on the stage with [an 11-piece] band behind them and a world-class bandleader. So they know they're going to have a blast."
"This event was sold out before we even announced who was performing," Weitz said. "The people who are here are going to talk about it, and the people who aren't here are going to be very upset they didn't know about it."
The numbers
The 230 guests at the gala evening paid from $5,000 to $10,000; with tickets for the show alone selling for $100 to $500.
---