Emily Current and Meritt Elliott offer a 'worn and worked' vibe with their L.A. women's brand
A look at women fashion designers in Los Angeles (Jessica Q. Chen and Claire Hannah Collins / Los Angeles Times)
Stylists-turned-designers Emily Current and Meritt Elliott, both 40, consistently use a vintage Americana aesthetic in their contemporary women's clothing brand, elevating and modernizing the theme to infuse their label as well as their ongoing interior decor collaboration with Pottery Barn.
Before launching the Great in 2015, Current and Elliott were with Current/Elliott, the fashion label they started in 2008. At Current/Elliott, the duo began making tomboy-inspired silhouettes to disrupt the denim market, which, at the time, was focused on jeggings, or denim-like leggings. The designers parted ways with Current/Elliott's parent company in 2012, citing the desire to pursue other creative endeavors, including starting the Great.
Since then, the designers have been on a roll, putting their whimsical and nostalgic twist on nursery bedding, diapers, premium denim and, most recently, a line of leather boots.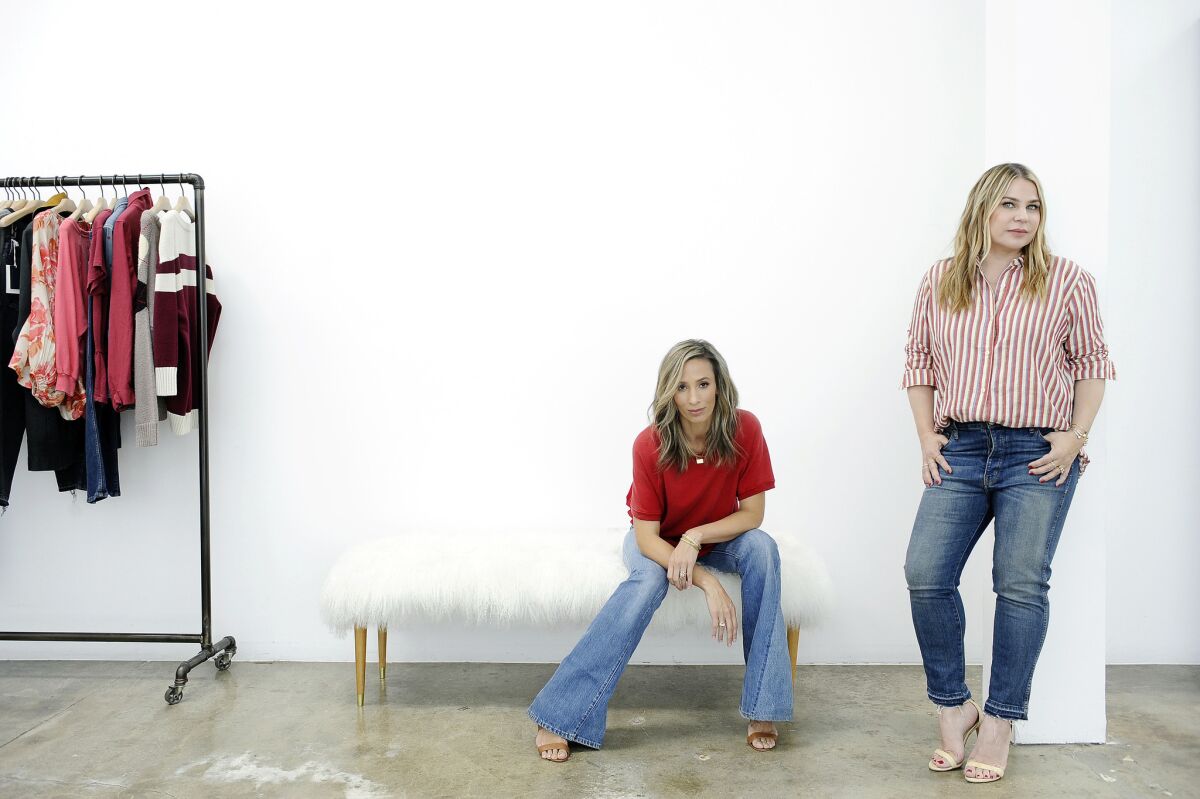 "We're trying to make best friends for your closet — like the jean that you always grab, the jacket you always grab," Current says.
With the Great, Current and Elliott created a brand that's not influenced by trends — or the runway. Their label is inspired by nostalgia and the well-worn nature of vintage pieces and clothing. The result? They have a contemporary collection that captures the casual nature of California and has a strong following of women who appreciate the designers' loose and slouchy shapes, which balance tomboy sensibility with high-end designer accessories. (Selections from the Great sell for $95 for a boxy crew T-shirt to $550 for a long dress.)
"There's something West Coast about our point of view. It comes from that deep-rooted Levi's culture and things that feel worn and worked," says Elliott of their design inspiration. "Also, we have similar references in life from what we read and what we studied in school like the gold rush, boxcar children and 'Little House on the Prairie.' There are things that influenced us from youth. Then we grew up with Gap and Levi's and brands that had this very American aesthetic. These references still impact us today, and to us, they feel very California."
Current and Elliott started their design careers in denim, and they have become known for their denim pieces such as the Fellow jean, a vintage-inspired style that's relaxed through the hip and tapered at the ankle, and the Nerd jean, a cropped style with a slight "kick-flare" hem. Although L.A. is a denim capital, Current says it was initially challenging to gain entree into the city's often-male-run production facilities.
"There [were] a few women making denim when we started, but really it was a boys' club," Current says. "We had to be tough. We had each other but we had to be tough to be in that world. Now it feels a little bit more commonplace. There's a lot more women, and I love it. I think that women have shifted the industry significantly. We did. We get legitimate respect when we walk into a denim manufacturing facility because this is our job, and this is what we do. And we've proven ourselves, and I think that was harder years ago."
At their bright and airy design studio in Beverly Grove, a hive of activity is happening for the 20 employees of the Great. Current and Elliott continue to style a couple of longtime clients, including actress and Honest Co. co-founder Jessica Alba, and the two have been busy working on projects such as their next collection for Pottery Barn, a custom print for Honest Co. diapers and the launch of their first shoe, called the Boxcar Boot.
Although their brand captures a California vibe, social media and the rise of the digital age enable them to look beyond palm trees and desert boots.
We're trying to make best friends for your closet, like the jean that you always grab.

— Emily Current, co-founder of the Great
"Because of new media, we're all influenced by the same things. I can see what's happening in Paris and I can see what's happening at Coachella — so can everyone else," Elliott says. "I think people are coming to L.A. because it's fun and free, and there's less rules. And you're able to flex your creative muscle. We've always been proud of that but now we see that everyone is actually acknowledging that as well."
"I love that people are inspired by this city," Current adds. "I love that very well-respected designers feel that seeing their work in this environment or on an actress or on a red carpet or on the street is an important element to their business. I think that there's been a little bit of change in what runway means and I love that they're gravitating toward L.A."
Where they find inspiration in L.A.
---