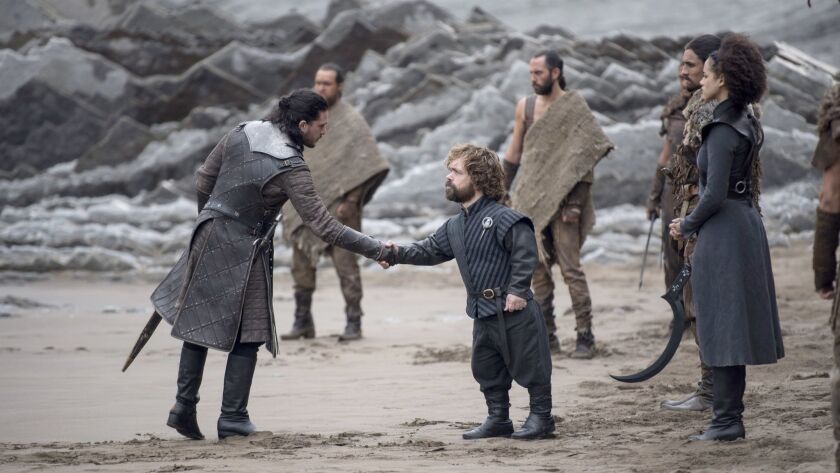 Winter is coming — and so is plenty of merchandise. To celebrate the final season of "Game of Thrones," which premieres April 14, HBO signed off on a series of licensing deals, expanding the Westeros universe for fans to enjoy and, more important, to shop.
Last month, Adidas unveiled a collection of six limited-edition Ultraboost sneakers, each in a different colorway to reflect the show's warring factions. The "Lannister" style features a crimson upper with golden stripes. The "Whitewalker" comes in a chilling white and translucent ice-blue iteration. This collection is the first sneaker deal for "Game of Thrones."
The other big merchandise offering is a "Games of Thrones"-inspired menswear collection from John Varvatos, marking the show's first designer fashion collaboration. The 11-piece range has been in stores since mid-March and includes Westeros-inspired garb such as graphic tees for $98 and a hand-dyed leather jacket for $2,698.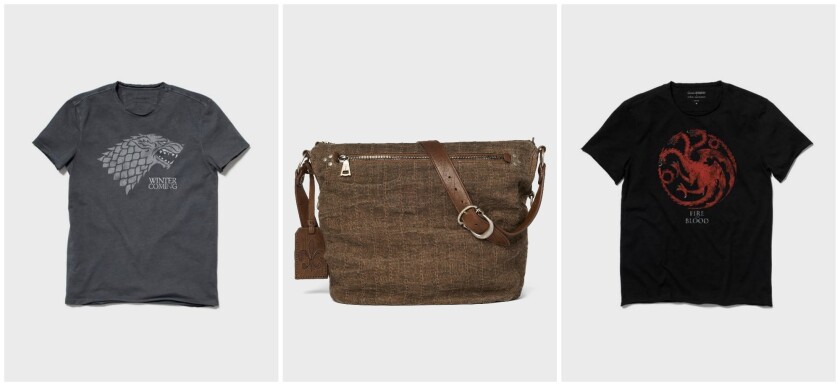 HBO is no stranger to licensed merchandise collaborations that go beyond the "usual fan gear, T-shirts and hoodies," said Jeff Peters, vice president of licensing and retail for HBO, adding that consumer products are meant to feel natural and organic to HBO's shows.
"[Licensing] is definitely a growing business and an increasingly lucrative business for us," Peters said.
In 2007, there was a collection of "Entourage" jeans from AG; in 2008, "Sex and the City" and Cosabella created lingerie sets named after each of the show's four leads; and in 2013, Swiss watchmaker Ulysse Nardin released a $10,500 limited-edition "Game of Thrones" timepiece, a marine diver cheekily named the "Night's Watch."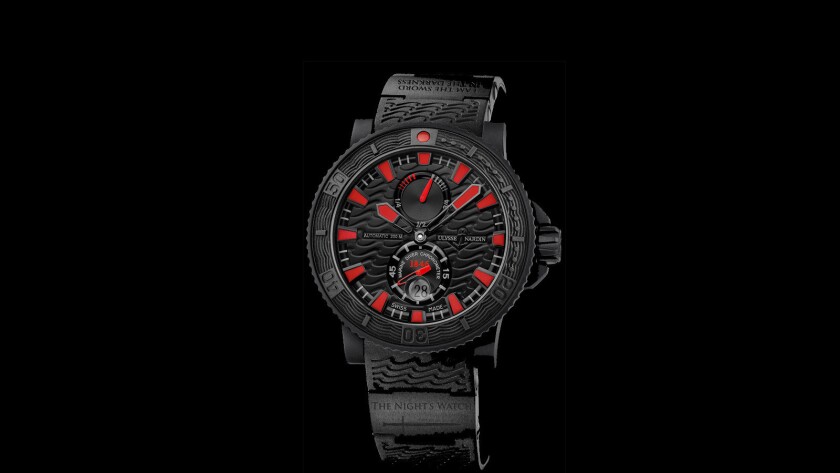 For the six-episode final season of "Game of Thrones," Peters saw an opportunity for new licensing opportunities with brands for which HBO hadn't previously collaborated — a hunt that began nearly two years ago.
"The strategy was really about the celebration of this last season, the culmination of this amazing story," he said. "We did go with some projects that were different."
Aside from wardrobing Tom Cruise in "Vanilla Sky" as well as providing clothes for several "Mission: Impossible" and James Bond movies, Varvatos has largely stayed out of Hollywood until now.
As a fan of the show since Season 1, Varvatos said answering HBO's call required very little convincing.
"I've been super-intrigued with the show and their work," he said. "For me, the direction in terms of wardrobe is the best ever in television. It's so artisanal and crafted-looking. Everything looks so beautifully done. The leathers are so burnished and feel so authentic — all things that if someone asked me about my brand, I would talk about those features."
Along with the John Varvatos and Adidas deals, HBO has confirmed two other licensed projects. One is with Newport Beach-based cosmetics brand Urban Decay and the other with Nabisco's Oreo.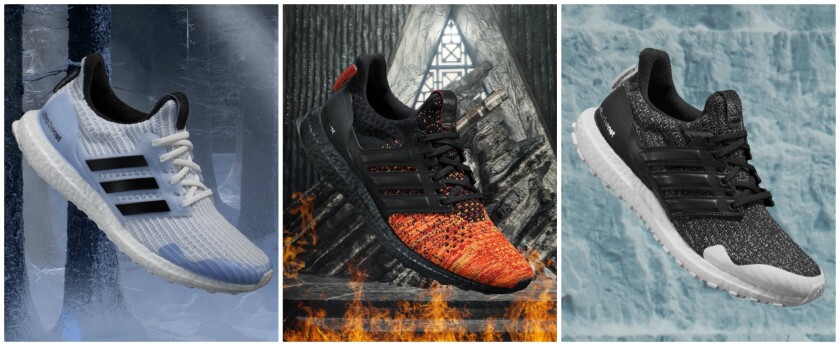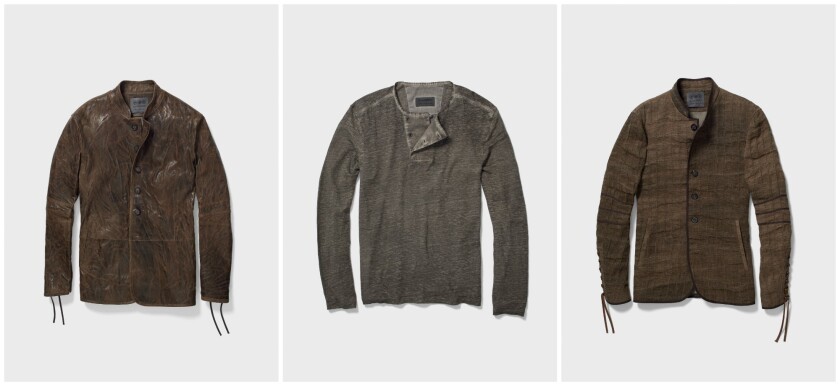 This month, Urban Decay will unveil several products inspired by the "strong women of the Seven Kingdoms," according to the brand's website, which also features a countdown clock for the makeup launch. The limited-edition collection will offer a "Game of Thrones"-inspired eye shadow palette — a pop-up palette with 20 shades, including four "holographic transformer" shadows — and other makeup.
Although an Oreo representative wouldn't confirm details about what's in store, clues have been turning up online and on social media in recent days. This week, the cookie brand released a title sequence video related to the HBO show featuring 2,750 Oreo cookies.
According to online reports and the new video, fans can expected the limited-edition "Game of Thrones" cookies, which have black packaging and feature the logos for House Lannister, House Targaryen, the Night King and House Stark, to arrive on store shelves starting April 8.
For fashion news, follow us at @latimesimage on Twitter.
---