Nick Jonas and John Varvatos take their bromance to the next level — with a new fragrance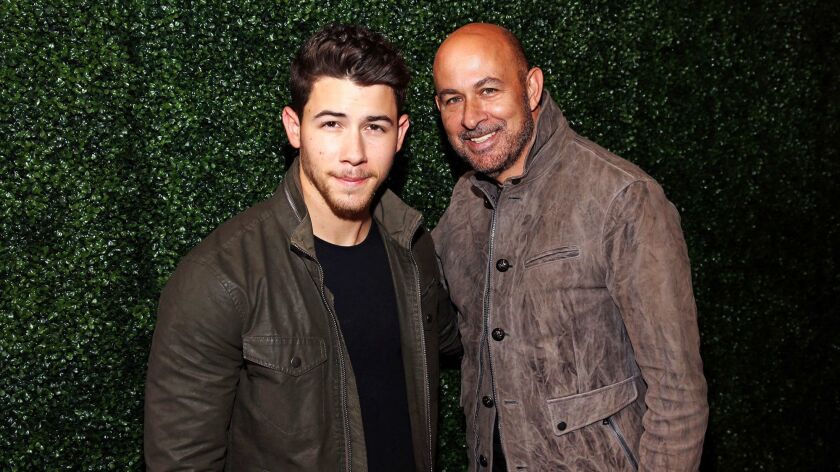 Singer Nick Jonas and designer John Varvatos have brought their ongoing bromance to the beauty realm. After collaborating on a clothing capsule collection earlier this year, the men recently released a new fragrance for guys called JV X NJ.
"This scent is really versatile," Jonas said during an appearance this fall at Bloomingdale's in the Westfield Century City shopping center in Los Angeles, where the cologne is available. "I live a pretty crazy life in that I'm at an event like this during the day. And, at times, I'm at a black-tie event singing at night or playing a show. I wanted something that reflected that lifestyle."
The cologne is bottled in a midnight blue flask and retails for $74 for 75 milliliters to $94 for 125 milliliters. The scent's notes include mandarin, kaffir lime leaves, pink pepper, sage, rosemary, lavender and sandalwood. Jonas said he hoped the clean, masculine scent would make guys feel like they "can step into any situation feeling confident and comfortable.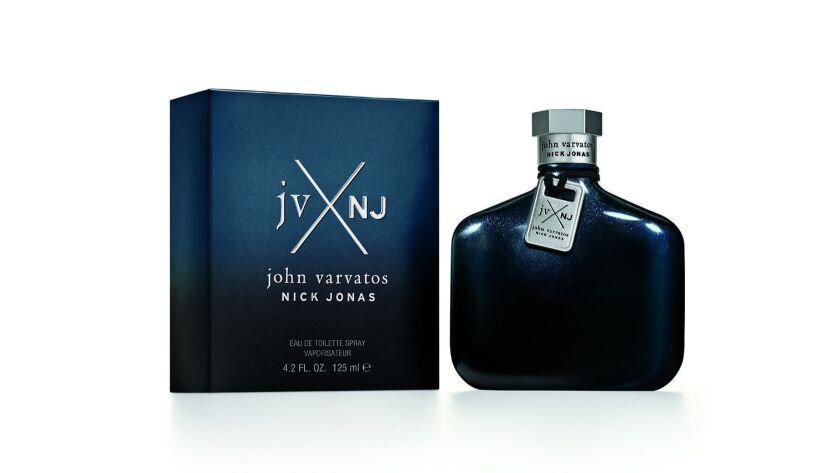 "Your scent becomes a part of your identity," Jonas continued. "Getting to create one that I enjoy wearing was an incredible experience."
Jonas and Varvatos were introduced to cologne during their childhoods. "My grandfather had a really distinct smell and fragrance that he would wear," Jonas said. "It entered the room before he did. It became something that I associated with manhood and the way you carry yourself." Varvatos shared a similar anecdote of his grandfather, adding: "Fragrance for me is always something that conjures up memories."
Varvatos said the cologne came about when he and Jonas were working together on their seven-piece apparel capsule collection. "Every time Nick was in the store or in the showroom, he was always picking up the bottles of fragrance," Varvatos said. "He definitely was interested in the [olfactory] world. You could tell he had an opinion on it, so I said, 'We should do something together there too.'"
Jonas was involved in every aspect of the process, from creating the scent to designing the bottle. "I've always had an interest in the fragrance side of things and have never really been in a position to be able to explore it and collaborate with somebody that knows so much about it," he said. "I just tried to be a student and soak up as much as I could."
Jonas said there's a commonality between music and scent. "Music is one of the only art forms that can become the fabric of people's lives where they're, day in and day out, making it a soundtrack to their life, in the same way that clothing and fragrance are a big piece of the puzzle. It feels special to treat this as an art form and see the way it's connecting with people."
Although the fragrance was created with men in mind, Varvatos said, "Women like it too. They like wearing it, which is really interesting."
Beyond cologne, Jonas said he tries to keep his grooming to a minimum. "Day to day, I'm fairly low-key," he said. "I have a little system that's been routine now for a couple years. It's as simple as moisturizer on the face after I get out of the shower. Then I throw on a little de-puffing cream under my eyes, and then my fragrance goes on. More recently, I have hair again. I'd been doing the buzz cut for the last couple of years, which was way more convenient than adding an extra five minutes to my day to do my hair."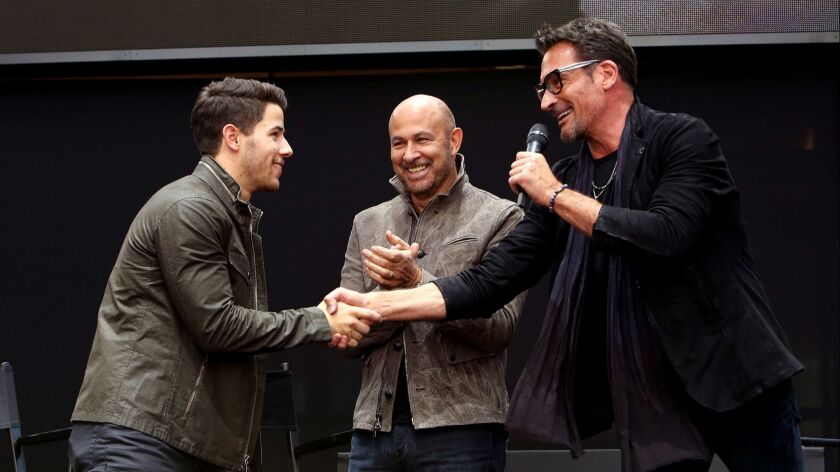 Varvatos chimed in. "But it looks good."
"Well, thank you," Jonas chuckled.
Jonas and Varvatos first met during a dinner party in New York thrown by Roc Nation. "We were seated next to each other and hit it off immediately," Jonas said, explaining that they bonded over everything from music and fashion to their families. "A couple days later, I invited John to the studio to come check out some music that I was working on, and we cracked open a bottle of tequila."
Varvatos reminisced, "That was the beginning of it all."
"Our connection as friends has evolved at such a rapid pace that it makes it feel like we've known each other for a lot longer than we have," Jonas added.
The two also have a number of upcoming projects together — some that extend beyond the worlds of fashion and beauty — but they declined to share more details. "Some are top-secret, and others are too early in the development stage to say what they are," Jonas said. "We're two creative people who enjoy working together and being around each other. And why not dig in a bit further and see where we can go on some kind of creative journey? There will be more from us together in the next year."
For fashion news, follow us at @latimesimage on Twitter.
---