FIDM's latest exhibition of movie costumes gives visitors behind-the-seams stories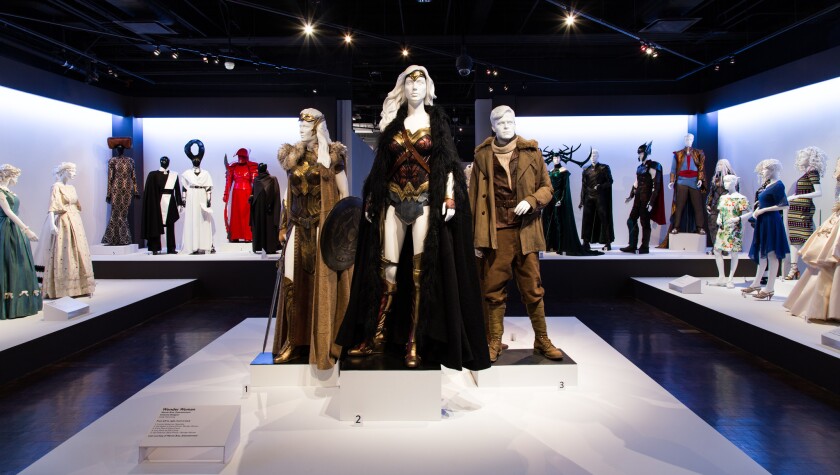 Take a movie costume off the screen and put it into a museum display, and it becomes a piece of fabric art. Put nearly 125 of them in one exhibition, and together they become a condensed, visual history of humanity and cinema.
With the recent opening of the 26th "Art of Motion Picture Costume Design" exhibition at the Fashion Institute of Design and Merchandising in downtown Los Angeles, visitors can gain new appreciation for the costumes from 25 films. Whether they are 17th century finery, 1950s couture gowns or 1994 ice skating costumes, the pieces at FIDM help show how film, fashion and technology collide to tell stories on-screen. Here are a few behind-the-seams stories.
'The Shape of Water'
With a color palette he called "bruised fruit," costume designer Luis Sequeira added a sense of sadness to Octavia Spencer's janitor character Zelda Fuller. "Even the jewelry itself is tarnished; it's not shiny," said Sequeira, who earned his first Oscar nomination with the film. "I had two pins for her. One was a broken-winged bird, and at the end of the movie, when she has her resolve to help Elisa, the pin is very similar, but it is a rising bird. Octavia loved that so much that I had one made especially for her to take home."
Sequeira took no chances with a feathery ballgown that Elisa, the romantic lead character played by Sally Hawkins, wears to dance in a dream sequence. To refine the lines and get approval from director Guillermo del Toro, his team built the dress first in half scale before making the final dress from pricey lace at $450 a meter. "The fabric alone on this dress was $9,600," Sequeira said, "and that's was before all the labor to put it together."
'Wonder Woman'
Gal Gadot's strapless Wonder Woman warrior costume clearly is inspired by Roman gladiators. But the materials? Elements of the costume look cast from metal, or plastic, or maybe molded leather, or all three. "Designers are constantly looking for new materials that will function in unique ways," FIDM curator Kevin Jones said. "This is kind of a metallic, but it's not metal. The surface treatment almost looks like it could be enamel work. It will give it a crazy sense of depth on screen too."
'The Greatest Showman'
For the fictionalized story of P.T. Barnum's rise to fame, the costumes had to be as captivating as the inventor of showbiz himself, played by Hugh Jackman. Barnum's classic red ringmaster coat includes his "B" initial in gold bullion monograms and embossed brass buttons, nearly invisible to the camera. With thousands of Swarovski crystals at her disposal, costume designer Ellen Mirojnick lavished them on a white ballgown for the Jenny Lind character, portrayed by Rebecca Ferguson. "If she had used only one crystal bead type, it would be very monotonous-looking," Jones said. Instead, the dress and its enormous portrait collar are sewn with swirls of various sizes of beads and crystals, strung to appear like jewelry.
'Phantom Thread'
With "Phantom Thread," costume designer Mark Bridges put his academic training in couture construction to use. The film's key dresses were first made in muslin before the precious fabrics were cut to each actor's measurements. He photocopied a rare, 3-meter-long piece of 17th century Flemish lace. "We cut it out in paper and figured out how we were going to place it on the dress," he said.
Daniel Day-Lewis plays London couturier Reynolds Woodcock, who wears what may be the world's most elegant lab coat. Bridges said the linen is from Savile Row fabric merchant Holland & Sherry; the buttonholes are handworked; and the shape is a fusion of those worn by Christian Dior and Cristóbal Balenciaga.
'I, Tonya'
Costume designer Jennifer Johnson replicated some of Tonya Harding's most recognizable skating costumes. Covered in sequin appliqués — the kind you can buy in craft stores — Harding, and later, Johnson, gave the form-fitting costumes a hefty dose of glitz. The costumes, worn by Margot Robbie in the movie, might look new to a younger generation, Jones said. "I wonder if this movie will affect the look of ice skating costumes. We've gone through a minimalist stage. Will glitz come back?"
'Beauty and the Beast'
Oscar winner Jacqueline Durran is nominated for "Darkest Hour" and for "Beauty and the Beast," a live-action version of the 1991 animated story. In a pivotal ballroom scene with Belle and Beast, Durran updated the the all-important yellow princess dress worn by Emma Watson. The layers of satin organza are decorated with thousands of crystals and delicately printed with gold leaf filigree. Similarly, what looks like intricate stitching on the Beast's blue frock coat, worn by Dan Stevens, is a convincing metallic print of embroidery.
"Art of Motion Picture Costume Design" exhibition at FIDM, 919 S. Grand Ave., Los Angeles. 10 a.m.-5 p.m. Tuesdays through Saturdays; ends April 7. fidmmuseum.org
For fashion news, follow us at @latimesimage on Twitter.
---