Fred Segal, one of the most iconic names in L.A. retail, finds its designer footing on Sunset Boulevard
Gwen Stefani at Domino Outpost, one of the retail spaces inside the new Fred Segal during a Dec. 7, 2017, event.
(Rachel Murray / Getty Images )
The fundamental idea behind the new Fred Segal store in West Hollywood is to take people on a "treasure hunt."
"Really, almost everyone can find something," John Frierson, president of Fred Segal, said. "Beyond that, it's the fun of Fred Segal — to come in and hang out and have a good time and find joyful objects that you wouldn't necessarily type into a search bar."
The Fred Segal name has been synonymous with Los Angeles style since the early 1960s, originating a laid-back look at an upscale price point and becoming one of the first local boutiques to draw tourists, celebrities and the paparazzi. (Worldwide rights to the Fred Segal name were bought by the New York company Sandow Media in 2012, and none of the subsequent retail projects are affiliated with the two original, ivy-clad Fred Segal centers.)
Frierson and the vendors in the 13,000-square-foot Sunset Boulevard space, which opened in late September and joins Fred Segal boutiques in Japan and at Los Angeles International Airport, have been gearing up for the holidays by hosting a series of events. The festive list has included celebrity stylist Maeve Reilly with New Era Cap at a pop-up and an event co-hosted by Fred Segal, CB2 and Domino magazine to celebrate the opening of Domino's holiday pop-up shop and Gwen Stefani's new holiday album, "You Make It Feel Like Christmas." (And yes, the singer was in attendance.) There was also a party for Los Angeles designer Ayler Young's luxury bomber jacket line.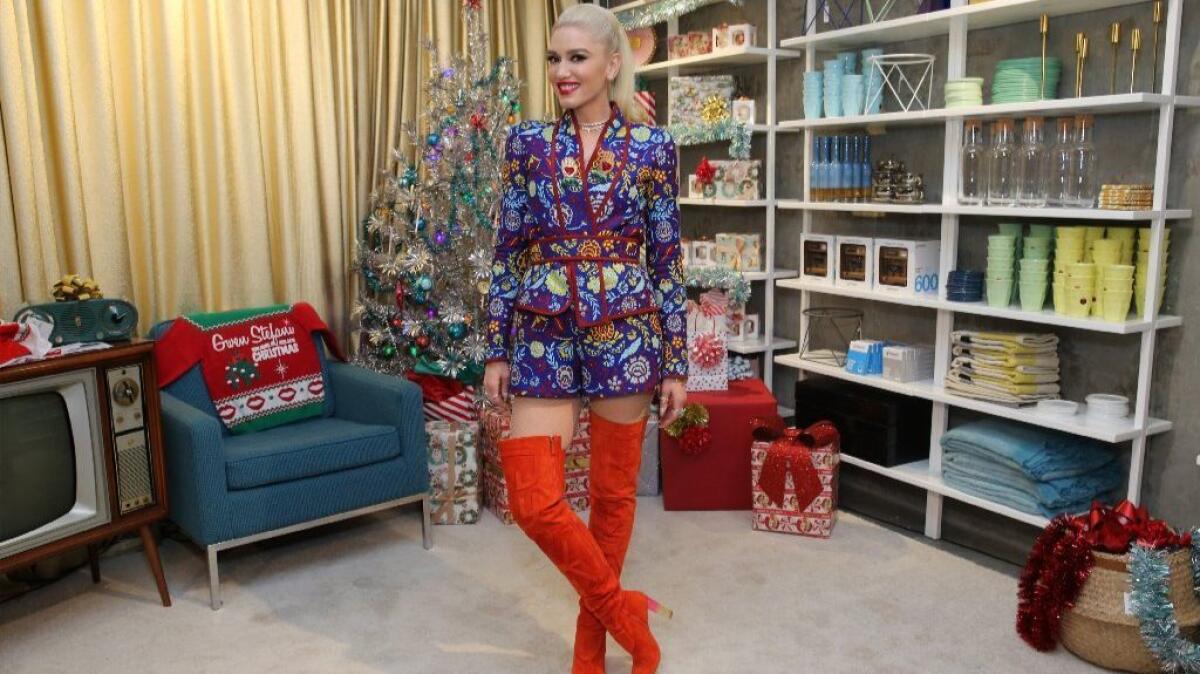 On an ongoing basis, Frierson said, the philosophy has been for the new Fred Segal to have "almost a treasure hunt kind of feeling."
The store is set up as a series of smaller, interconnected boutiques in a manner that Frierson describes as "an interesting mix of multi-brand, specialty-curated shops."
Merchandise covers menswear and women's wear, children's items, home decor, beauty and flowers. A customer can walk in and pick up an artistically crafted bouquet with Juniper Ridge products such as wild sage tea from Matriarch, non-toxic beauty products from Cap Beauty and home accessories from Tesoro, where everything is gift-wrapped. (But in this high-end air, it's also possible to scoop up something for less than $20.) Recently, Fred Segal launched its own private label, Fred Segal Originals, a line of men's and women's clothes and accessories. (Current selections range from a $36 "Love One Another" canvas pouch to a men's cashmere cardigan for $598.)
L.A. footwear designer George Esquivel selected Fred Segal as the spot for his first retail space, and has seen thriving demand for his signature $650 blue-denim mules.
"By nature, everything I do is limited edition," Esquivel said. "The products are difficult to make so I do small runs of them. The mule happens to be the hot shoe for us." (There is also an alligator version available by special order for about $3,000). In his section of the store, a wall of shoes makes selecting easy.
"It's like a little find," he said. "Someone can come in, see a shoe they like, and we can customize the color or the bow. We're not trying to be fast-fashion."
After the holiday shopping rush subsides, Frierson said the goal is to keep Fred Segal West Hollywood a relevant part of the local retail, restaurant and lifestyle scene. Fred Segal Café by Tartine is open adjacent to the retail space, while plans are underway for the arrival next year of Tesse, a restaurant by Bill Chait. Also slated to open next year at the Fred Segal site is a boutique boxing studio by New York-based Rumble.
"There's something about bringing home a Fred Segal bag," Frierson said. "It's a brand that is imprinted in Los Angeles, now on one of the city's most iconic streets. We want to lay the groundwork for the future of retail."
Fred Segal, 8500 Sunset Blvd. West Hollywood, 10 a.m. to 9 p.m. Monday through Saturday; and 11 a.m. to 6 p.m. Sunday; Fred Segal Café by Tartine 7 a.m. to 7 p.m. Monday through Sunday, (310) 432-0560, www.fredsegal.com.
For fashion news, follow us at @latimesimage on Twitter.