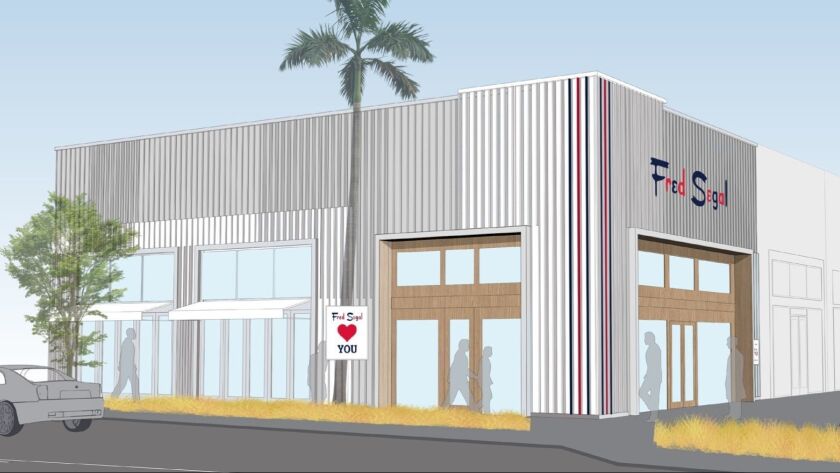 Retail brand Fred Segal is returning to the Cross Creek Road cluster of stores it helped spawn — sort of — with a 4,000-square-foot space set to open in the Malibu Village shopping center early next year.
Fred Segal — the man, not the brand (worldwide rights to that name were bought by Sandow Media in 2012) — was a retail visionary who, after striking gold in 1961 with his 300-square-foot denim bar in L.A., did it again in 1965 with a Melrose Avenue retail complex. (A Santa Monica location would follow in the 1980s.)

In 1973, sensing promise in a ramshackle 1920s-era motel-turned-apartment-complex just off Pacific Coast Highway, he bought and renovated the property at 3835 Cross Creek Road. What's now known as the Malibu Country Mart opened for business two years later — with a Fred Segal boutique in the mix, naturally. In 1980, Segal developed another cluster of boutiques across the street at 3900 Cross Creek Road.
It's on that side of the street — in a 4,000-square-foot space previously occupied by Malibu Cinemas (which shuttered last year) that the new boutique is expected to bow in early 2019 as part of the Malibu Village complex whose other tenants include Sephora, Soulcycle and Lululemon.
The Malibu outpost is expected to stock women's apparel, accessories, jewelry and gifts curated by Maris Collective (which operates the women's store at Fred Segal Sunset) as well as a focused assortment of menswear. It also will feature a sneaker shop and a separate beauty shop.
The Malibu boutique is part of an ambitious plan by Fred Segal's current owners (Sandow and Evolution Media Capital, the latter of which took a majority stake in the brand in 2014) to expand the brand's retail presence. Since acquiring the Fred Segal nameplate, stores have sprouted both near (inside LAX in 2013) and far (in Tokyo in 2015), with a 13,000-square-foot West Coast flagship joining the lineup last September. (The original ivy-covered space on Melrose, which is still home to original Fred Segal tenants Ron Herman and Ron Robinson, is not part of the Sandow / Evolution Media portfolio)
Fred Segal Malibu, is projected to open in early 2019 at 3822 Cross Creek Road, Malibu.
ALSO:
Has Fred Segal gone from L.A. cool to tepid with moves to LAX, Vegas?
First Fred Segal center outside the U.S. opens in Tokyo
N.Y. firm buys rights to Fred Segal name
For more musings on all things fashion and style, follow me at @ARTschorn.
---
UPDATES:
1:55 p.m.: This story was updated to include the name of the Fred Segal brand's majority stakeholder, Evolution Media Capital, which is a partner in the venture with Sandow.
---