Raising the roof at the 'Fun Home' after-party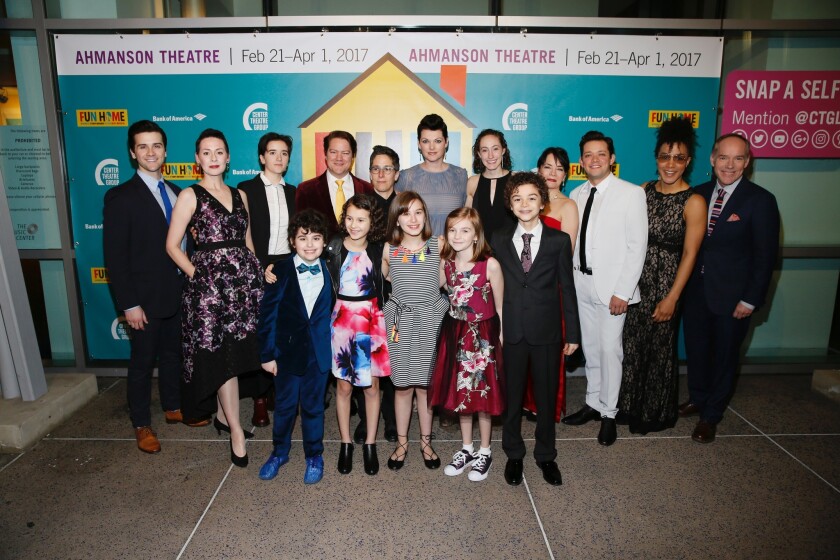 At the after-party for "Fun Home," which opened at the Ahmanson Theatre last month, Suzanne Cryer of HBO's "Silicon Valley" caught up with the actor who is playing cartoonist, MacArthur "genius" award recipient and "Fun Home" creator Alison Bechdel's father.
"I saw the entire show and said, 'That guy is a genius,'" Cryer said, noting that from Row Q of the theater, she couldn't see his face. "And then my friend sitting behind me said, 'Wasn't Robert Petkoff amazing?,' and I said, 'Oh my God.' I worked with Robert 20 years ago. So now, even though I have a babysitter and three kids at home, I said, 'I have to go to the cast party.'"
The show, which snagged five Tony Awards in 2015 including best musical and is currently on a national tour, is based on Bechdel's graphic memoir following her character as she looks back on her childhood, her college years, the discovery of her attraction to women and her relationships with her family, especially with her father. "Fun Home" continues its run at the Ahmanson through April 1 and will return to SoCal in August for performances at the Segerstrom Center for the Arts in Costa Mesa.The opening night crowd also included Katie Lowes ("Scandal"), Alec Mapa ("Ugly Betty"), Tig Notaro ("One Mississippi") and Pooja Batra.
Now, if you didn't attend the cast party at Grand Avenue restaurant Vespaio, here are four other conversations you missed.
1. Said Bechdel, "I've seen the show many, many times, and it's amazing. There's always some new little thing" added to it. And about watching her life unfold onstage, she added, "That part is super weird, and I can't even describe it. It is my life. I think of my parents a lot when I'm watching it — like, 'What would they think?'"
2. "[My role] is interesting because I'm playing a real person and she's here — she's actually in this room somewhere," said Kate Shindle, who plays the adult version of Alison Bechdel. "And she is supportive of, and interested in, the show in exactly the best way for someone who created the source material."
Referring to the night's audience, which rose for a standing ovation, she continued, "if the rest of the six weeks is like tonight, it's going to be an awesome stay."
3. "Honestly I've never been happier in my whole life," said Abby Corrigan, weighing in on her role as the teen-aged version of Bechdel. "She's so much like me and she's so much not like me. … It's so much of a balance between my life and Alison's because I'm still going through the same things as she was at that time."
4. Petkoff said he'd been "on the fence" about leaving home for the one-year tour, "but then my wife said to me, 'Isn't this why you became and actor — to play roles like this?'... He is a man who is struggling with his true identity and who has, in its place, constructed a world that he is trying to perfect, which he can never perfect — until it shatters around him."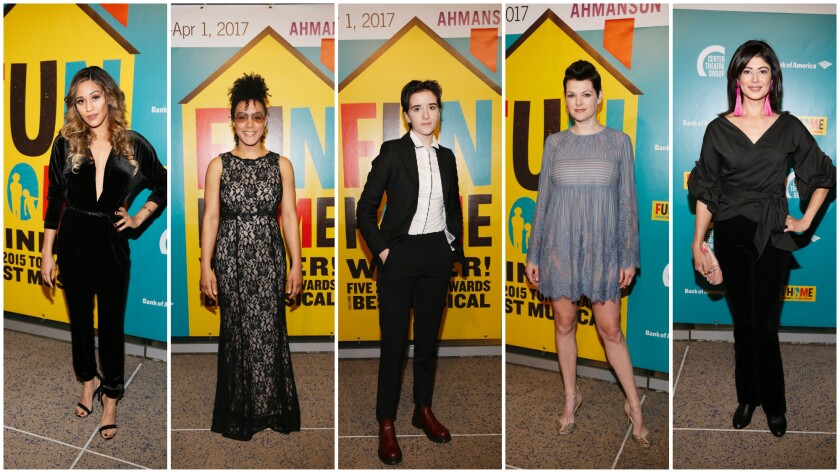 Ellen Olivier is the founder of Society News LA.
ALSO
This 'Fun Home' weaves tragedy and comedy into a wholly original American musical
Designing L.A.-area fashion brands and labels that stay in the family
Adding bold, colorful stripes might be the ultimate way to stand out this spring
---