Model Georgia May Jagger rides the waves into a new Volcom fashion collaboration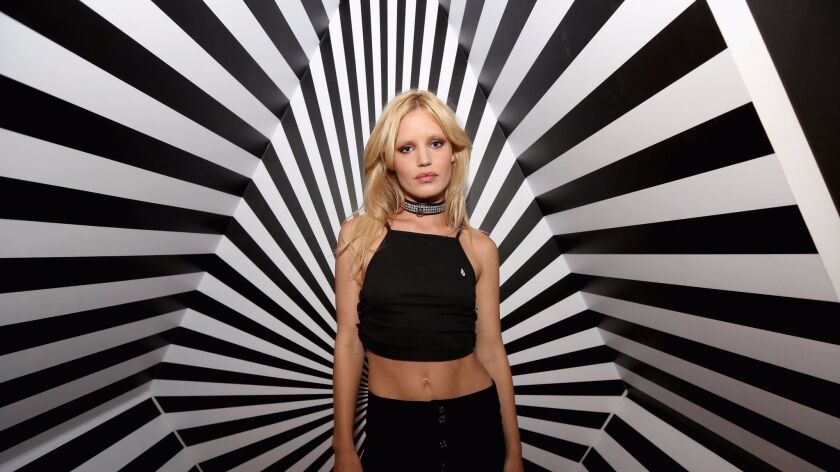 Making a royal entrance befitting of her rock-star lineage, Georgia May Jagger rode up in a vintage Porsche Speedster Tribute 356 flanked by motorcyclists to the launch party of her new collaborative line with fashion brand Volcom.
Last year, the 25-year-old model and London native, daughter of Mick Jagger and Jerry Hall, became an ambassador for the Costa Mesa-based surf, snowboard and skater-oriented label bought in 2011 by French luxury conglomerate Kering. Their new 15-piece Volcom X GMJ line ($32-$101.50 at www.volcom.com) includes T-shirts, a hoodie sweatshirt, scuba-inspired swimsuits, slender cigarette pants, a military jacket, a perforated bomber jacket, and star-patterned rompers and shorts.
For the occasion, Jagger, who previously collaborated on designs for Hudson Jeans and Mulberry, donned a Volcom X GMJ cropped tank top and cotton miniskirt, paired with glittery, sky-high platform sandals by British designer Terry de Havilland.
The June 14 launch party at Start Los Angeles, an events space in Harvard Heights, was open to the public. Jagger's boyfriend Josh Ludlow deejayed, and the evening included a performance by L.A. girl band Deap Vally. Also in attendance were Jagger's brother James with his wife, Anoushka Sharma; Alexandra Richards, daughter of Rolling Stones guitarist Keith Richards; and model Suki Waterhouse.
Here's an excerpt from our conversation with Jagger, who spoke about her ongoing Volcom partnership, including designs for the higher-end Stone Row line dropping in August.
---
When did Volcom first cross your radar?
Back in the early 2000s, when I was about 10 years old, I spent a lot of time in the south of France, and Volcom was the cool thing to wear. It's funny because my friends say, "Oh you're working for Volcom? Isn't that a skate brand?" I think it's exciting because I'm obviously not a professional sporter but I think they're changing to a look that's not just coastal. [Volcom's global women's design director] Kelly Summer has been living in East London, and we are really on the same page. I would never put out anything that I didn't want to wear. … We've already done fall and holiday. For Stone Row, the more premium line, we've got really cool fake fur coats and blue silk tracksuits.
Talk to me about your inspiration for the collection. What was it?
I was really inspired by '70s basketball and baseball team clothing for the T-shirts. I imagined Volcom to be a little different because I like wearing form-fitting clothes and girly things sometimes. The look is easygoing, but I don't think that being glamorous and being a tomboy are mutually exclusive. … For the swimwear, I was inspired by '80s color-blocking, and we are using Econyl, a fiber that's 78% made of recycled fishing nets from the ocean. It's quite exciting because there's enough nylon in the world to never need to make any new nylon, and, with this technology, they can keep recycling the swimsuits. We can't print on Econyl yet, but they've made neon and bright white. I love neon colors and fun beachwear and I think if you're going to make a one-piece swimsuit that it needs to fit really well and be super sexy. So ours has a cut-away design.
You are also an ambassador for ocean conservation organization Project 0, correct?
Yes, I work with Project 0, which combines a lot of smaller ocean conservation charities under one global umbrella. My brother James is a big part of Project 0, and so is Tyrone Wood [son of Rolling Stones member Ronnie Wood] and a lot of our friends. Volcom is a big company, and they really want to make a difference. We are doing an upcoming collaboration with Project 0 on one of the Econyl swimsuits, where all the proceeds go to them.
Any other projects in the works?
I'm going to start making my own organic skin care range. We literally just started. So it's going to be a couple years. It is U.K.-based and will just be me — fully me.
Are you planning to spend more time in L.A.?
I just bought a house in Laurel Canyon!
So now that you're an Angeleno, do you have any favorite shops?
I like Reformation. My mom just asked me where I got my dress that was from there.
I hear Volcom pro surfer Coco Ho taught you to surf. True?
Yes, we went surfing in Long Beach last year, and it was so much fun. I'm so down for it because I want to get fully involved. I just went that one time but I feel completely addicted to it so I want to go this week. Long Beach seemed to be it for me because I'm only on baby waves, saying, "This is so crazy!"
Please consider subscribing today to support stories like this one. Already a subscriber? Your support makes our work possible. Thank you. Get full access to our signature journalism for just 99 cents for the first four weeks.
Fashion Videos
---
For fashion news, follow us at @latimesimage on Twitter.
---