Grammys 2018: Lady Gaga's braided hair wasn't inspired by 'Game of Thrones'
Has Lady Gaga ever not made a statement at the Grammy Awards? It wasn't quite the caliber of her infamous raw meat dress, but the long-sleeved black lace Armani Privé jumpsuit — complete with a voluminous detachable skirt and train — she wore on the red carpet at the 60th Grammy Awards on Sunday was head-turning, to say the least.
And topping off the look was an intricately designed hairstyle that featured fishtail braids and corset-like lacing that was itself a talking point.
In Gaga's platinum locks, the laces looked like something Daenerys Targaryen would wear on "Game of Thrones." But as it turns out, the hairdo had nothing to do with HBO's popular fictional character; instead, the laces referenced a signature Victorian style inspired by the outfit itself.
"Gaga and I always wanted to do something special with hair braiding," said her longtime hairstylist, Frederic Aspiras. "When I saw the dress, it reminded me of gowns from the Victorian era and how women wore corsets. Thus, I used that as inspiration to incorporate in the hair and braiding."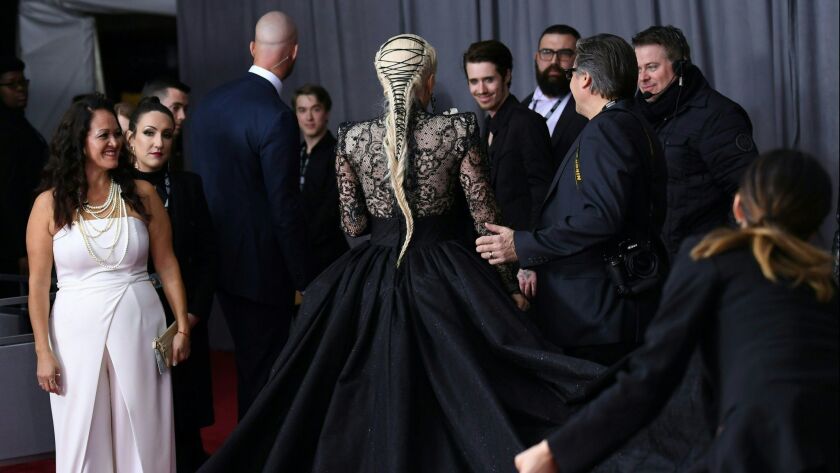 The resulting "romantic, seductive Victorian-inspired hair" was the culmination of two days of sketching a variety of designs, the hairstylist said. But while it was the product of hours and hours of thought and looked incredibly complex, Aspiras said it's actually "very, very easily" adaptable to real life.
Key products used to prep Gaga's hair include John Frieda Luxurious Volume Full Hydration Detangling Mist and John Frieda Luxurious Volume Perfectly Full Mousse, both used before creating a center part and blow-drying with a diffuser.
John Frieda Frizz Ease Clearly Defined Gel was Aspiras' go-to while plaiting the two side braids, which he secured with clear elastics. However, the pièce de résistance — the corset-style weaving using a black lace — is something that requires a friend for assistance.
For fashion news, follow us at @latimesimage on Twitter.
---