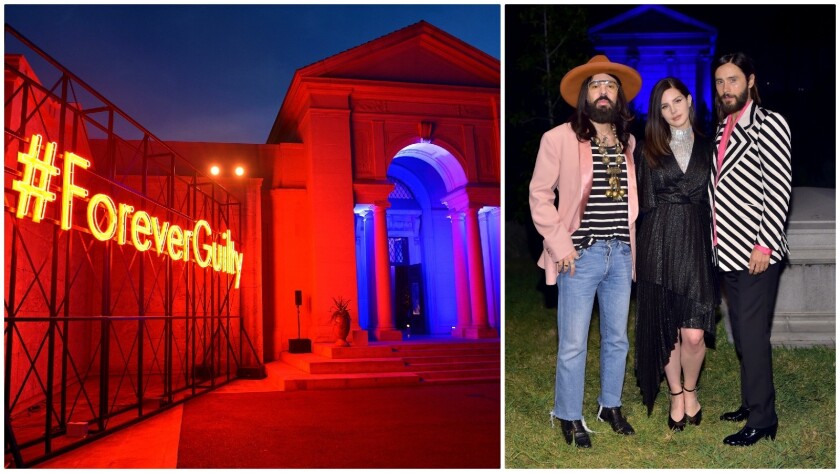 "I feel like 'Valley of the Dolls,' " Lana Del Rey told Courtney Love as the duo vamped for photographers in front of a gravestone at Los Angeles' Hollywood Forever Cemetery on Friday night. "Sparkle, sparkle," Love teased in return.
Del Rey was on hand to celebrate her status as the newly announced face of the Gucci Guilty fragrance. Love makes a cameo in the campaign video, which will be officially unveiled on Jan. 15, 2019.
The women were joined by their campaign costar Jared Leto, a longtime ambassador for Gucci and ongoing Gucci Guilty model.
---
The event
After an embargoed preview in which guests had a chance to watch the upcoming television spot, the largely Gucci-clad group made its way past various graves and into a mausoleum, where bars and a dance floor were set up for guests to let loose. Outside, a bright neon light read "#ForeverGuilty," but no one seemed fazed to be living it up alongside tombstones from the late 1800s. Hidden between flower-adorned statues, the party revealed the classic, clean bottle design for Gucci Guilty Pour Femme, which emulates the Pour Homme scent. "Beautiful; so beautiful," Love said, as she eyed the display of fragrances, which will be launched in January as a new addition to Gucci's Eau de Parfum portfolio. (The previous formulation of Gucci Guilty Pour Femme was as an eau de toilette.)
The crowd
Gucci's creative director Alessandro Michele was in attendance, as were Diplo, Gia Coppola, Rainey Qualley, Asia Chow, Fuschia Kate Sumner, Jacqui Getty, B. Akerlund, Lisa Eisner, Rosson Crow, Gela Nash-Taylor and husband John Taylor, Kacy Hill, and Italian actor Alessandro Borghi, in addition to stylists Tara Swennen and Jen Rade.
The food
The Kogi BBQ truck was on the scene serving up sliders and short-rib tacos. Vegan, turkey and beef hot dogs from Pinks were also a popular option.
The scene
Johnny Ramone's mortal remains are famously housed at the Hollywood Forever Cemetery. Notably, the late rocker's widow, Linda Ramone, was among the guests taking in the scene. Elsewhere, Love mingled with director-photographer Floria Sigismondi and costume designer Arianne Phillips — when she wasn't recording the night for Gucci Beauty's Instagram account. "It's Gucci takeover time," Love said, while Del Rey blew kisses at the camera.
The music
DJs Jacques Auberger, Alex Cameron and Charlotte Linden Ercoli provided the evening's soundtrack. Although trance and techno was largely the music of choice, at one point Annie Lennox's "Walking on Broken Glass" played, which felt particularly fitting given that numerous guests ended up dropping their glasses of Champagne while navigating the mausoleum's stairway.
The campaign
Directed by Glen Luchford, the new advertisements, which were shot in various locales around Los Angeles, feature creative direction from Michele. Although Del Rey is new to the Gucci Guilty family, Leto starred in the previous Gucci Guilty campaign, which was shot in Venice, Italy, and first debuted in 2016.
The party's location had special meaning for the Italian fashion designer, whose spring and summer 2017 collection featured pieces inspired by the landmark cemetery, which Michele was first introduced to when he attended a tribute to Ramone there in 2016. Not-so-coincidentally, it is also one of the locations that appears in the new ad campaign.
---