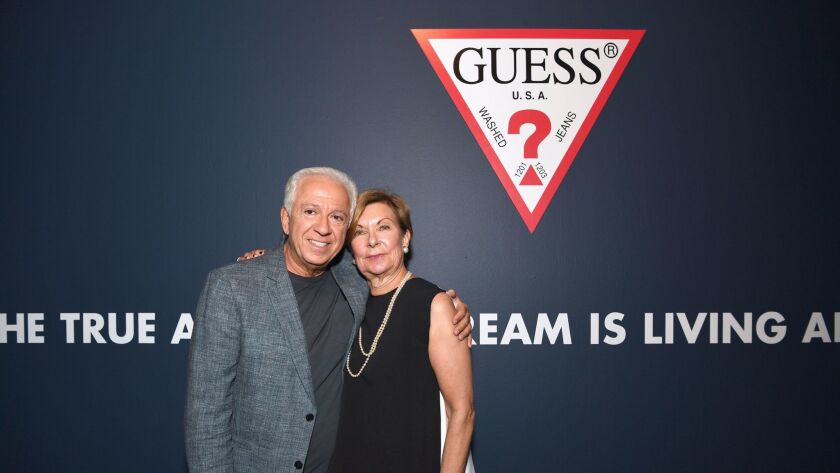 L.A. fashion brand Guess may be known as much for its va-va-voom advertising campaigns as for its second-skin stonewashed jeans.
Paul Marciano, the 65-year-old executive chairman and chief creative officer of Guess Inc., founded the company with his brothers Maurice, Georges and Armand in 1981. (Maurice continues to serve on the board of directors; the other brothers exited the company years ago.) Today the company produces approximately 4.7 million pairs of jeans per year and sells in 101 countries, with plans to expand in Asia, Eastern Europe and the Middle East.
In celebration of 3½ decades of business, Marciano welcomed a crowd at the Fashion Institute of Design & Merchandising Museum in downtown Los Angeles earlier this month to preview the exhibition, "Guess: 35 Years & Still Dreaming" that runs through July 8. In attendance were some of the more than 1,100 FIDM graduates who have gone on to work for Guess.
In a few words, the essence and style of Guess today is simply California, smart, sexy, and what is right in your own eyes.

— Paul Marciano
No stranger to the museum world, Paul and Maurice recently debuted the Marciano Art Foundation, a contemporary art museum on Wilshire Boulevard near Koreatown that displays their private collections.
The multiple-gallery Guess installation at FIDM encompasses two themes. "Denim Is Our World" dives into Guess denim design and finishing techniques (from sanding and destroying to washing with pumice stones, acid, even golf balls), while "Decades of Guess: Campaigns, Culture + Color" showcases looks from each decade, along with the company's distinctive advertising imagery starring models such as Claudia Schiffer, Anna Nicole Smith, Naomi Campbell, Kate Upton, Gigi Hadid and Hailey Baldwin posing in pinup-girl style.
Much like earning a spot as a Victoria's Secret Angel, landing a role in a Guess campaign is considered to be a major modeling accolade, given the track record of the elite group.
The latest recruit is 20-year-old Cuban singer Camila Cabello, featured in the fall advertising campaign that hits July 17. As for Guess guys, Joe Jonas posed in an underwear campaign earlier this year, and the company has recently teamed with A$AP Rocky on Guess Originals collections.
During the preview event (and by email afterward), Marciano talked to us about the brand's L.A. roots and pop culture inspirations.
---
L.A. origins
"My brothers and I started [the company] just two blocks away, on Broadway, at two different offices. If you look at the triangle of [the] Guess [label], you will see the numbers 1201 and 1203, which were simply the suite numbers of our rooms. People were thinking, 'This is black magic' and trying to figure it out. … We drove from the Westside of Los Angeles to downtown every day, and we found the name of Guess on a billboard for McDonald's in Koreatown.
"It was a new, nationwide campaign that had 'guess' as the big word, and very small on the bottom, it said, 'What is in a Big Mac?' with a picture of a new, gigantic burger. Three of us didn't speak English. And in French, 'guess' means nothing. The one who spoke English said, 'Still it means nothing to me.' Long story short, Maurice designed the first red triangle with a question mark [to represent Guess], and I shot my first campaign in 1982."
---
Hollywood icons
"The influence of Hollywood has been, from Day One, a big inspiration for me on every campaign. My dreams and influences and inspiration came through old movies like 'La Dolce Vita' from Fellini, 'And God Created Woman' with Brigitte Bardot, and all of the classic, black-and-white movies of Sophia Loren.
"I really always had three iconic women in my head. … Loren, Bardot and Marilyn Monroe, and that guided me always to define what a Guess Girl was and [who she] is in my eyes today."
---
The essence of Guess
"In a few words, the essence and style of Guess today is simply California, smart, sexy, and what is right in your own eyes. … It doesn't have to follow any trend or 'must-have' as long as it's what you feel good about [wearing]."
---
The exhibit "Guess: 35 Years & Still Dreaming" is free and open to the public. Hours for the FIDM Museum, 919 S. Grand Ave., Suite 250, are 10 a.m. to 5 p.m. Tuesday through Saturday, (213) 623-5821, fidmmuseum.org.
Please consider subscribing today to support stories like this one. Already a subscriber? Your support makes our work possible. Thank you. Get full access to our signature journalism for just 99 cents for the first four weeks.
Fashion Videos
For fashion news, follow us at @latimesimage on Twitter.
ALSO
Designer Phillip Lim talks about his new L.A. store, left coast 'contamination' and his first foray into film
At Made LA, Snoop Dogg and Wiz Khalifa make the traditional runway show disappear in a puff of smoke
It's all about celebrating Hollywood's wonder women (and a few guys) at Women in Film's Crystal + Lucy Awards
---