Guillermo del Toro knows the secret to making a successful film. It's all about collaborating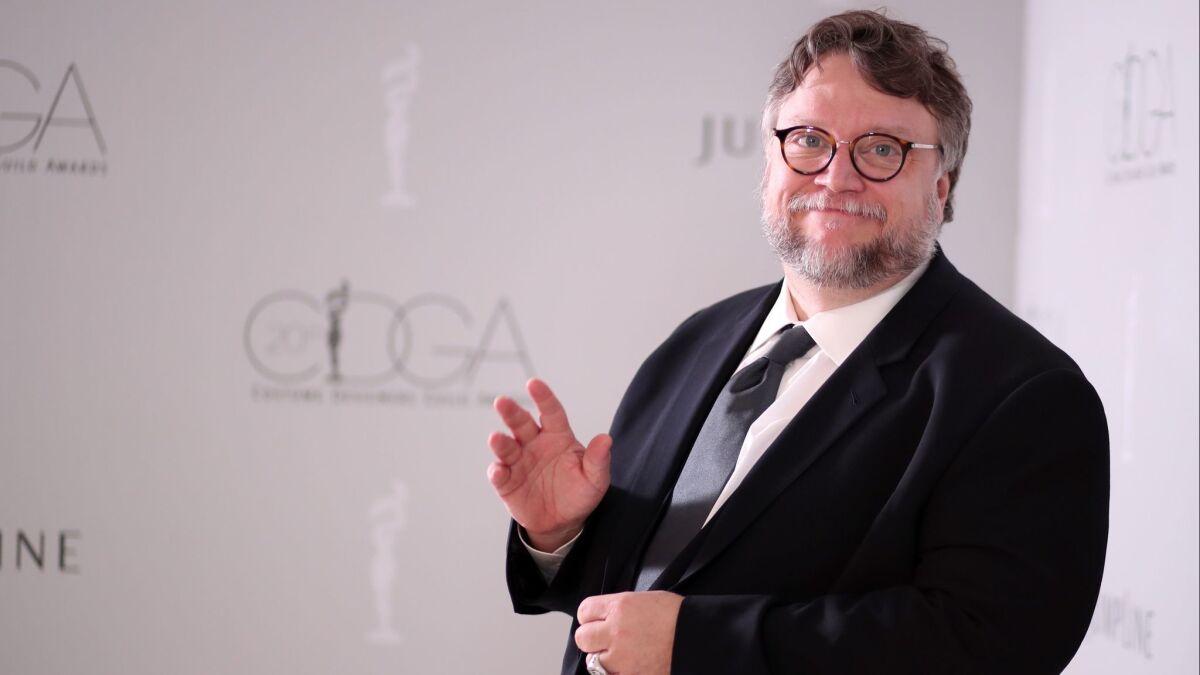 Of the many words to describe Guillermo del Toro — director, producer, screenwriter and special effects makeup artist — colleagues have lately settled on just one: collaborator.
His cooperative approach appears to be the secret to success now that his film "The Shape of Water" leads the 90th Academy Awards race with 13 nominations, including three for Del Toro — best picture, director and original screenplay. About two weeks before the Oscar ceremony on March 4, Del Toro was recognized for a working style that honors below-the-line talents when the Costume Designers Guild named him the year's Distinguished Collaborator.
As he presented the trophy, actor Doug Jones, who has played 11 of Del Toro's monsters, compared the director to other film visionaries such as Walt Disney and George Lucas. Many of the director's admirers also call him a visionary, but describe a man who is a deeply practical leader with a proven system that enables his cast and crew to meet and exceed his uncommon vision.
As a director who started his career in Mexico as a special effects makeup artist, Del Toro developed insight across disciplines.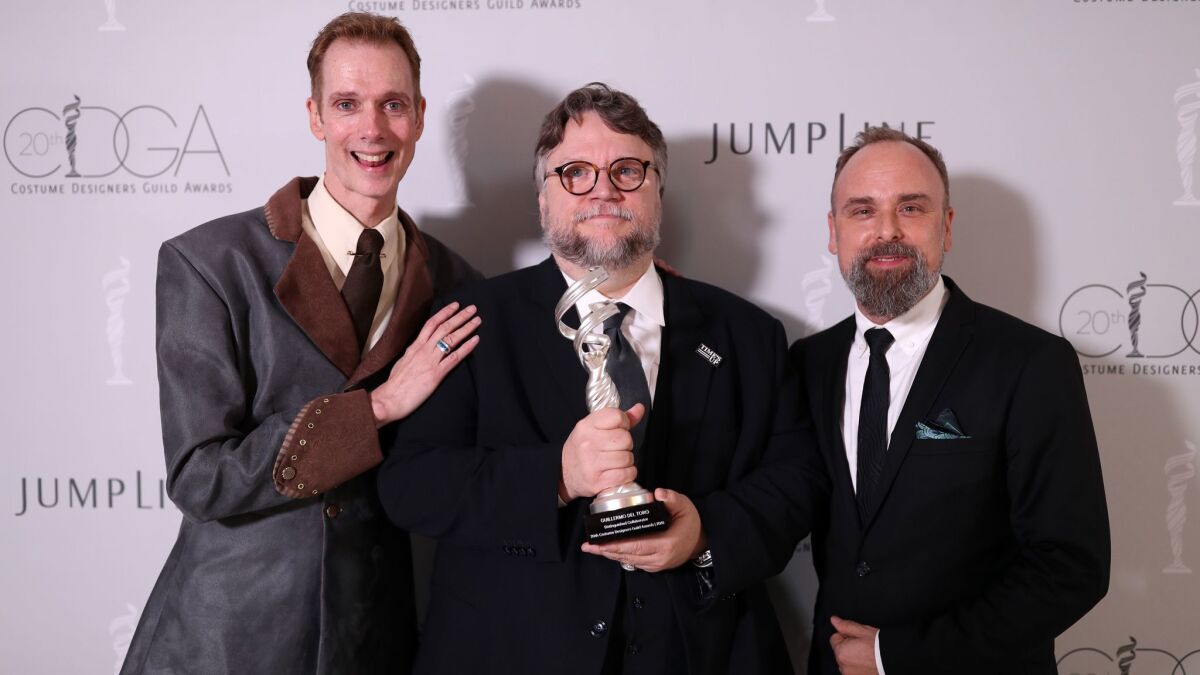 "He understands the dialogue of design," said Luis Sequeira, the Oscar-nominated costume designer for "The Shape of Water" as well as costume designer for TV series "The Strain." "He comes prepared and complete with a vision in his head that he is able to communicate."
As important, Del Toro guides the look and feel of each department's contribution with detailed production books. "My first job is color-coding the movie. I do it to try and unify them in a single purpose and I explain to them what the colors mean in the story," he said. "Then they go onto their mood board and gather images from everywhere — magazines, other movies, paintings. We go through and discard those not conducive to storytelling."
As an experienced screenwriter, Del Toro also provides another rich source of direction. "I do a biography for every character of four to eight pages. In that bio, I do talk about how they like to be dressed," he said. "And I share these biographies with every department. Even if I didn't mention wardrobe, you have an eight-page bio and know that character is shy, is bold. Then you support those with choices."
As a result, he's present as costumes are developed from sketch to final fittings and weighs in on fabric choices. "A fabric is not a fabric until it is on the body of the actor," Del Toro said. "When you get a sample or swatch, you have no idea how it is going to fall on the actor's body, how it is going to catch light."
As the costume designer on "Crimson Peak" and "Pacific Rim," Kate Hawley came to appreciate his breadth of experience. "Any of us who have worked with Guillermo as part of his team realize very quickly that we are working not just with him as a director, but also as a highly skilled artist, designer and craftsman," Hawley said.
"Guillermo started out designing and making his creatures many years ago — from the prosthetics and sculpting right down to the clothes his characters wore," she said. "So he understands all the disciplines and technicalities involved in creating a costume, and that you are reflecting not just the character,  but also their physicality and movement. And that it is always, always in relation to the environment he creates and builds around them."
Although Hawley has teasingly called the director a "benevolent dictator," he also appears to appreciate boundaries. At a recent "Shape of Water" costume exhibit, Sequeira said the fabric for a ballgown that Elisa (Sally Hawkins) wears in a dream sequence cost nearly $10,000 — an amount that required special dispensation from the director.
"I have no idea how to do that dress. I give credit completely to Luis," Del Toro said. "I would have gone for every wrong choice because it is not in my wheelhouse."
The director also allows, and even encourages, his visual crew to indulge their quest for perfection. Sequeira came to set with aging kits, ready for instant adjustments. "We'd look at the shot and go into beautifying. It really was like painting each scene," he said.
Sequeira, a self-described "detail freak," described a working environment where cast and crew alike were encouraged to push a step beyond.
"I think that is what he pulls out of everybody," he said. "Everyone can see the passion that he brings to the project. It becomes like an infection, and we all catch it."
For fashion news, follow us at @latimesimage on Twitter.
Get our L.A. Goes Out newsletter, with the week's best events, to help you explore and experience our city.
You may occasionally receive promotional content from the Los Angeles Times.