Tennessee high school's customized kicks land $75,000 in arts funding from Vans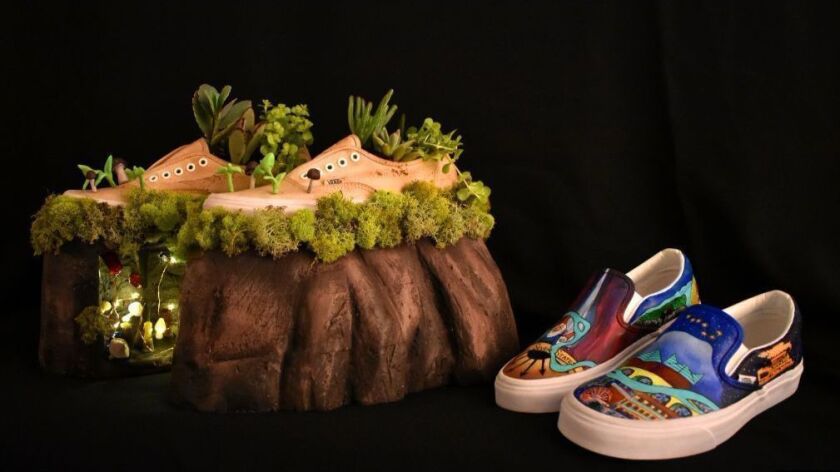 The arts education program at Hixson High School in Hixson, Tenn., has $75,000 more in its coffers now thanks to two pairs of customized Vans and the students who created them.
Vans announced the win last Thursday by hosting a surprise schoolwide barbecue at Hixson High that included the presentation of the $75,000 check and a performance by singer-actor Trevor Jackson.
In addition, four other finalists — winnowed from a field of 50 semifinalists — are set to receive $10,000 each in art-program funding. They are Honolulu's Moanalua High School, Larned High School (Larned, Kan.), Middle Township High School (Cape May Court House, N.J.) and Fontainebleu High School (Mandeville, La.), the last of which also happened to be a finalist in last year's competition, which was ultimately won by South Dakota's Parker High School.
For the ninth year of its Custom Culture competition, the Cypress-based action sports brand switched things up by focusing specifically on high schools that have had their arts education funding cut, selecting 500 high schools from a pool of 2,000 registered entrants. Those 500 schools each recieved two pairs of blank canvas Vans to customize based on the themes of 'Local Flavor' and 'Off The Wall.' In late April, the work of the 50 semifinalist schools was posted online where public voting further winnowed the field to the five finalists from which Vans and its program sponsors (including Journeys, Yoobi, Laguna College of Art + Design and Americans for the Arts) plucked the final five.
ALSO:
South Dakota's Parker High School wins the 2017 Vans Custom Culture competition
How Vans tapped Southern California skate culture and became a billion-dollar shoe brand
The 2016 Vans Custom Culture competition grand prize goes to John P. Stevens High School
For more musings on all things fashion and style, follow me at @ARTschorn.
---