Jewelry out of a 3-D printer? Jenny Wu sculpts stylish pieces that bridge the gap between high-tech and high fashion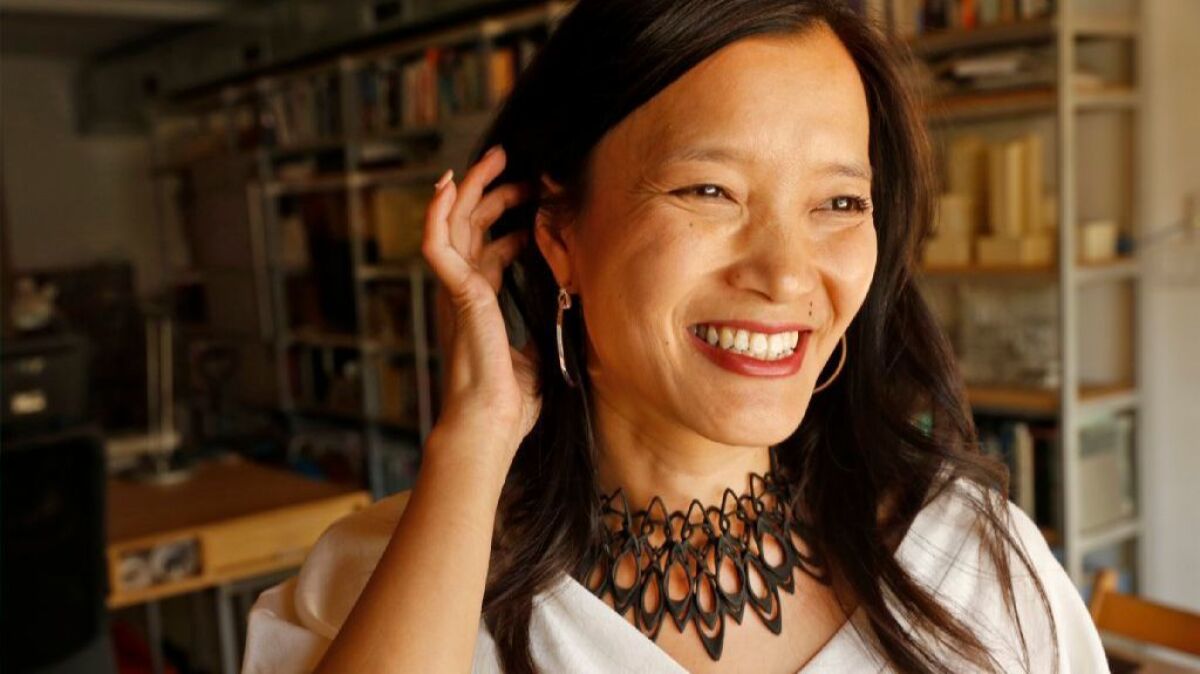 Remember when printers used to just print paper? To put it simply, our printing capabilities are much savvier nowadays. Architect and jewelry designer Jenny Wu started using a 3-D printer to print her own rings, earrings, bracelets and necklaces, and after receiving countless compliments on the street every time she wore her designs, Wu created an entire line of wearable 3-D-printed jewelry.
Wu began using 3-D printing for architectural models when she was a graduate student at the Harvard Graduate School of Design.
In addition to designing commercial and residential projects, Wu is now making jewelry that's being worn by some of Hollywood's A-listers. Wu describes her aesthetic as "jewelry that looks timeless and elegant — but upon closer investigation is a little different."
Her Lace by Jenny Wu line consists of rings, bracelets, necklaces and earrings, using materials that include nylon, plastic, stainless steel, bronze, gold, silver, platinum and rose gold. Her pieces, which range from $70 to $3,000, are made to order and take about two weeks to produce.
"3-D printing gives the jewelry something unexpected and allows each piece to have a deeper story," Wu said during a recent interview.
---
Mixing architecture and fashion
Wu started her jewelry label in 2014 in Los Angeles The line ultimately explores unconventional ways jewelry can look and be worn.
Wu, who co-founded L.A.-based design firm Oyler Wu Collaborative, is known within the architecture community for her experimental designs. She and her design partner and husband, Dwayne Oyler, are working on the new landscaping for the Los Angeles River bikeway/greenway project, designed to resemble New York City's High Line, a renowned elevated park.
The experimental and adventurous spirit that Wu brings to her architectural work is also alive in her jewelry line. Each piece is like wearing a miniature piece of architecture designed for the body.
3-D printing gives the jewelry something unexpected and allows each piece to have a deeper story.

— Jenny Wu, jewelry designer and architect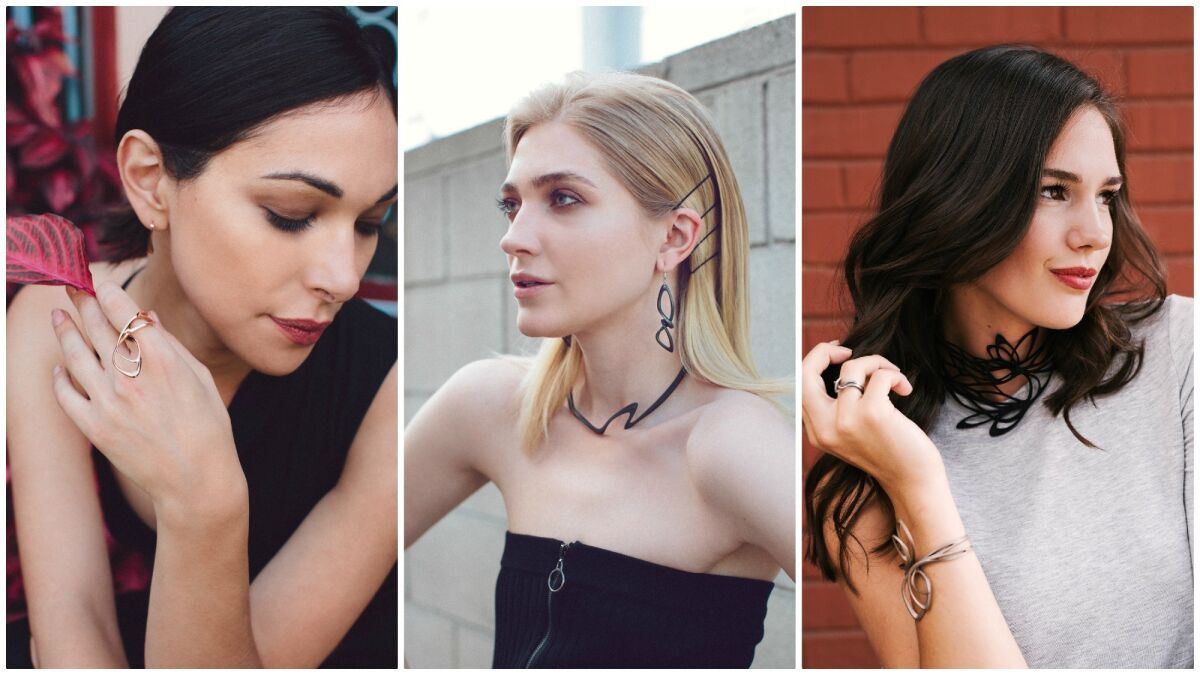 Wu said celebrities including Jessica Alba, Chrissy Teigen, Emmy Rossum, Lucy Liu, Olivia Culpo, Sarah Hyland, Carrie Underwood and Scarlett Johansson have worn her jewelry. Recently, one of Wu's pieces, a steel necklace, was added to the Los Angeles County Museum of Art's permanent collection.
Technically speaking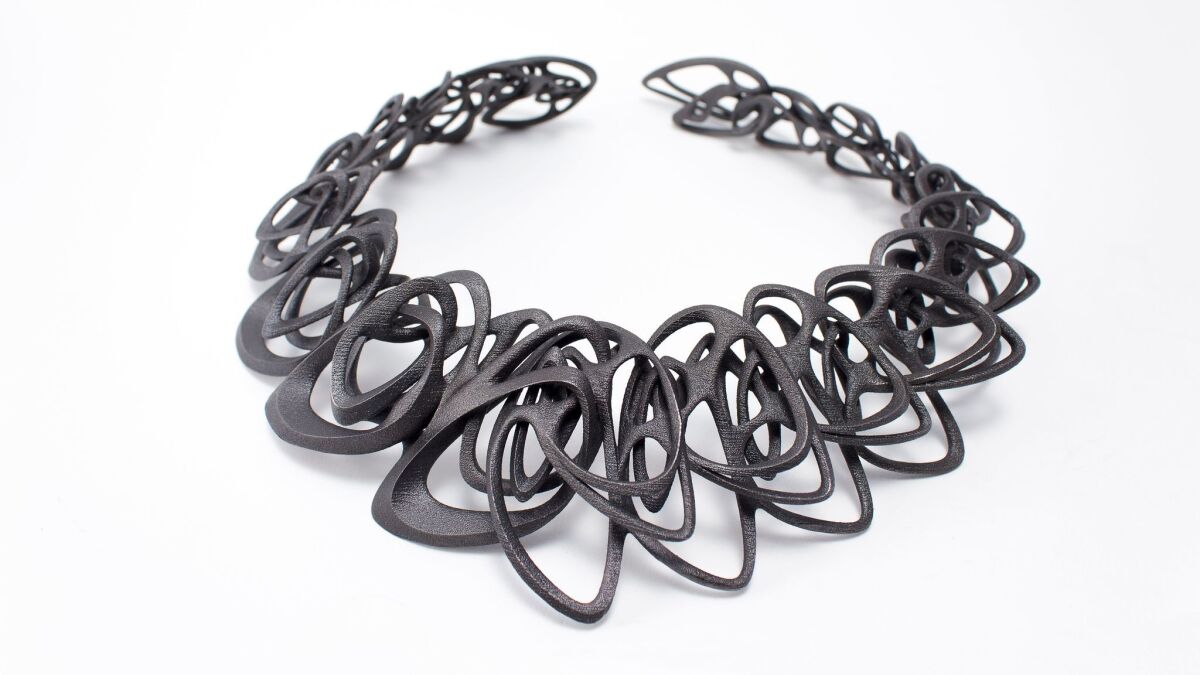 So, how does the process work? Three-dimensional printing can create large and small objects, including houses and rings, through a layer-by-layer assembly, or "printing," process. The technology has been used in aerospace, medicine, architecture and electronics, and recently has started to make inroads in many creative industries, including fashion and jewelry design.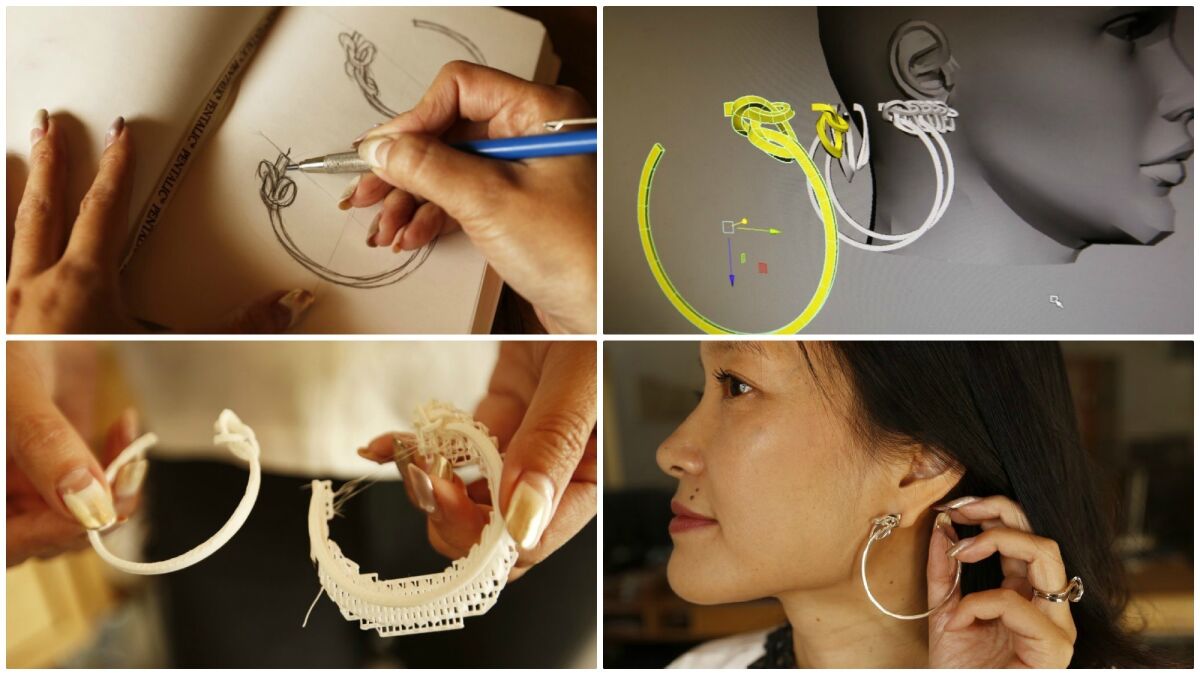 To the average consumer, 3-D printing might seem like an enigmatic and unfamiliar phenomenon — and perhaps a bit like science fiction. Wu said her Lace by Jenny Wu jewelry requires a highly technical, step-by-step process that relies heavily on computer modeling and prototyping, unlike traditional jewelry-making.
As a result, the 3-D process allows Wu to "digitally sculpt" the jewelry and create curves and shapes that other jewelry designers can't achieve by hand.
Wu's design studio/showroom is in Silver Lake and open to clients by appointment only.
---
For more information and to see a selection of jewelry by Jenny Wu, visit www.jennywulace.com. Below, check out a video that tells how a pair of earrings go from a sketchpad to a 3-D object.
ALSO
What tale do Margaret Atwood's moccasins tell? Toronto shoe museum displays them and connects the dots
Amber Heard's Mera costume from 'Aquaman' looks like she swam right out of the comic book
Kate Hudson and Demi Lovato collaborate on a sporty new collection for Fabletics