Joyce Azria expands her Avec les Filles line by taking a dip into swimwear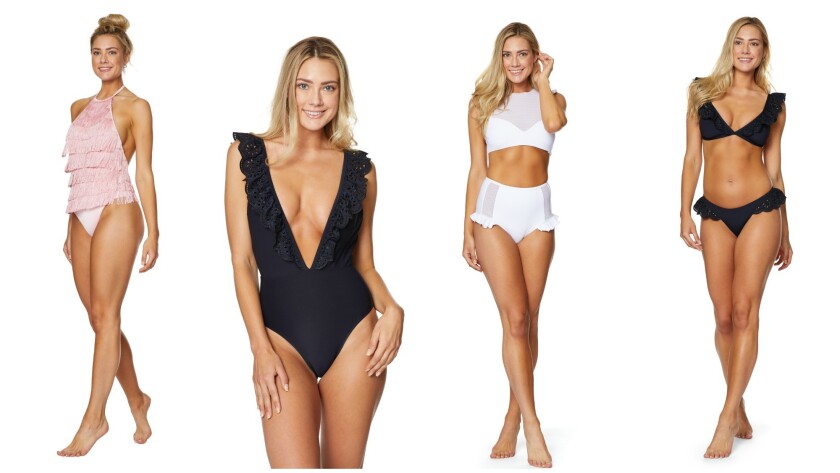 Designer Joyce Azria's contemporary lifestyle brand, Avec les Filles, is going swimmingly. After launching outerwear, footwear and jewelry last year, the Los Angeles-based company announced earlier this year that it was branching into swimsuits and beach accessories.
Pieces from the lineup are expected to drop in December at aveclesfilles.com, and the line will be carried at Diane's Beachwear in Santa Monica and Manhattan Beach.
"Swimwear, as a category, really fits our DNA," Azria said. "It hits a lot of the notes of what Avec les Filles does. We're notorious for Parisian style and California ease."
Avec les Filles' swimwear collection includes a wide array of one- and two-piece bathing suits featuring fringe, florals, ruffles and stripes.
"It's an optimistic French Riviera aesthetic, but it has a Cali feeling," Azria said of the line, which retails for $50 to $100 and also includes cover-ups, towels and beach accessories.
In addition to focusing on each piece's functionality, Azria said Avec les Filles' swimwear was designed to accommodate different body types.
"We wanted to diversify the silhouettes," she said. "We wanted to make pieces that were true to our customer base and not just who we think we design for, but who ends up purchasing our clothes." With this in mind, Avec les Filles also offers more one-pieces than most brands because, she said, "modesty is not only a trend, but it's an actual life choice for people."
Azria said she and her team always design with a sense of practicality. "We don't look at things from a seasonal lens," she said, "because we believe that pieces exist in your wardrobe year after year."
She added that she always considers the answers to a couple of questions when she's designing. "Is it season-less? Is it a forever piece?" she said. "And even when it hits a real fashion note, where it really encapsulates the vibe of the season, it's still timeless. We try to look for winning silhouettes and winning fabrications that can stand the test of time, because at the end of the day, [the reality is] we own things in our wardrobe. And we still wear them year after year, even though fashion has dubbed it out after eight weeks."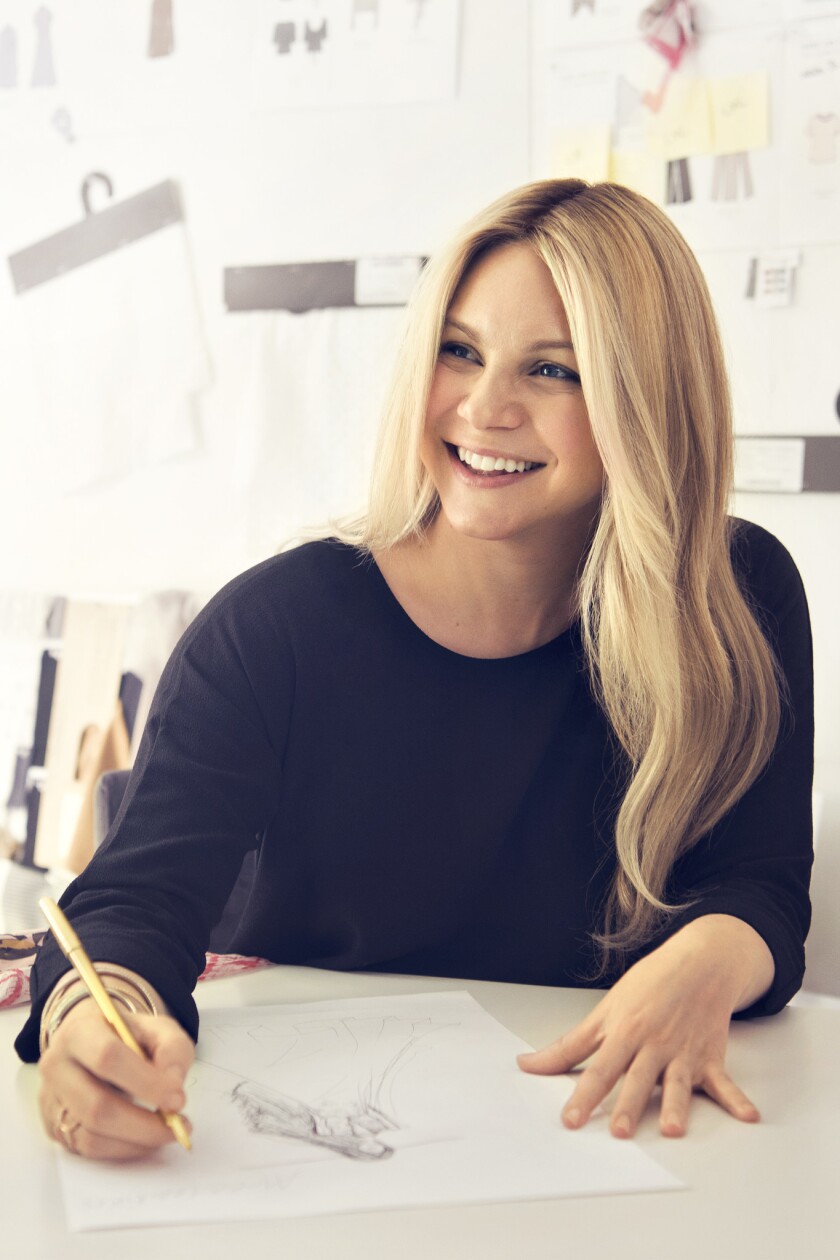 Azria also noted that the affordably priced collection was created with today's savvy millennial in mind. "Just because you want to spend less on a suit, it doesn't mean that you have less money," she said. "The customer wants value. Sometimes she finds more value in a Chanel bag that she spends $3,000 on than an $18 swimsuit, but it's also vice versa when it's a terrible quality at $18. So, $18 is expensive for that cheap thing."
It's a fashion lesson Azria learned from her father, Max Azria, who founded fashion empire BCBG in 1989. "My dad used to always tell me, 'Cheap can be very expensive, and expensive can be very cheap,'" she said. "It just depends what you attribute the value to."
She also considers his advice when she's shopping for herself. "I wish I could buy something at Isabel Marant for $20," she said, "but I just can't. I feel like it's unfair. Not everybody can play."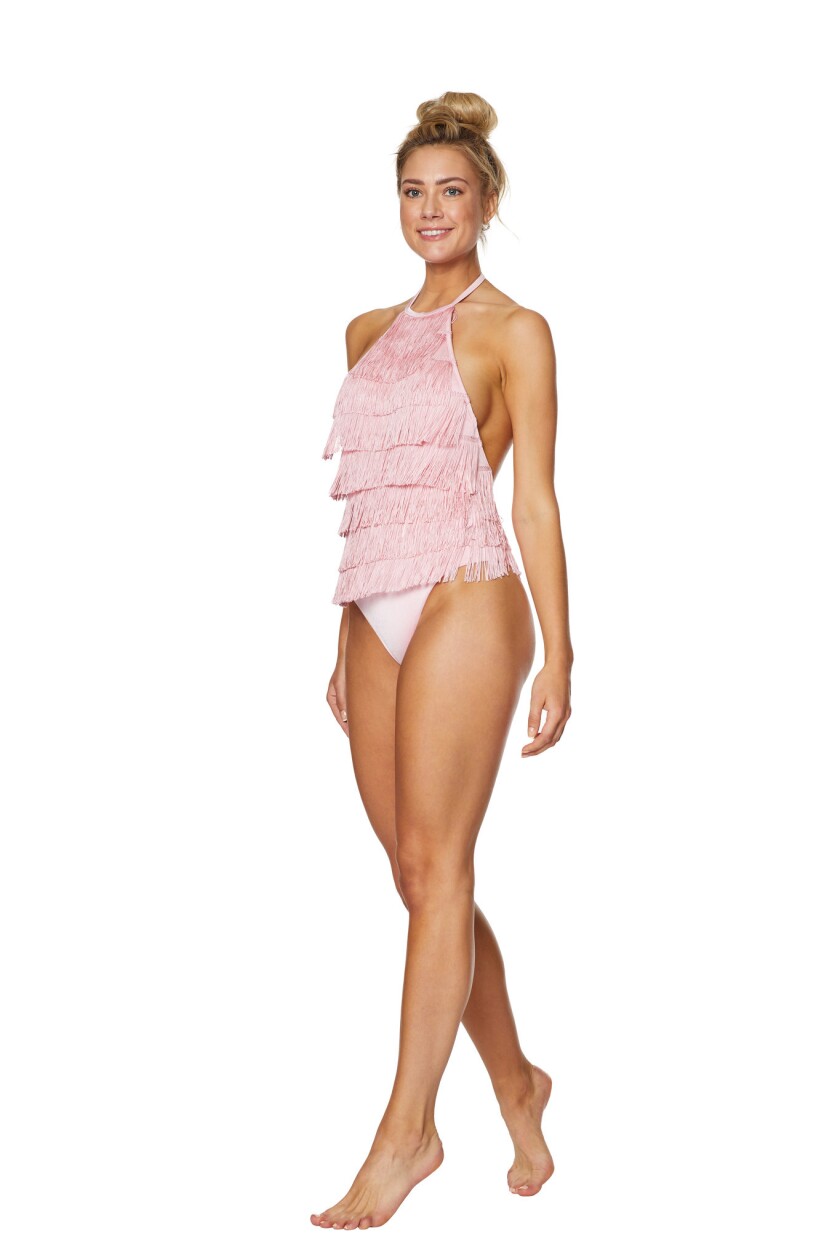 Although Avec les Filles may be a relatively new brand, the fashion label, including the new swimwear pieces, was a long time coming. Azria started in the swim business at age 19, working for her parents' company. By age 35, she had founded Avec les Filles. "Going solo feels great, because I feel like I've really mastered a lot of parts about this industry," she said, adding that she's also the founder of Rohb, a fashion-forward line, available exclusively on Amazon, with all pieces priced less than $50.
Asked if she's ever considered a job outside the family business, the fashion veteran and mother of six quipped, "I don't know if they'd give me a job anywhere else."
For fashion news, follow us at @latimesimage on Twitter.
---