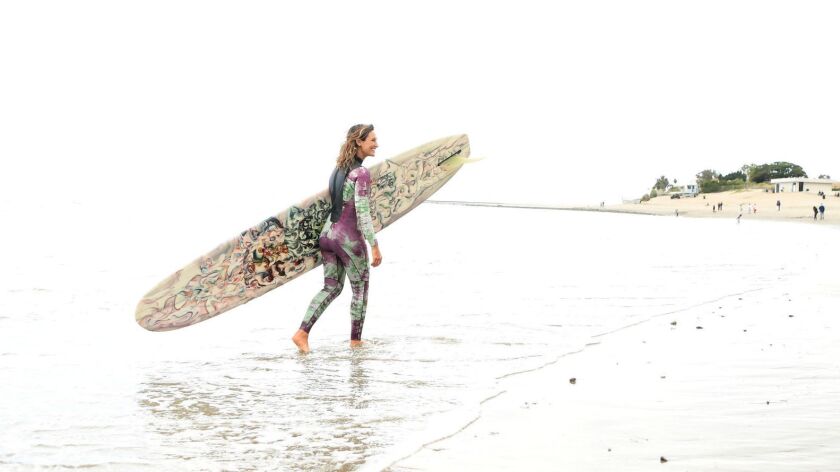 On a breezy Sunday evening in April, about a dozen men and women were floating on blue foam noodles in a mineral pool at Two Bunch Palms, a quaint spa in Desert Hot Springs. Beneath gently swaying palm trees, they passed around a weed pen called Bliss and submerged their ears in the lithium-rich water to hear and feel the sound waves emanating from Kassia Meador's crystal bowls.
Meador, 37, is one of the best longboarders in the world. But here in the Coachella Valley, she was a good 150 miles away from First Point, the Malibu break she calls home. Meador had come to the desert to lead a sound bath.
Standing in chest-high water, wearing a high-waisted, ochre-colored bikini, she carefully guided four bowls around the surface of the pool, using a mallet to draw out tones meant to open participants' chakras.
Though Meador has been giving sound baths for years, this was only the second time she'd given one in water. When the 40-minute session was over, she lingered near the deep end. "My whole life has kind of led up to this," she said. "Water is the perfect conduit for sound, vibration and, obviously, waves."
The sound bath was just one project Meador was undertaking that week. She was in the midst of finalizing five collaborations with various surf and beach wear companies, including Dakine and Raen, some of which were using "upcycled" scrap fabric from her own wetsuit and surf wear brand, Kassia + Surf. She was also planning sounds baths and surf retreats in Costa Rica and Morocco and preparing for a contest in Sayulita, Mexico.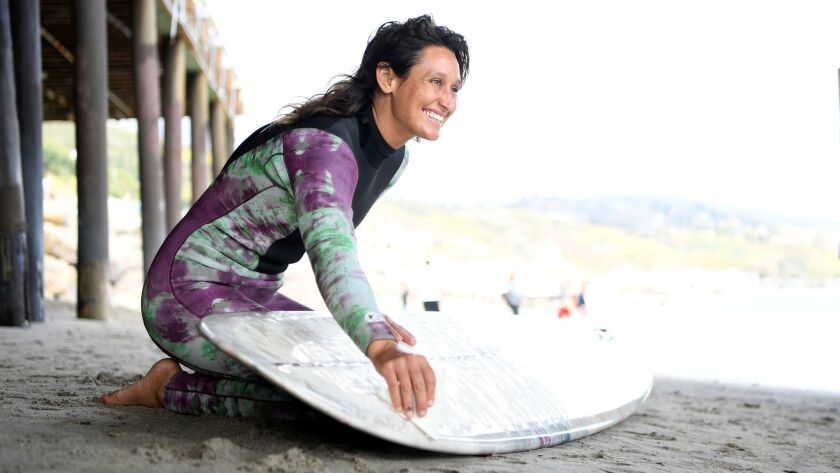 Meador, in other words, is a professional athlete who has parlayed her success into a lifestyle brand. That may not sound revolutionary. But in women's surfing, Meador is a trailblazer.
The modern surf industry is notorious for severely limiting the professional opportunities available to its female athletes. The gender imparity has been rampant and absolute, reflected in unequal prize money, sponsorship deals and magazine spreads. Perhaps more than any other sport, surfing has downplayed the skill of its female pros in favor of their looks, effectively blurring the line between professional athlete and professional model.
This is starting to change. The clearest indicator came in 2018, when female pros finally won equal pay in the World Surf League's contest circuit. Last month, the first equal prize money was awarded at a contest in Queensland, Australia, to 17-year-old Caroline Marks, who took home $100,000.
But contests are just one dimension of professional surfing. Gear is another. As one of the first female pros to ditch her traditional sponsor and found her own company, Meador has helped spark a revolution in women's surf wear.
In a market once dominated by flimsy bikinis and short shorts, Meador makes performance wear for the female athlete: impeccably tailored cold-water wetsuits made from the highest-quality neoprene; SPF 50 Lycra leggings and long-sleeve hoodies; and stay-put bathing suits made with upcycled wetsuit scraps. All her pieces are designed to keep women in the water as long as they want to be there, and nearly all are served up in vibrant washes of technicolor tie dye.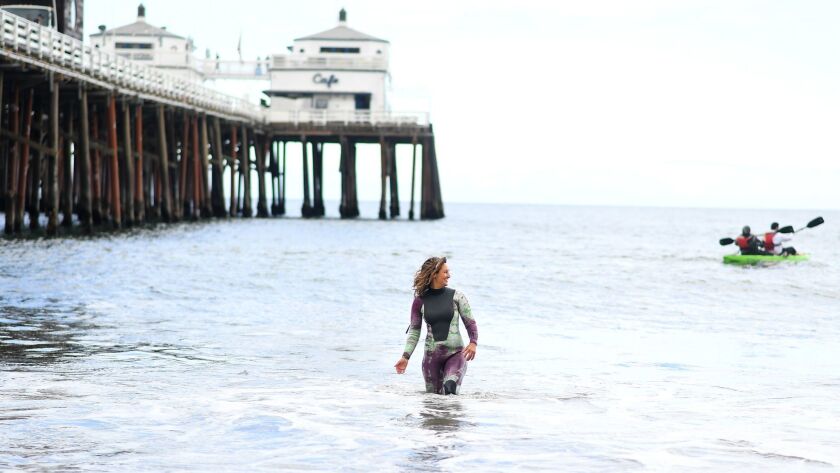 Meador grew up in Agoura Hills, the oldest of three children. She always wanted to be at the beach. In summer 1997, when she was 15, her parents started dropping her off at First Point.
The shortboard revolution of the 1970s was holding strong, and pros like Keala Kennelly and Lisa Andersen were ruling the women's circuit. But the world-famous, right-peeling break at First Point was practically engineered for longboarding. Meador was a natural.
"She was beyond unique," recalled Joel Tudor, a two-time world longboard champion. "She had a really clean style. People took notice." For Christmas that year, Meador designed her first board: a 9-foot-2-inch nose rider with a single fin and a graphic of hibiscus flowers.
She joined the Malibu Surf Club, traveling to competitions up and down the coast. For the next few years, Meador surfed nearly every day, from noon until night, alongside other talented locals like Dane Peterson, Jimmy Gamboa, Josh Farberow and Trace and Chad Marshall.
Meador's first invitation to surf in an international competition came from the Rabbit Kekai Longboard Classic in Costa Rica. Her parents didn't have the money to send her. So Meador bought candy at Smart & Final and sold it to her classmates at a markup. She made $1,500 — enough for the ticket to Costa Rica.
With the same tactic, she covered her own travel expenses to a competition in Noosa, Australia, where she caught the eye of renowned longboard shaper Donald Takayama. Tayakama was in the water with Jeff Hakman, co-founder of Quiksilver. Takayama offered to shape boards for Meador. Hakman helped secure her a sponsorship from Roxy.
Roxy wasn't the only surf company to sponsor women, but it was the most coveted. Quiksilver had started the brand in 1990 — the first line of surf wear made specifically for women — and established an official Roxy team a few years later. The first member was Lisa Andersen, a four-time world champion.
Within a few months, Meador was on a boat in the Maldives, skipping her prom. "Everything about this sounds like a good idea," she remembered thinking.
Meador's head-turning style is wildly free-spirited and elegant. She's able to grip the nose with her toes and suspend herself in full trim, spin around and cross-step backward to reposition the board for other feats of gravity.
For this she earned spots in some of the most respected surf films of the era, including 2003's "Step Into Liquid" (in a segment titled "Surf Like a Girl") and Thomas Campbell's 2004 film "Sprout" (in a segment titled "Lady Slide").
In previous decades, if women appeared in surf films, they were usually in bikinis on the beach. "I would be the girl in a film with a lot of guys, or one of two girls in a film with a lot of guys," Meador recalled.
It didn't hurt that she was beautiful, with a shock of bleach-blond hair and a deep olive tan. As a member of the Roxy team, Meador earned a monthly salary of $500 and an annual travel salary of $5,000. But photo shoots for the company paid $500 a day. Meador became a regular in Roxy ads, modeling bikinis and other beach wear.
It wasn't stated explicitly that Roxy surfers needed to be good-looking — it was more of an unwritten rule, Meador said. "If a guy shredded, he was celebrated for shredding. If a girl shredded, it wasn't always enough."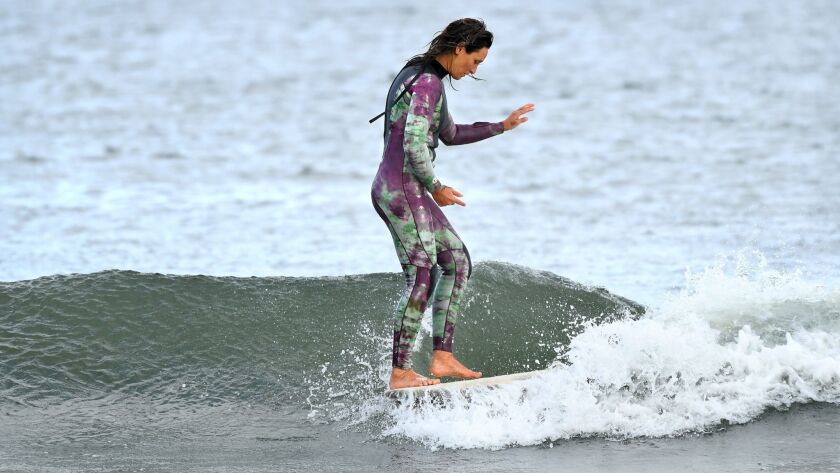 Veronica Kay joined Roxy when she was 14, a few years before Meador. "My weight went up and down, between focusing on surfing and modeling," Kay said. "I would have a model body and be really skinny, then I'd try to paddle out and be like, 'Oh, my God, I'm not strong enough.' Then you focus on being an athlete, but you're like, 'I don't look as good in a bathing suit.' It messes with your head."
One of Meador's other teammates, Julie Cox, remembers the pressure. "I'm 5-10 and skinny, so I was the stereotype, but I saw much more talented people not getting sponsorships," Cox said. "There weren't that many brands supporting women. If you fit the Roxy mold and rode for their team, you were stoked. But if you didn't, you were out of luck."
It wasn't much better over at Billabong. Keala Kennelly, a top-10 shortboarder and pioneering big-wave surfer, concealed her sexuality during her years on the Billabong team. "I was definitely trying to femme it up," Kennelly said. "You need to be feminine and straight and pretty to be sponsored to ride."
Meador rode for Roxy for 14 years, competing in contests, appearing in surf films and shooting ad campaigns all over the world. She also dabbled in wetsuit design. Before Roxy, women's wetsuits were practically nonexistent. Andersen, who'd worn men's board shorts and wetsuits early in her career, had demanded better gear, designed for the female form. Roxy obliged with what were essentially smaller versions of men's wetsuits, cut to similar tailoring.
Meador pushed Roxy to experiment with more gender-specific cuts. She also asked for color — women's wetsuits, like men's, were largely black — and was appeased with splashes of colorful detail. In 2009, Meador was able to persuade Roxy Japan to produce a capsule collection of wildly chromatic wetsuits. It sold out almost immediately.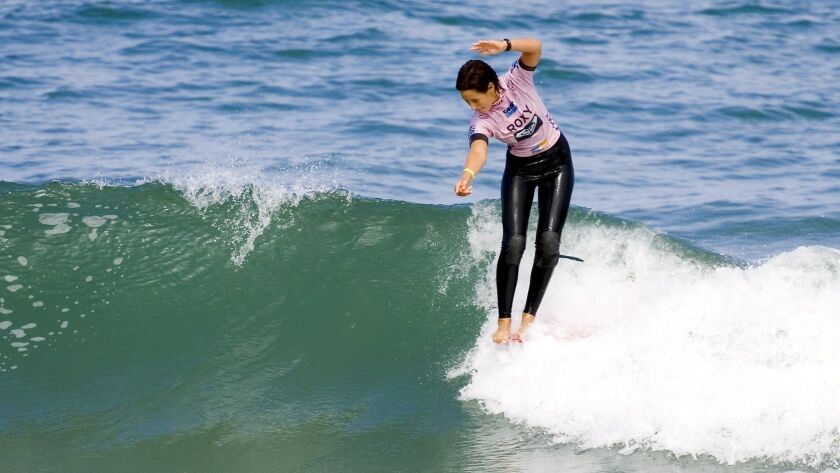 By the late aughts, Meador was tiring of her routine. With the advent of fast fashion, photo shoots had become shorter, more frequent and more demanding. On a surf trip to Indonesia in 2010, she decided to cut ties with Roxy. "I had a bit of a breaking point," she said. "It didn't feel like family anymore. There was a layer of it that felt exploitative."
Meador stepped away from contests and her other professional surfing obligations. She wanted to create her own wetsuits on her own terms. More than this, she wanted to reevaluate her relationship to the sport she loved.
"When Kassia left Roxy to make her own brand, she wanted to redefine for herself what surfing is and can be," said Leah Dawson, a former pro and fellow longboarder. "That was definitely a powerful shift."
Everywhere she went, it seemed, Meador noticed that more and more women in their 30s and 40s were learning to surf. If Roxy was serving a tween audience at low price points, Meador believed this new recreational consumer would appreciate the value of well-made gear. "There was a massive market that was not being catered to whatsoever, fit-wise and style-wise," she said.
Meador took time to learn the ropes of product development, manufacturing and distribution. She also formed a sound bath "band," UFO 2012, with six other members, including music producer Farmer Dave Scher. The group performed across the country — it called shows "abductions" — at venues like the Great American Music Hall and Milk Studios. (Crystal Moselle, who would go on to direct "The Wolfpack," made a video about the group for the website Nowness.)
By this point, a reckoning was rippling through the surfing world. In 2011, Cori Schumacher, then the reigning longboard champion, boycotted the Assn. of Surfing Professionals World Longboard Tour for planning an event on Hainan Island, China. In a letter to the organization, Schumacher cited China's human-rights violations, "specifically those in violation of women."
In the press, Schumacher decried surfing's treatment of women, calling the sport "massively homophobic." "You have to look this particular way," she told the New York Times, "have to have no views, have to be somebody who is basically like a blank billboard upon which a brand can assert their image."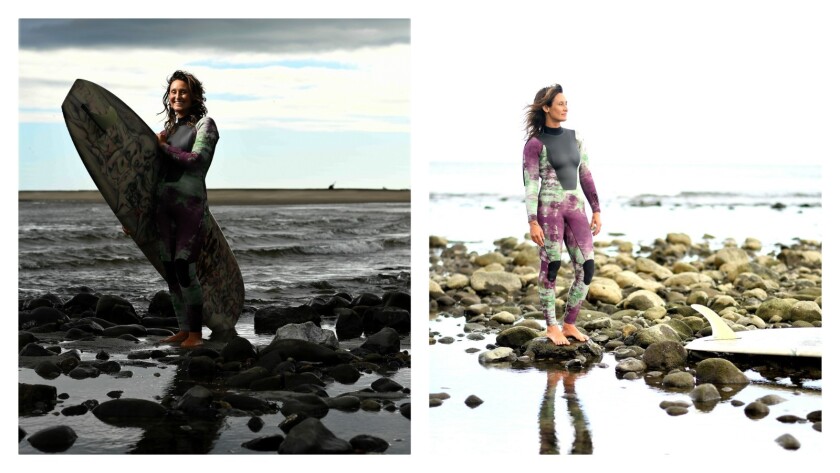 Then in 2013 an especially egregious video ad for a Roxy contest sparked public outcry. The spot features a faceless blond getting ready for the beach. The camera pans over her bare backside as she lies in bed and tousles her hair; her naked leg entering a shower; her bikini-clad breasts hovering over a surfboard as she waxes it.
The faceless woman was Stephanie Gilmore, a seven-time world champion who is currently ranked fifth in the WSL's shortboarding championship tour. Viewers never saw her face, never heard her name, never watched her surf. More than 20,000 people signed a petition to put an end to Roxy's "all sex, no surf" ads.
The following year, Surfer magazine published an open letter by three-time world champion Carissa Moore. "I am not going to wear the small bikinis," Moore wrote.
When Meador launched Kassia + Surf, in 2015, women's surfing was hungry for a new message. With every neoprene tote bag and swimsuit she made, Meador promoted an inclusive vision in her social media feeds: Here are women of all skill levels enjoying the surf, in gear that won't free the nipple or make its way to a landfill in a matter of months.
As the equal pay movement got underway the next year — Kennelly formed the Committee for Equity in Women's Surfing with Paige Alms, Andrea Moller and Bianca Valenti — Meador continued to produce an ever wider range of products. She partnered with Dead Kooks shaper Eden Saul to make longboards for female proportions, and she made stylish surfboard wax spiked with palo santo.
Meador was instrumental in proving the existence of a different kind of consumer for women's surf wear. In doing so, she has helped draw a new blueprint for female pros struggling to earn a living.
She has also raised the profiles of other women-owned independent surf lines, including Seea, founded by Amanda Chinchelli; September the Line, newly launched by Erika Seiko Togashi; and Ashley Lloyd Thompson, a board shaper (and former pro) out of Santa Cruz.
Leah Dawson credits Meador with setting a more supportive tone for women's surfing overall. "She really mothered that for our generation," Dawson said. "It has nothing to do with winning. It just has to do with enjoying the moment and doing whatever we can to help make the world around us a little bit better."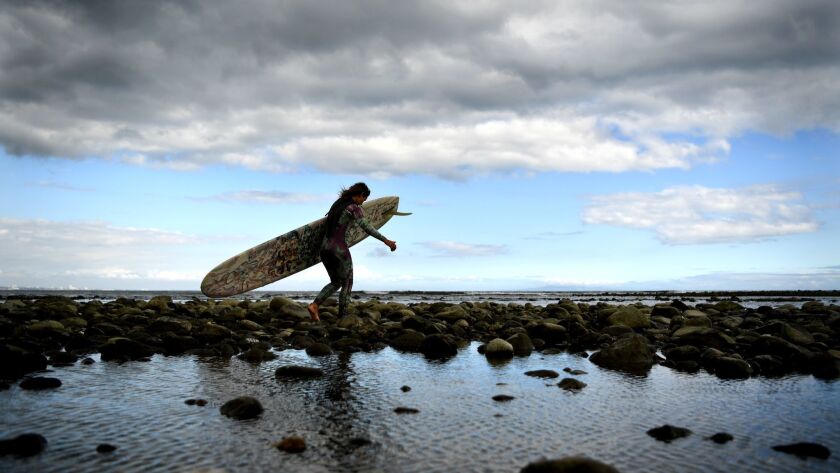 A few days after the sound bath, Meador could be found at First Point. She was standing on the edge of the beach in a blue jumpsuit when a little girl with sun-streaked hair rode up on a skateboard.
The girl's surf coach, walking nearby, called Meador over to make an introduction. "She's always looking for girls to surf with," he said. Meador surveyed the water. The blue horizon was mostly flat; not a single surfer was out. "You should stay and paddle out with me," Meador told the girl. "The tides are shifting. Watch: There'll be waves." The girl smiled and skated off.
With a few hours of silvery light left, Meador slipped into one of her wetsuits, tie-dyed in neon green and eggplant, and paddled out.
The water was tranquil, the wind offshore. When a hip-high set rolled in, Meador was in position. With two swift strokes, she stood up on her custom longboard and tip-toed to its nose. She kicked her left foot into the air, twirled around to face the ocean and hung her heels off the front edge of her board, riding the wave backward toward the shore.
---