Kevin Nealon to headline, and Gabriel Iglesias and Sasheer Zamata to perform at myeloma fundraiser Saturday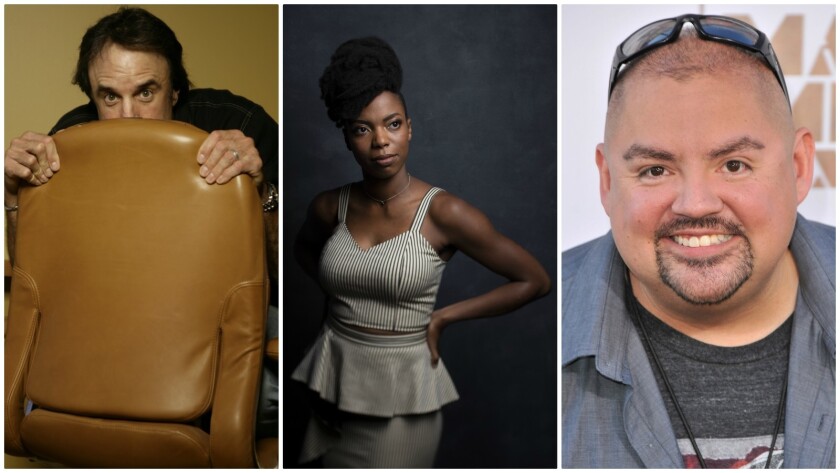 Can chuckles cure cancer? The organizers of Saturday's comedy-filled International Myeloma Foundation fundraiser have been banking on it for the last dozen years — to the tune of more than $7 million — and have once again enlisted some seriously funny folks to help fill the cure-finding coffers, including Kevin Nealon, whose mother is battling the disease.
Nealon, who has performed at the event in past years, is scheduled to headline this year's two-hour comedy show, which returns to the Wilshire Ebell Theatre on Saturday, and the list of comedians set to join him includes Cristela Alonzo, Sasheer Zamata, Gabriel Iglesias, Jim Jefferies, Natasha Leggero and Chaunté Wayans.
This year's event will also be honoring myeloma expert Dr. Robert A. Kyle for his contributions to the myeloma-fighting effort as a doctor, researcher and professor of medicine over the course of his half-century-plus career.
The event raises money for the Peter Boyle Research Fund, named in honor of the late actor who died in 2006 after a four-year battle with myeloma, a cancer of the bone marrow plasma cells. His widow, Loraine Boyle, organized the first fundraiser in his name the next year. Six years ago, the effort also began funding the International Myeloma Foundation's Black Swan Research Initiative, which is conducting myeloma cure studies around the world (including a recently launched clinical trial in the United States and the world's largest prevention study in Iceland).
Tickets for the event range from $100 (to attend just the show) to $1,000, which includes a walk down the arrivals red carpet, a pre-show cocktail party and silent auction, VIP seating and a post-show Champagne and dessert reception.
For those who can't make it to the Wilshire Ebell in person this weekend but still want to be part of the festivities (and place some online bids for the silent auction items), the International Myeloma Foundation is livestreaming the red carpet arrivals, complete with interviews of celebrity attendees and myeloma experts via the foundation's Facebook page at Facebook.com/myeloma from 6 p.m. to 8 p.m.
Also for those far afield, bids can be placed on silent auction items until 7:45 p.m. Saturday through the comedy.myeloma.org website. (If making a straight-up donation to the cause is more your jam, you can do that via the website as well.)
The International Myeloma Foundation 12th annual Comedy Celebration at the Wilshire Ebell Theatre, 4401 West 8th St., Los Angeles; cocktail party and silent auction at 6 p.m. Saturday; performance follows at 8 p.m.
Twitter: @ARTschorn
---