An exclusive Pucci resort collection — and a lesson in customer service — lands at Neiman Marcus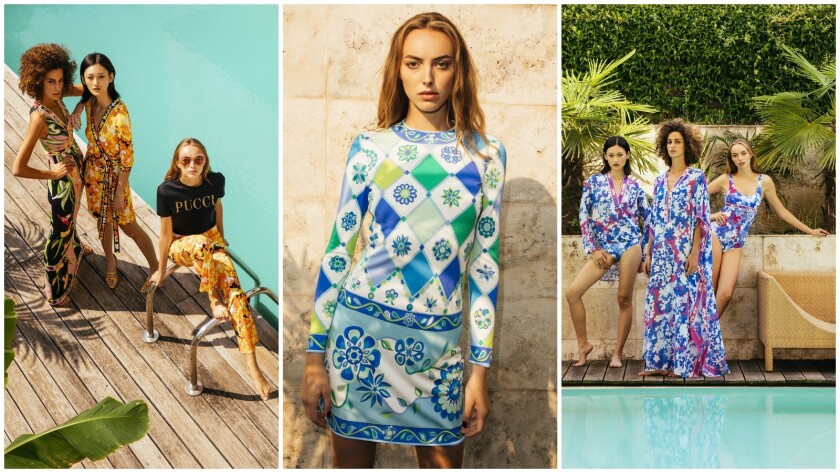 Laudomia Pucci had to stop and think for a minute when Ken Downing, Neiman Marcus' fashion director, asked her to create a resort capsule collection exclusively for his store's customers.
"In the back of my mind there were prints I was dying to see," said Pucci, vice chairman and image director of the Florence, Italy-based fashion house that her father and brand namesake, Emilio Pucci, founded in 1947. "I wanted to give women a choice of color, prints, dimensions. I wanted to think about what the customer would embrace."
At the beginning of November, several months after that conversation, Pucci and Downing were seated on a podium on the fashion floor at Neiman Marcus in Beverly Hills, chatting candidly about the collaboration in front of 60 of the store's top customers. As part of the midmorning event, guests were treated to a runway show styled with pieces from the brand-new Emilio Pucci Poolside resort collection — think ankle-grazing, floaty dresses; trim capri pants; and swimwear emblazoned with signature Pucci prints.
"Women were taking entire looks into the changing room," Downing said afterward. "It's splendid when that happens."
Still, in making her way through the design process, Pucci had to consider the fact that the brand is now being worn by the daughters and granddaughters of the women her father used to dress. Although Emilio Pucci is part of the global luxury conglomerate LVMH, Laudomia Pucci remains the guiding hand of the label, shaping its aesthetic, connecting with its fans.
"You can't be a great designer unless you really listen to your customers," she said, elegant in that uniquely aristocratic Florentine way — a silk, printed, knee-length skirt paired with a mauve cashmere sweater, an ivory pony-hair stole draped across her shoulders and flawless solitaire diamonds on her fingers. "One lady told me about how her mother collected Pucci scarves and always had one tied on her bag," she said. "They all have stories."
The Poolside collection, priced at $215 and up, is intended for women who travel frequently, often to luxe beach resorts, and is designed to address their every vacation requirement — or, as Pucci described it — "from coffee to cocktails." There's eyewear as well as caftans and cover-ups, one-piece swimsuits and bikinis, simple T-shirts and slender pants, scarves, slides and sneakers, all in vivid colors and prints and fine fabrics. The collection is available at select Neiman Marcus stores nationwide (including Beverly Hills and Fashion Island locations) as well as online at neimanmarcus.com.
In creating the capsule collection, Pucci thumbed through the family archives from the 1960s and '70s, selecting beloved prints and doing a new take on them.
"These are prints that fit beautifully on the body," she said. "They have a story of their own. I like them, I'd wear them, and I researched how they were placed in the old days and how they would be placed today. The days of telling a woman how to dress are gone. Our job is to show them how they can wear something and spark their imagination."
That's something that Pucci has had a lifetime of practice in. She grew up watching her father design, and she said that her first job with the family business was as the official greeter at the Pucci store in Florence, standing on her feet for hours at a time and opening doors.
"I did that for three months," she said. "I didn't understand it. I had just graduated. I asked my father why. He said, 'You will understand. You will look customers in the eye. You will see their shoes. You will listen and learn.'"
It's a lesson Pucci clearly hasn't forgotten. After the Neiman Marcus event ended and the crowd had cleared out, the two customers who remained were conferring with a staff member, delicately holding silky blouses and comparing dress lengths.
"I like small shows like this," Pucci said quietly. "We can literally touch every customer. We can kiss them hello, speak to them all, so they have the ability to feel the emotion you can't at a big fashion show."
For fashion news, follow us at @latimesimage on Twitter.
---