Libertine's hometown stand at the Wilshire Ebell Friday night — the first time the label has staged a show here — was a star-studded affair that saw Marilyn Manson, Adam Lambert and Fergie s in guest seats; and everything from skulls and sequins to Sartre on the runway. It made Johnson Hartig's fall and winter 2019 men's and women's designs among the most thought-provoking — and instantly wearable — Libertine collections in recent memory.
"My inspirations were all over the map — like they always are," said a lab-coat-clad Hartig after the show, including "the Ottoman Empire, 19th century Chinese children's hats, 17th century Flemish paintings and that print we're calling 'memento mori' with the large skulls, and vanitas paintings." And the collection's featured beadwork, he said, pulled inspiration from Victorian-era pillows and Aubusson carpets.
In addition to the skull-painting prints that appeared on wide-legged trousers and belted jackets with faux-fur collars, there were bold botanical prints, including one that splashed yellow figs and fig leaves across track pants, shorts and jackets. Also, there was a swirling green agate print that found its way into glamorous one-shouldered gowns and kimono-like jackets, as well as shimmery sequins galore, the most memorable of which appeared as exploding clusters across inky black A-line coats and pantsuits.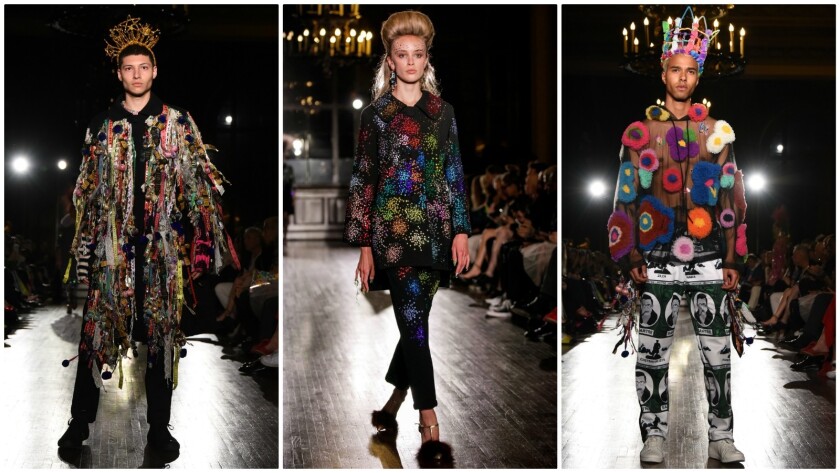 The silhouette of the collection tended toward the relaxed. Trouser legs were generously cut, while tops were draped and dresses flowed. Standout examples include diaphanous tulle dresses embellished with sequin spiderweb designs and a handful of shaman-robe pieces covered in so many dangling adornments — beaded necklaces, strips of tailor's tape measures, bottle caps, chains and mirrored bric-a-brac — they resembled the kind of found-art fauna that Jim Henson's Creature Shop might have birthed.
Also in the mix were a couple of shimmery red and blue lamé pieces, including a dress and a pantsuit, that bore the handwritten lyrics to Jimi Hendrix songs (part of a capsule collection done in partnership with the late singer's estate). Then there was the most eye-catching print of the night: a caricature of French existentialist philosopher Jean-Paul Sartre, whose works include "Being and Nothingness," framed with the aforementioned swirling green agate print in a way that seemed to subtly reference the presidential portraiture on U.S. currency. It appeared on drawstring trousers and coats.
Taken together, the collection appeared to fully embody autumnal tension in which a flurry of flashy foliage portends winter's temporary death. One of Hartig's skills is his ability to pull seemingly disparate inspirations into a collection that says something — although the designer said it often doesn't reveal itself until well after the fact. To sum up this particular collection, Hartig pointed to the Sartre print.
"Not to get too political," he said after the show, "but I think that every day that goes by with this administration, I feel like we're getting further and further away from the truth and [from] reality. And up is down, and lies are facts. And it's a really ... weird time to be living in this country."
He followed that up by describing instances in which his clothes have facilitated interactions between strangers. "I've walked through airports and had people chase me down [to ask] about a jacket I'm wearing," he said, adding that someone recently told him that every time that person wears a Libertine piece, 10 people will approach the person to say something about it.
"I thought, 'Wow, that's cool,'" Hartig said, "in this age where we're all living such separate lives with our devices, that my clothes are bringing people together and engaging one another. And, for a second, I thought, if they're doing nothing else, that's a good thing."
Hartig's show seemed to bring people together too. In addition to Manson, Lambert and Fergie, the constellation of celebrities included Jaime King, Malin Akerman, Vic Mensa, burlesque performer Dita Von Teese, stylist Tara Swennen and actress Sofia Boutella, the last of whom said after the show that her favorite look had been a jacket that paired black tulle with bold, outsize floral applique embroidery. "I just love tulle," she said, gesturing down at the long, black-flower-festooned tulle skirt she was wearing.
For more musings on all things fashion and style, follow me at @ARTschorn
---