Hollywood stylist Tara Swennen adds a new family member to her life — a pet pig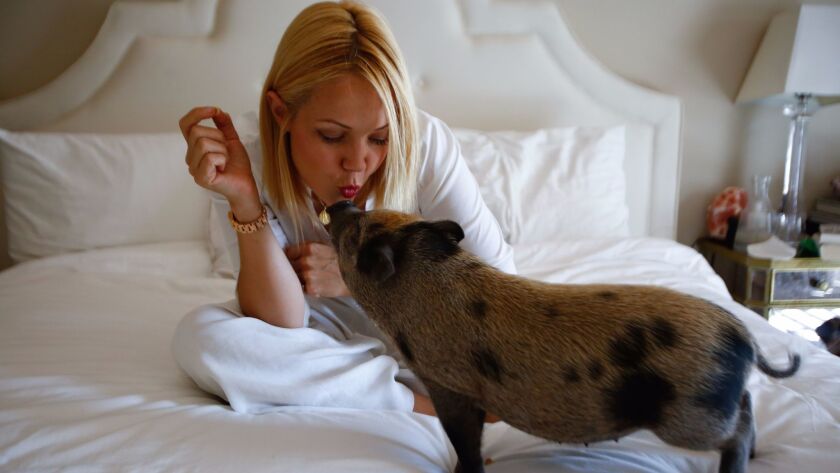 This spring, Tara Swennen, a Hollywood stylist, drove to Los Angeles International Airport to pick up her new family member. The Studio City resident wasn't meeting a person, however. She went to greet her weeks-old miniature pot-bellied pig.
"She came from Idaho," Swennen said a couple of months later at her home as her pig and her pug, Pepper, played in the yard. "I really didn't know what to expect. … It's just like having a dog."
And what's this pig's name? Sprinkles, named after the cupcake brand.
"That was my 5-year-old's choice," said Swennen, who's known for styling Kristen Stewart and Julie Bowen. "She loves her. It's the cutest thing ever. … Jordan has a preschool she just graduated from, and [Sprinkles] was a big hit over there."
Swennen said the once-pintsize pig has quickly fit into the family. "She'll cuddle," Swennen said. "She'll stay under the blankets when we watch Netflix. … You can see, she's pretty chill."
In the eight weeks leading up to Sprinkle's L.A. debut, Swennen said the pig was spayed and microchipped and started on the potty-training process.
"She can kiss. She can sit. She can up," Swennen said. "If you just give her a couple of little kernels, she'll do tricks. These are the kernels that they give to pigs to, like, fatten them up."
It might not be a polite topic to ask about in Hollywood circles, but just how big will Sprinkles get? "She'll literally …," Swennen said before making sound effects associated with something blowing up.
"She could get enormous," said the stylist, who grew up having birds, bunnies, dogs, fish and hermit crabs. "She will double in size from here."
Swennen said Sprinkles likely will end up around 100 pounds. "I would say she's even 40 right now," Swennen said. "She has doubled in size. … She's just going to get wider and wider. When those little paws step on you, in your lap, it's no joke."
The reason Swennen decided to get a pig goes back to her years growing up in Washington, D.C. Swennen said she she'd fallen for the animals when she visited her childhood friend's family farm in Virginia.
"We would go a couple of times a year, and she had hundreds of them," said Swennen. "We'd play with the piglets. And I fell in love."
Swennen said she's doing her part to educate clients and friends about vegan clothing brands, and many of her friends have fallen for Sprinkles.
"She goes on walks in the neighborhood, and all of the neighbors are mesmerized by her."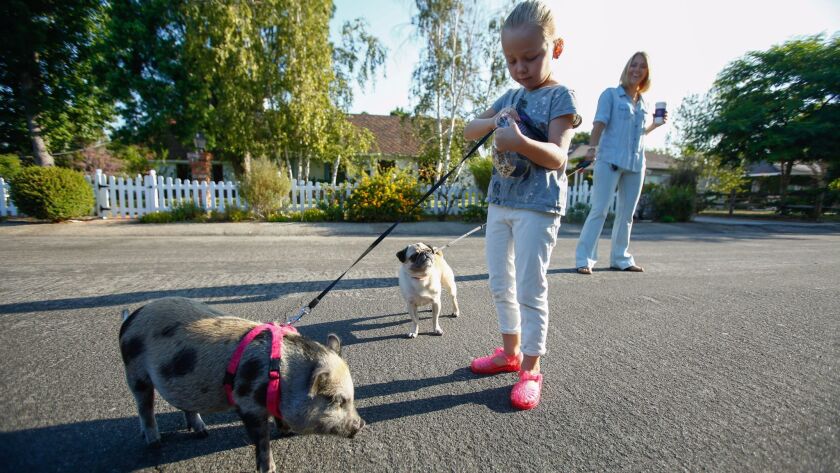 On Now
In goat yoga, the point isn't to sweat. It's to have a baby goat climb on your shoulders during your plank
On Now
On Now
Hanging out with Instagram's famous cats Nala, Coffee and Luna
On Now
Poolside with Kaley Cuoco, Norman, Shirley, Rose and friends
On Now
Watch a pet therapy dog at work
On Now
Visit the Pug Nation Rescue
On Now
Visiting the dog beach with Shari Sandberg
On Now
Video: The scene at CatConLA
1:53
---
The essential weekly guide to enjoying the outdoors in Southern California. Insider tips on the best of our beaches, trails, parks, deserts, forests and mountains.
You may occasionally receive promotional content from the Los Angeles Times.