Meet the designer behind Connie Britton's 'Poverty Is Sexist' sweater
Connie Britton's 75th Golden Globes ensemble killed two birds, you might say, with one sweater: She supported the Time's Up movement by wearing all black and brought awareness to Bono's female-focused One Campaign with her feminist-minded statement sweater. The black cashmere crewneck was emblazoned with an embroidered declaration that "Poverty Is Sexist."
The maker of the hand-sewn sweater — and one reading simply "Equality" worn by Kristen Bell, who stayed home sick from the show — is New York-based label Lingua Franca, which launched its tops embroidered with hip-hop lyrics on Net-a-Porter in 2016 and has since found fans including Leonardo DiCaprio and Christy Turlington. The name Lingua Franca means "the common language."
Lingua Franca founder Rachelle Hruska MacPherson, who also founded the site Guest of a Guest, said in an email Sunday, "I never intended to put political statements on these sweaters. [But] after the election, the mood among our embroiderers was dismal to say the least. We have over 45 women sewing [the sweaters' slogans by hand], all from diverse backgrounds, and many are immigrants to the U.S. I felt helpless; I think we all did. It became clear to me that we all have a voice and that we all can use that voice to make a statement."
More fashion from the Golden Globes »
Since launching cashmere sweaters with lyrics such as "Original Gangsta" and "It Was All A Dream," Lingua Franca has expanded with a series of Resistance sweaters ($380) bearing phrases including "Power to the People," "Love Trumps Hate" and "Nevertheless, She Persisted." For each of those sweaters that sells, the label donates $100 to a charity chosen by the purchaser.
In 2017, Lingua Franca gave $160,000 to charities. A more recent effort is the Time's Up sweater, benefiting Legal Aid Fund (which receives $100 per sweater), which is available to order by email.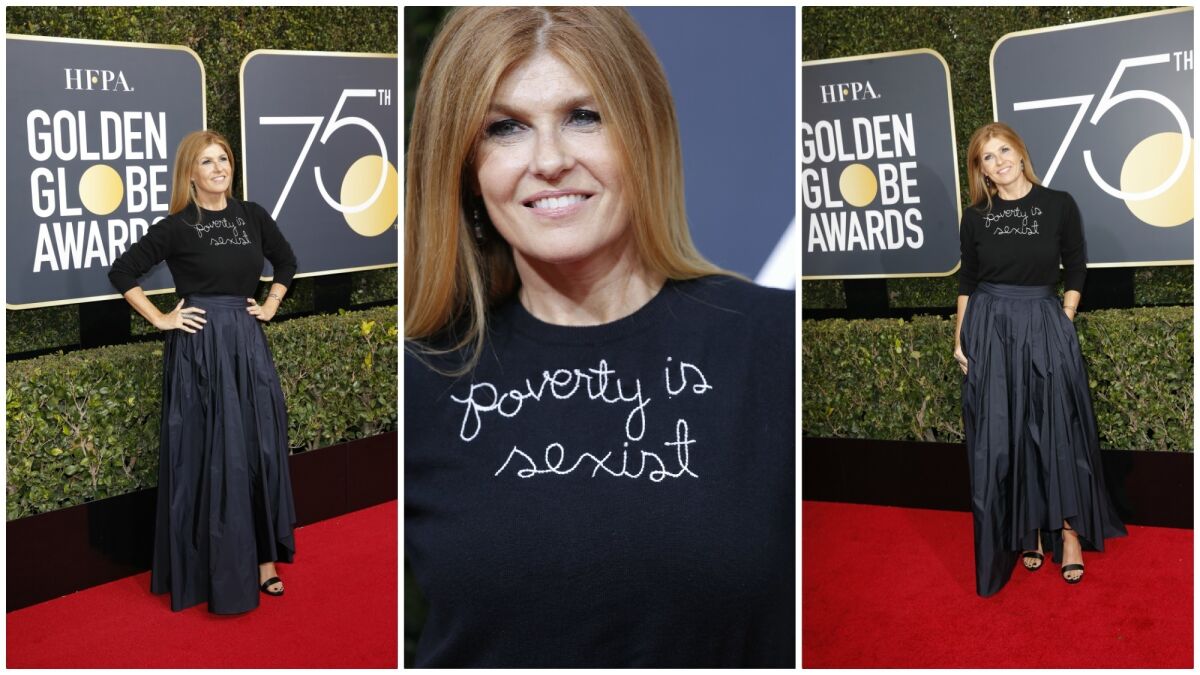 There are also charitable partnerships with Planned Parenthood, which receives $100 for each "We Won't Go Back" sweater, and the same donation is made to WomenOne ("Educate a Girl, Change the World"). FEED ("All the Feels"), Of a kind ("Professional Enthusiast") and the Whitney benefit by receiving 100% of the proceeds from their sweaters, the last to support community programming and projects. (There's a new collaboration coming in February with the Whitney.)
"We're also super excited to collaborate with ONE on a future partnership soon," Hruska MacPherson said.
Women wear the pants at the 75th Golden Globes »
Britton's sweater came about through her longtime support of One, which requested the collaborative sweater and gifted it to the actress over the holidays. It was her choice to wear it to the awards show. (Bell, on the other hand, placed a custom order for her "Equality" sweater, after seeing one worn by a friend.)
Custom orders for the "Poverty Is Sexist" sweater can be placed via email, with $100 going to the Campaign for Female Education in support of its work to make sure women and girls get the education they deserve.
"Our sweaters are all about wearing your politics and using your voice to speak truth to power," Hruska MacPherson said. "We were thrilled to create Connie's 'Poverty Is Sexist' sweater inspired by One Campaign's work to end extreme poverty by breaking down the barriers holding girls and women back, and [we] are honored and proud to be standing in solidarity with so many incredible women on such a big night."
For fashion news, follow us at @latimesimage on Twitter.
---
UPDATES:
2:10 p.m. Jan. 8: This story was updated with additional details about making custom orders for the "Poverty is Sexist" sweater and additional details about the Lingua Franca's work with the ONE Campaign.
This article was originally published at 9:55 p.m. Jan. 7
---