Usher, Blake Lively, Kim Kardashian West attend Lorraine Schwartz's star-studded West Hollywood party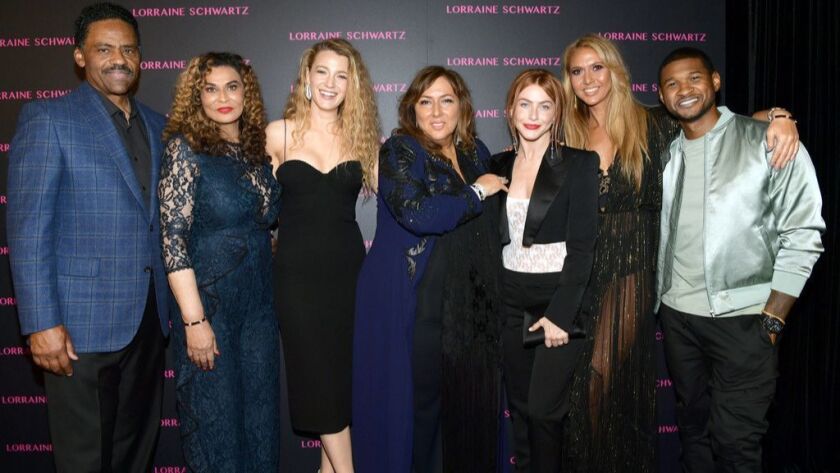 "We love you!" Usher called out to jewelry designer Lorraine Schwartz during what turned out to be an epic dance party thrown Tuesday by the New York-based jeweler and her sister Ofira Sandberg at West Hollywood hot spot Delilah.
The star-studded event attracted Kim Kardashian West, Sofia Vergara and Rita Ora, among others.
"This is my first party in L.A.," said Schwartz, who has created custom pieces for Beyoncé, Angelina Jolie, Barbra Streisand and Pharrell, the latter of whom also attended the soiree, which was organized in four days. "We were in L.A. for the Oscars and then we were going to go back [to New York] and then come back [here] for a friend of mine's event. Tina Knowles [Lawson, Beyoncé's mother,] is having her Wearable Art Gala this weekend. So I was coming in for that, and we were like, 'You know what? Maybe we should have a party.'"
The event
Although Schwartz said the event represented "friendship," the evening celebrated Lorraine Schwartz Fine Jewelry's the Eye Bangle, the latest addition to her signature Against Evil Eye jewelry collection. The bangle options are available at Bergdorf Goodman, Harrods and by reaching out to info@lorraineschwartz.com. (The price is available upon request.)
The newest bracelets are encrusted with diamonds and blue topaz stones inset with black and white diamonds in the shape of an eye. Schwartz explained that "positivity" was the inspiration behind the collection, which first launched in 2002. "I'm really affected by energy and I try to live my life positively and always see the good in everyone," Schwartz said, sounding like an open-minded Angeleno rather than a skeptical New Yorker while explaining her attraction to the evil eye. "I always wore them because I was like, 'I'm completely positive and I only believe in good and I only want to see good.' But God forbid, there's some negative energy out there. Let that bracelet ward it off."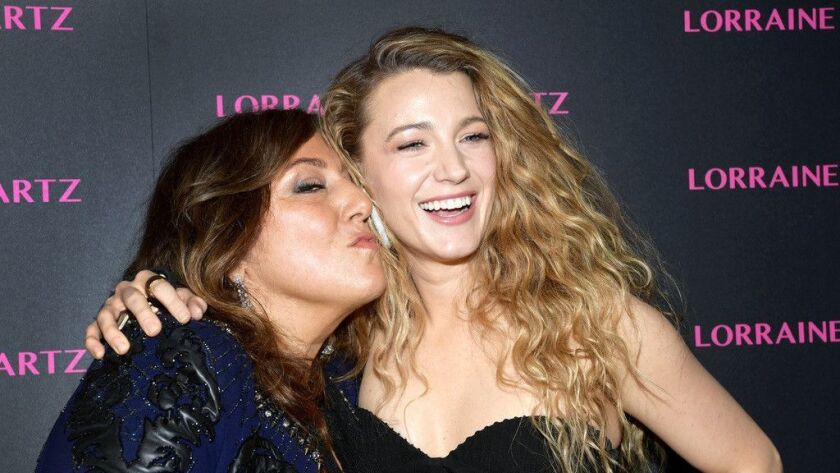 The crowd
"I look like a publicist," Blake Lively joked, upon realizing she was wearing all black, the typical PR uniform, while waiting on the sidelines of the party's black, not red, carpet. She proceeded to play the part.
"You get in the middle," she instructed, while posing for photos with various members of her family.
"It looks like a pregnancy photo," Lively laughed, while unintentionally cradling her older sister Robyn's stomach for a shot. She then beckoned for someone else in the distance to join her. "Then one with my mom," Lively told the photographers, "and then we're good."
As the group posed together, Lively laughed, "Mom, you're holding your bag over the bangles." Her mother adjusted accordingly.
From there, Lively and her crew went inside where a slew of stars had already gathered. Among them were Halsey, Heidi Klum, Kris Jenner, Alessandra Ambrosio, Julianne Hough, Tina Knowles Lawson and Sarah Hyland.
"I'm a huge fan," Halsey said of Schwartz. "I've been wearing her jewelry forever." She said she particularly loves the message behind Schwartz's work.
"The Evil Eye protection is a really cool element," Halsey said. "I like to carry that with me — to have that little reminder. I'm not a very superstitious person, but being able to look down and see that reminds me to keep a positive mentality. Being in music, being on a red carpet or at an award show, with people looking at you and judging you all the time, it's very easy to feel overwhelmed and absorbed in that negativity. What a beautiful thing that something like jewelry can help make people feel a little bit more optimistic."
Klum agreed, adding that she has been wearing Schwartz's work for more than 15 years. "She makes the most special pieces," Klum said. "I met her in Cannes at the Hotel du Cap. I was fortunate enough that she would actually lend me things for the red carpet because she was only ever [working with] really big names and I wasn't one at the time. So I was happy because not every designer lends you clothes and not every jeweler lends you [jewelry]. She was always very kind and gave me stuff."
The scene
Burlesque and belly dancers performed throughout the space while crystal diamonds dripped down from above. Guests dined on sliders and lamb meatballs.
However, the night heated up when Pharrell and wife Helen Lasichanh escorted Schwartz to the dance floor for Rihanna's "What's My Name?"
Soon after, Usher followed their lead and wound up dancing with Eiza Gonzalez, Julianne Hough, Winnie Harlow and Rita Ora. The most memorable (and meta) moment of the night arrived when the DJ played Usher's 2004 hit "Yeah!"
After leading Ora from the bar to the dance floor, Usher shimmied with Ora to Boyz II Men's "Motownphilly." Then Usher's song began. The crowd erupted with excitement as everyone circled around the singers.
"She's saying come get me," Ora mouthed as Usher gamely played along. Even the most jaded of fashion folk couldn't help but grab their phones to capture a couple of Instagram Stories.
Guests partied on past midnight with Pharrell sticking around as one of the last still lingering at the soiree.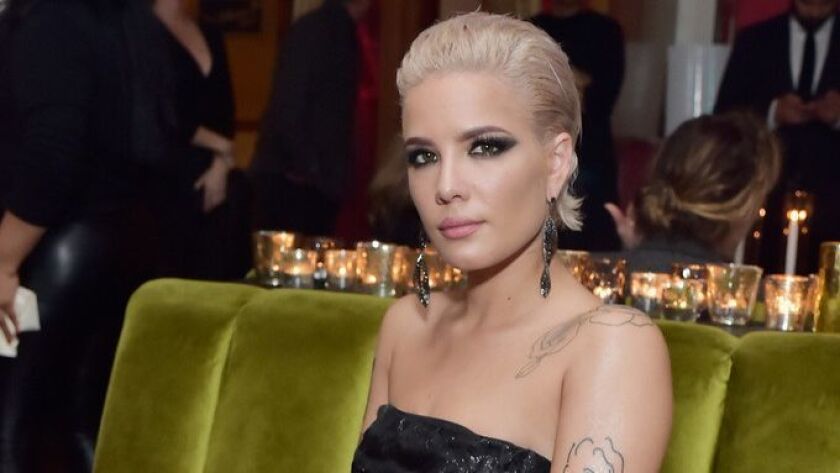 The quote
Halsey said she's upgraded her hardware since becoming a household name.
"I wasn't really a blingy person," she said of her teen years. "I was a punk-rock kid. I had a lot of piercings. I wore a lot of jewelry on my face. I had like lip piercings, nose piercings, and then I took all of it out when I turned 18. I started over, growing into my womanhood. Now I'm 23 and I'm doing the same thing. I'm growing older and I'm finding new ways to have jewelry make my look a bit more mature and a bit more refined, and that's been an exciting thing to explore."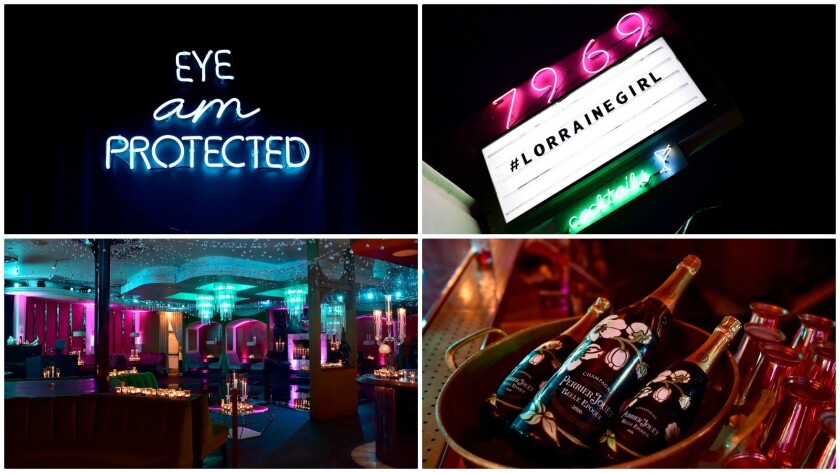 For fashion news, follow us at @latimesimage on Twitter.
---