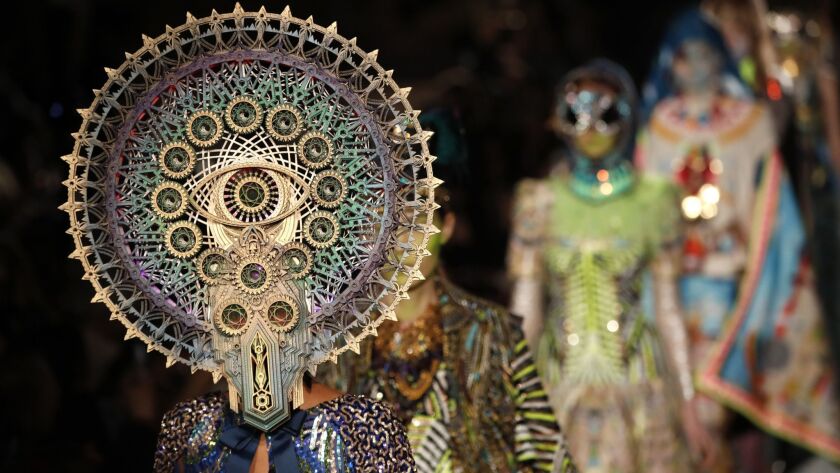 Don't expect to see an abundance of white and beige in any of designer Manish Arora's collections. Also, adjectives in the vein of "subdued" and "minimalist" don't often apply to him or his womenswear or accessory designs.
"Even my plainest thing is not plain," said Arora, as he searched through racks of his pieces at the Walker Drawas showroom in Los Angeles to find something that would most closely approximate simplicity. "I'm Indian. Color and embroidery is what we do."
The Paris-based designer was recently in Los Angeles with pieces from his spring/summer 2019 collections and his archive of colorful frocks. While in L.A., he was also taking meetings with stylists, fashion journalists and celebrities.
Arora's fashion is intended to be show-stopping — even by L.A. standards. His wares are a riot of colorful fabrics that are lavishly embellished, sequined, feathered — and generally bedazzled. Some pieces take six weeks just to embroider, and he largely works in colors such as coral and turquoise, yolk yellow and emerald green. His designs have details such as tiny rows of pearly beads and miniature pink decorative rosettes like you might find on a wedding cake.
His designs aren't just intended for red carpets, magazine photo shoots, Instagram moments or stadium shows. They are for consumers looking to add color and whimsy to their wardrobes. Arora has a boutique in Paris and five in China (where he also sells at around 45 multibrand stores), and recently inked a deal with the Chalhoub Group, a United Arab Emirates company that counts brands like Louis Vuitton and Fendi as its retail partners.
A selection of Manish Arora pieces from his archives is available at Please Do Not Enter, 549 S. Olive St., Los Angeles, starting at $400. Other designs can be found on e-tailers such as Farfetch.com (hot-pink sequined shorts are Coachella-ready and priced at $1,117) and Yoox.com (a ruby red sweatshirt with velvet appliques is $440).
Although other noteworthy Indian designers are busy creating lavish bridalwear that is a hallmark of multiday Indian weddings, Arora wanted to be free to do his own thing in the fashion industry.
"I don't sell in India," Arora said. "I used to and then I stopped. I get much more satisfaction doing what I want to do rather than making clothes for an Indian wedding where you have to cater to the bride and her mother and her neighbor. I have a very strong style, and I didn't want to have to dilute that."
Born and brought up in Mumbai, he decamped to New Delhi to study at that city's National Institute of Fashion Technology. When he began showing in Paris 11 years ago, he was the lone designer from India to mount runway shows alongside the top French designers.
He showed his colorful fall/winter 2019 collection, called "Finally Normal People," during Paris Fashion Week in late February. The collection offered up psychedelic florals and fluorescent mesh, pastel-hued faux furs, shimmering leggings and hoodies that look like they were stitched together with confetti.
Hints to his heritage — beyond his unabashed embrace of color — are everywhere in his collections. For example, a skirt is embroidered with extra large paisley motifs; the pattern was originally printed or stitched onto shawls as far back as the Mughal Empire.
A decade ago, singer and "American Idol" judge Katy Perry showed up to an MTV event in Japan wearing a Manish Arora striped sleeveless dress emblazoned with an outsize peacock pattern. Among his newer offerings is a full-length and richly embroidered lehenga skirt, considered formal attire in South Asian communities and typically paired with an equally ornate cropped top and a long wrap.
"But it won't be worn that way," he said. "I imagine it with a black T-shirt."
It appears to be an aesthetic that works.
For her client's appearance on "Late Night with Seth Myers" earlier this year, for example, superstar stylist Karla Welch put actress and talk-show host Busy Philipps in a baby pink Aerie sweater with a Manish Arora skirt whose design said it all.
The skirt was in striking shades of cobalt and fuchsia and featured a row of hot-pink Eiffel Towers above a series of large lotus flowers. The effect was whimsical and joyful and, at a glance, it told a story about the designer's life.
"We define our brand as 'life is beautiful,' " Arora said. "It might not be true everyday [attire], but we still like to think that way. Anybody who comes to our shows or tries our clothes or happens to see them should have the emotion of happiness and celebration. That is an absolute must."
For fashion news, follow us at @latimesimage on Twitter.
---