Why Mare Salon in West Hollywood has all the makings of becoming the it-salon for Young Hollywood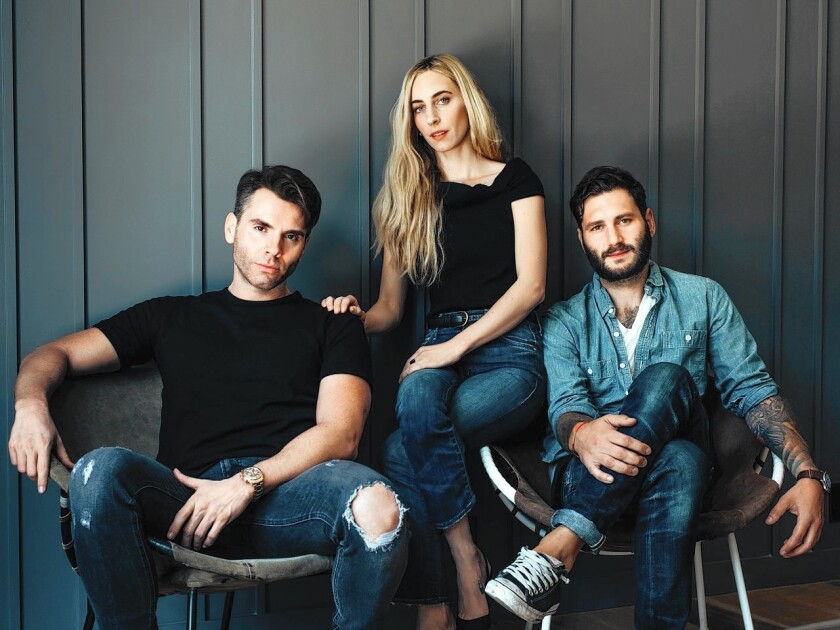 Water lilies float in a pond in front of 152 N. Wetherly Drive, a well-manicured West Hollywood bungalow recently transformed into Mare Salon, the celebrity-driven salon and potential new it-spot among Young Hollywood starlets looking for a fresh cut or color and time away from the limelight.
Designed by architecture and interiors specialist Richard Petit and the Archers team, the space is paparazzi-proof with glass-block windows, a private back garden courtyard lined with a tall hedge and private parking.
------------
For the Record
April 1, 5:05 p.m.: An earlier version of this post said colorist Denis De Souza is 44 years old; he is 40. It also said Mare Salon has subterranean parking; the parking is private and aboveground. Further, it contained a quote from Alex Polillo about a Rachel calling on the morning of the interview about getting a shorter hair cut; a bracketed insertion incorrectly indicated the caller was Rachel Bilson.
------------
One glance at the A-list clients of the owners, husband-and-wife hair stylists Mara Roszak and Alex Polillo and colorist Denis De Souza — they all met working at Andy Lecompte Salon in West Hollywood — explains why. The three cater to a who's who of the Young Hollywood scene — the likes of Brie Larson, Emma Stone, Zoe Saldana, Elle Fanning, Kate and Rooney Mara, Olivia Wilde, Mila Kunis, Nicole Richie, Rachel Bilson, Dree Hemingway, Rachel Weisz, Emilia Clarke, Lily Collins and Cara Delevingne.
Yet the open space inside the salon, shared by the team of 14 stylists, is devoid of any VIP areas. Bustling with business from existing clients since early March, the salon officially opens to the public on Friday.
A generous skylight and ceiling lights with a soft cast by Flos create the salon's sunny atmosphere, optimized for mirror-gazing. Services include cuts ($90 and up for men; $175 and up for women), base color ($95 and up), highlights ($250 and up) and hair extensions ($800 and up). Brow grooming and makeup services will be added in May, with manicures and pedicures coming soon.
In the salon's retail mix are Le Feu De L'Eau candles made in L.A., scented terra cotta amber balls by L'Artisan Parfumeur, jewelry curated by Laura Freedman of Broken English boutique, Ibiza Hair brushes, Parlux blow-dryers, GHD irons, and hair products by Davines, Leonor Greyl and Sachajuan. Inspired by the Apartment by the Line, the West Hollywood retail store on Melrose Place set up to look like a home in which everything is for sale, the salon similarly sells its furnishings from JF Chen and art curated by Deborah Irmas.
We recently caught up with the trio and found out about their working relationship as well as must-have cuts and more.
Their back story
"I think what tied us together is the effortless look that we all love," says De Souza, 40 and originally from São Paulo, Brazil, who launched his career 16 years ago at the now-defunct Sally Hershberger at John Frieda Salon on Melrose Place. He credits Roszak with referring him to his first celebrity client, Rachel Bilson, at Andy LeCompte.
"I said, 'There's this new look I'm working on that imitates women in Brazil with brighter ends,' and Rachel said, 'I trust you. Do whatever you want,'" says De Souza. "So she left with brighter ends. And there were so many paparazzi outside that, overnight, I pretty much went from zero to 100. It was the beginning of the ombre."
Roszak, 30, a Laurel Canyon native, started doing hair for friends at age 13, attended the recently closed Marinello School of Beauty and landed her first big gig at age 17 with Sarah Michelle Gellar, referred by a family friend who was Gellar's publicist. Halle Berry, Stone and Saldana soon followed, and Roszak began work at Chris McMillan Salon in Beverly Hills, later moving to Andy Lecompte.
"I would say there is an element of organicness to [what I do]," says Roszak. "I don't do hairstyles that feel stiff. When I cut hair, I'm thinking more about the person's hair texture. I don't want anything to be too hard to style or re-create. I never want the style or cut to be wearing the person. It should feel true to who they are or to a version of that."
Polillo, 32, trained at the Aveda Institute in Seattle and moved to Los Angeles in 2006 to work at Neil George Salon in Beverly Hills, where he often partnered with star colorist Tracey Cunningham. Polillo then moved to the Byron Williams and Andy Lecompte salons. Neil Weisberg, co-owner with Cunningham of Meche Salon in Beverly Hills, who introduced Polillo and Roszak, who wed in 2010.
"I think Mara and I have very similar aesthetics. That's why we work so well together," says Polillo. "A lot of photographers say they hire me because I can make it look like nothing is done. I don't do a lot. I like to make it quick and clean."
Hair trends
"Short," says Polillo. "Lily Collins' [layered pixie cut] is always the reference, which is funny because that's Mara's [client]."
"With that cut, what we were seeing more of was the shorter in the back, longer in the front [look]," says Roszak. "And now I'm starting to bring the front up so it is more one length — but textured, a little bit more natural."
"Color is moving forward from being too much of a look or trend, like ombre or sombre [a softer, less contrasty ombre], to being more natural," says De Souza. "A lot of baby lights, fine highlights. It's really the old-school way of doing hair. We're in L.A. so everyone wants to be lighter and brighter and blonder. But for some reason, most of my clients are brunettes."
Hair don'ts
"Getting the right hair cut for your face shape. It's too general," says Roszak. "I've been asked that so many times, and I always change it to the right haircut for your hair texture. The last thing I'd want is to give someone the wrong layers for their curly hair."
"It's preference, but I don't love bangs and waves," says Polillo.
"My mojo is always to enhance what people have, to never drastically change their natural color," says De Souza. "A lot of colorists [always] do base and highlights. But if a client doesn't have gray hair, why change their base? It's just more money, and then they have to come back sooner. I have clients who come back once or twice a year max, and they love that."
Dream clients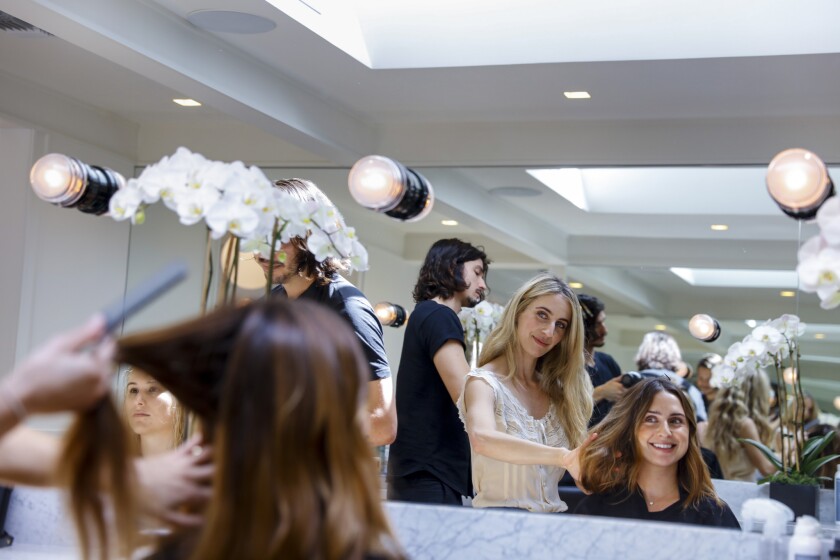 "Carolyn Bessette Kennedy because I think that she was so incredibly chic," says Roszak. "I would like to dress like that. I would have loved to be her hair stylist."
"Maybe because we've worked mostly with Hollywood, and I don't do fashion, I love the supermodels — especially Brazilian models with sexy hair, maybe because of my heritage," De Souza says. "It was always my dream to touch the hair of Gisele Bündchen."
"The mom from 'Home Alone,' Catherine O'Hara," says Polillo. "She's the chicest person on the planet and she's on that new show, 'Schitt's Creek.' I told my agent and she said, 'Who's that?'"
Shopping and pampering go-tos
"Olive & June [nail salon] has such a cute aesthetic," Roszak says. "What they're doing is super cool."
"I love everything at the Apartment by the Line and I go to General Quarters [a men's clothing shop on South La Brea Avenue] for boys' stuff," says Polillo. "I recently went to the Now [massage boutique on Beverly Boulevard] for the first time, and that place is really cool."
"I love to travel," says De Souza. "I go somewhere every two months. I'm next renting a villa with friends on Super Paradise beach on Mykonos island in Greece to celebrate my birthday."
Mare Salon, 152 N. Wetherly Drive, West Hollywood; (424) 274-3479, www.maresalon.com. Open from 8 a.m. to 6 p.m. Tuesdays through Saturdays.
---