Who made Meghan Markle's wedding dress? Few know for sure, but bookmakers put the odds on Ralph & Russo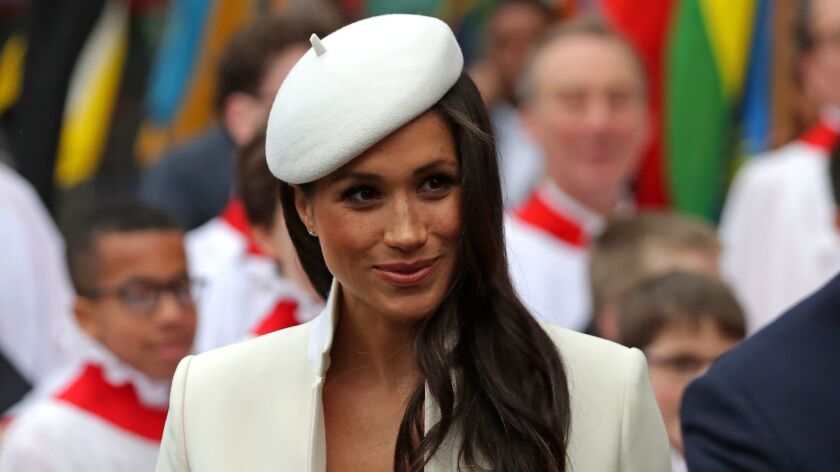 It might sound like the title of a Sherlock Holmes story, but the Mystery of the Royal Wedding Dress Designer is, if not as elaborate as a Holmes tale, then certainly as thrilling, judging from the feverish media coverage the topic has garnered ahead of Saturday's nuptials of Great Britain's Prince Harry and Los Angeles-born "Suits" actress Meghan Markle.
And just like the dapper detective, fashion hounds have been sniffing out clues at every possible opportunity. When Markle wore a Stella McCartney cape dress for Queen Elizabeth II's birthday concert at the Royal Albert Hall in London last month, that label was suddenly a contender. But, the subsequent choice of a bespoke Emilia Wickstead skirt suit for a commemoration service at Westminster Abbey a few days later proved equally tantalizing to royal watchers — especially because Wickstead created a universally admired wedding gown for the Duke of Wellington's daughter, Charlotte Wellesley, two years ago.
Other names being bandied about include Erdem, Burberry and Alexander McQueen; the last of those labels was responsible for the Duchess of Cambridge's wedding dress in 2011.
Countdown to the Royal Wedding » Your complete guide to the 2018 royal wedding »
However, it is Ralph & Russo, Britain's only official haute couture label, that is considered the front-runner. It was a daring Ralph & Russo dress that Markle chose for her official engagement portrait with Harry in December, and last month, paparazzi snapped the prince exiting the brand's London store.
So convinced are royal experts that London-based, Australian-born duo Tamara Ralph and Michael Russo are behind the gown that bookmakers have suspended bets on the wedding dress designer's identity. (British bookmakers are offering bets on all aspects of the wedding, including the color of the queen's hat.) Unsurprisingly, when contacted by The Times, a spokesman for the label declined to comment.
Take a look at Prince Harry's style through the years »
While the provenance of the gown will remain a closely guarded secret until the wedding, history suggests it will most likely be made by a British brand, despite the fact that Markle's homeland boasts some of the world's top names in bridal, including Vera Wang, Zac Posen and L.A.'s own Monique Lhuillier.
When Harry's great-great-great-grandfather Edward VII wed Princess Alexandra of Denmark in 1863, the bride was forbidden from wearing a dress made from Brussels lace. Her mother-in-law, Queen Victoria, was adamant she wear British lace "as a very clear statement that she was becoming part of the British royal family," said Elly Summers, a curator at the Fashion Museum in Bath, England.
Similarly, when Harry's mother, the then-Diana Spencer, asked Elizabeth and David Emanuel to create her wedding gown for her 1981 marriage to Prince Charles, the duo was determined to use only British materials.
Not that any such protocols were explicitly communicated to the Emanuels. "We made up our own rules," Elizabeth Emanuel said. "We knew it was going to be at St. Paul's [Cathedral in London] and we wanted to make an absolutely amazing, ultimate fairy-tale princess dress." The result included a 25-foot train and a spare skirt in case of spillages. Emanuel also offered a very practical reason why the identity of Markle's dress designer is being such a carefully guarded secret — using Charles and Diana's wedding by way of example.
"We were hassled from Day 1," she said, recalling how she and her now-former husband went to great lengths to keep the design a secret from dogged journalists.
"We left false trails for reporters; we left threads of different colors in the dustbins," Emanuel said. "Any small scrap of fabric, even an individual sequin, we would pick up and put it in a trunk."
Of course, for those who have scored a coveted invite to the wedding, they must also give some thought to their own outfits. "It's very difficult to look like a cool, 21st-century girl and go to a royal wedding," said Richard Dennen, editor of the British society bible Tatler. "I know a lot of people at the moment are panicking about it."
As well as adhering to a strict set of unwritten rules governing hemlines and shoulder straps (the former should be neither too long nor too short; the latter should not be too slim), there are also shoes and hats to consider, because the ceremony will take place at St. George's Chapel at Windsor Castle.
Jacques Azagury, one of Diana's former couturiers, is dressing a number of guests for Harry and Meghan's nuptials. "The most important thing to think of is that you want to look good, but it's not your day," he said. "So anything that's going to take any attention away from the bride is a no-no."
Please consider subscribing today to support stories like this one. Get full access to our signature journalism for just 99 cents for the first four weeks. Already a subscriber? Your support makes our work possible. Thank you.
For fashion news, follow us at @latimesimage on Twitter.
---