Visions of espadrilles and ballet flats dance in Meghan Cleary's head
When Meghan Cleary was 5 years old and growing up in Farmington, Mich., she spotted a pair of embroidered, baby blue wedge espadrilles at her local Kmart and instantly fell in love with footwear.
"I had a very visceral sense that getting those shoes would change something about my life," says Cleary, who decades later lives in Los Angeles as a freelance writer contributing shoe-centric stories and commentary to several publications, television personality and author of two books about what your shoes say about you. This month, she launched her first collection of footwear, called Meghan Says, exclusively at Nordstrom.com.
The small offering is made up of three silhouettes: ballet flats, pumps and mules ranging in price from $98 to $168. The floral prints, gingham patterns, denim and raffia accents incorporated throughout reflect Cleary's passion for fun and whimsy when it comes to footwear.
"I'm all about fun and fit. I'm a shoe lover, not a shoe judger," Cleary says. "I love it all, and I love to hear what people say about their shoes."
As a shoe expert and trend forecaster Cleary has heard a lot from women about what they love and don't love when it comes to shoes. From fit to fabrication, shape to heel height, she has taken what women seem to want most in their footwear to heart when designing and constructing Meghan Says' styles.
We talked to her about striking the balance between form and function in footwear.
What was the impetus to do your own collection of shoes?
I had done a show on HSN called "Shoe Therapy," and what I started to learn there was what women really wanted in shoes. On HSN you get real-time, vociferous customers who say what they want. I kept listening and it was a really natural evolution [to creating a line], due to having all of this information. "Where can I find a basic ballet flat in black?" That's one of the No. 1 questions I'm asked.
What is the most common complaint about shoes you hear from women?
The most common gripe I hear from women is "I cannot wear heels anymore. I used to be able to and now I can't because when I walk in the store all of the heels are too tall." They think that they've changed, but you haven't changed, heels have changed!
When [Christian] Louboutin launched Prive in 2004/2005 that was the first 5-inch, single-soled platform stiletto [that] really hit the consumer radar — since Christian Louboutin has a huge background in burlesque and fetish design, [and] that's the only place we'd previously seen those features. And then Gwen Stefani and Victoria Beckham went crazy for it and then all of a sudden the average heel height went from 3 inches to 5 inches.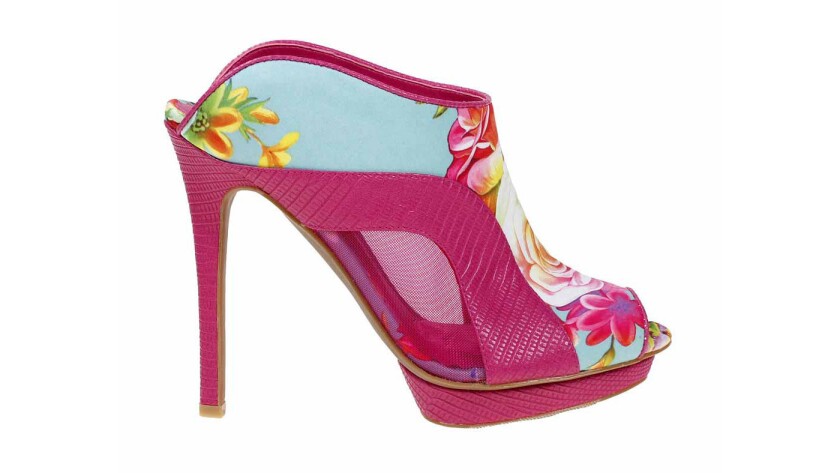 In fact, if you watch the first season of "Sex and the City," those [shoes] are not towering stilettos the way we think of high heels right now. It's really fascinating and why I think women have embraced the platform so hard. It has gone on so strong because you can't go up that high with a single sole. From the 1940s to the first season of "Sex and the City," heels were chunkier, stacked and a lot easier to walk in.
What are some elements you've incorporated into your line to ensure comfort?
We have a 6-millimeter foam cushion in the insole and 3-millimeter cushion at the ball of the foot. The ballet flat has a square toe, which looks amazing on the foot and is roomier on the toe and more comfortable to wear. There are rubber soles for flexibility, with a little tread for a grip versus a faux leather or leather sole. It's similar to Italian dance shoe construction and is a lot more comfortable. There are some things with shoemaking where you wouldn't think they would lend to comfort but they do.
How many pairs of shoes do you own?
I try not to count how many pairs I have, but it's the 200 to 250 range. I have all types. I love a good shoe, especially, Jerome Rousseau, Azzedine Alaia and Sophia Webster. I love whimsy and fun, and Sophia Webster and Charlotte Olympia are women who are paving the way for us to have more fun.
And did you ever get the pair of baby blue, wedge espadrilles?
I did get the baby blue wedge espadrilles. You may see a version in a future collection. That could be cute if done right.
---