Melania Trump's 'don't care' jacket isn't the first time her wardrobe has become the story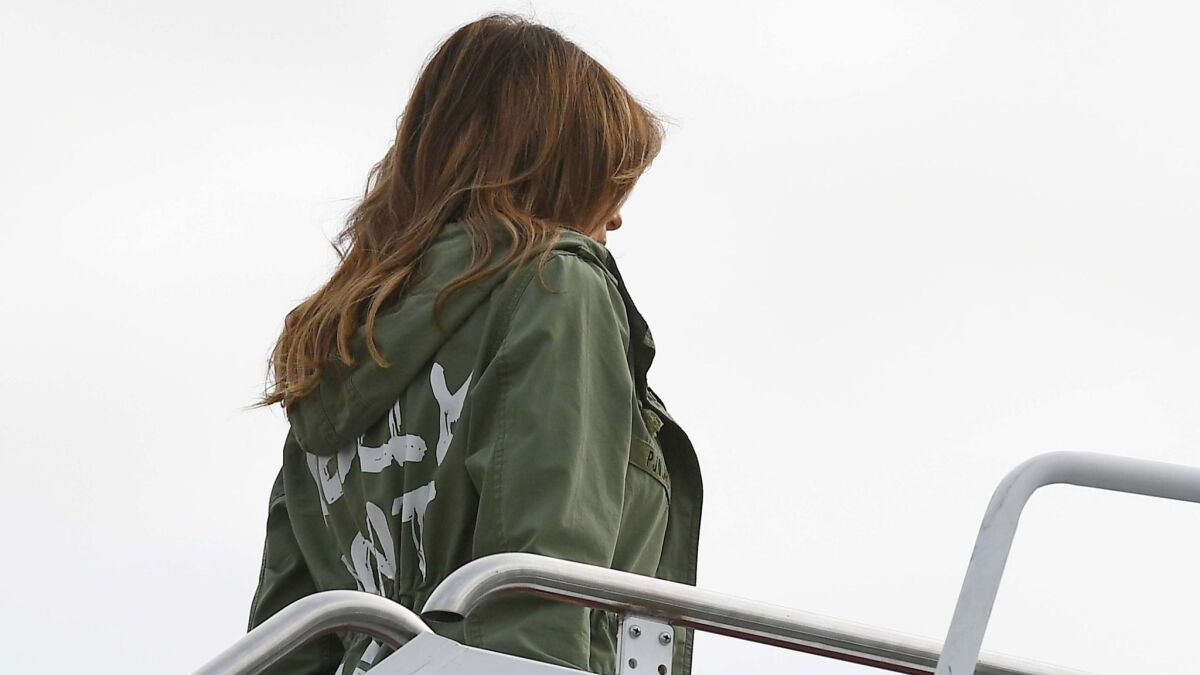 "I really don't care. Do u?"
The question plastered on the back of Melania Trump's jacket as she boarded a plane to Texas on Thursday to meet migrant children separated from their parents prompted immediate questions. Was the first lady making a covert statement?
According to her spokesperson, she wasn't.
"It's a jacket. There was no hidden message," Mrs. Trump's communications director Stephanie Grisham said in a statement.
According to her husband, she was making a statement, though it wasn't hidden and it wasn't about children.
"'I REALLY DON'T CARE, DO U?' written on the back of Melania's jacket, refers to the Fake News Media," President Trump tweeted.
The current first lady has shied away from the spotlight considerably compared with her predecessors. Since the general public (and armchair fashion critics everywhere) don't hear her voicing her opinions, they're left trying to decode her wardrobe choices, which seem to speak volumes — intentionally or not.
This is not unique; first ladies' sleeve lengths, dress colors and price tags have been scrutinized throughout history. Mrs. Trump has been no stranger to such commentary, including judgment about her selection of heels when headed to disaster sites and her preference for international labels like Dolce & Gabbana and bold styles. But, on at least four occasions, her outfit choices haven't just stirred commotion — they've raised questions about the message behind the fashion.
The p-word
On Oct. 9, 2016, just two days after a tape surfaced with audio of her husband talking about women in vulgar terms, Mrs. Trump wore a fuchsia blouse with a pussy bow at the neck to the second presidential debate. The bow ignited questions on social media – was the attire a calculated choice? Or had the first lady unknowingly made a fashion faux pas? Once again, the "p-word" was a sudden topic of conversation and in large part became the most talked about story of the debate night.
The white pantsuit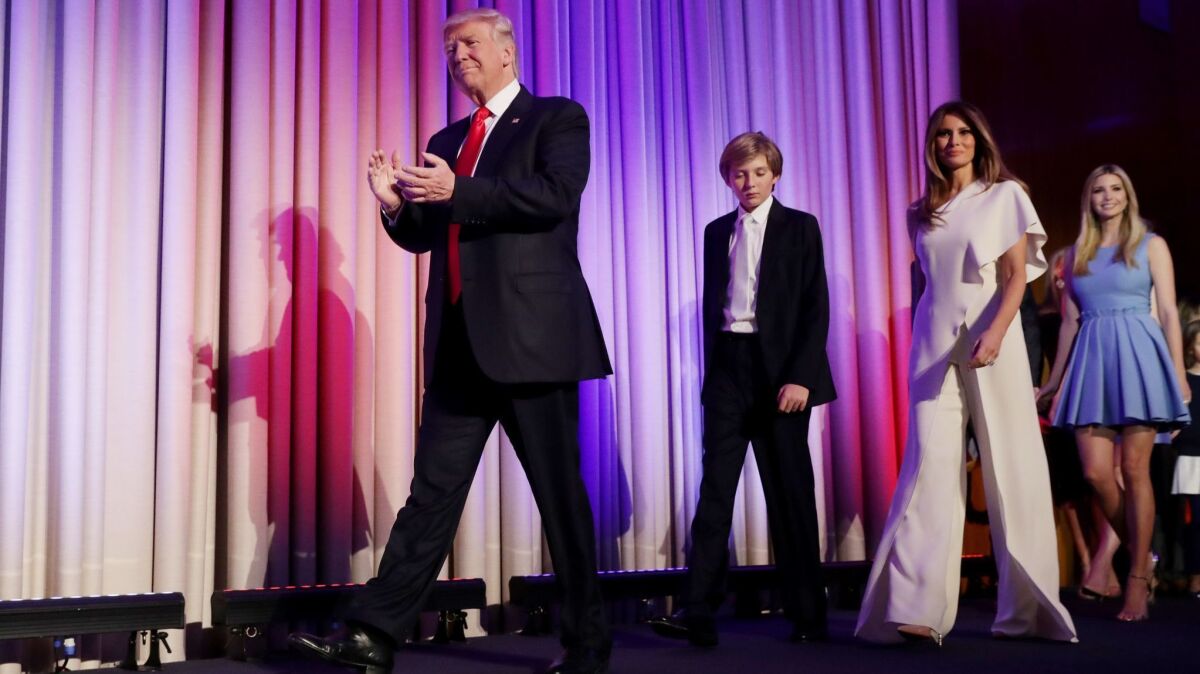 When her husband won the election one month later, Melania Trump wore a white pantsuit during his acceptance speech. It harkened back to that July, when Donald Trump's rival Hillary Clinton wore a white pantsuit to accept the presidential nomination for the Democratic Party.
White is a color often associated with women's suffrage. It did not go unnoticed that the clothing choice was made the same night that a woman lost her chance to become the first female president of the United States.
The white pantsuit, part 2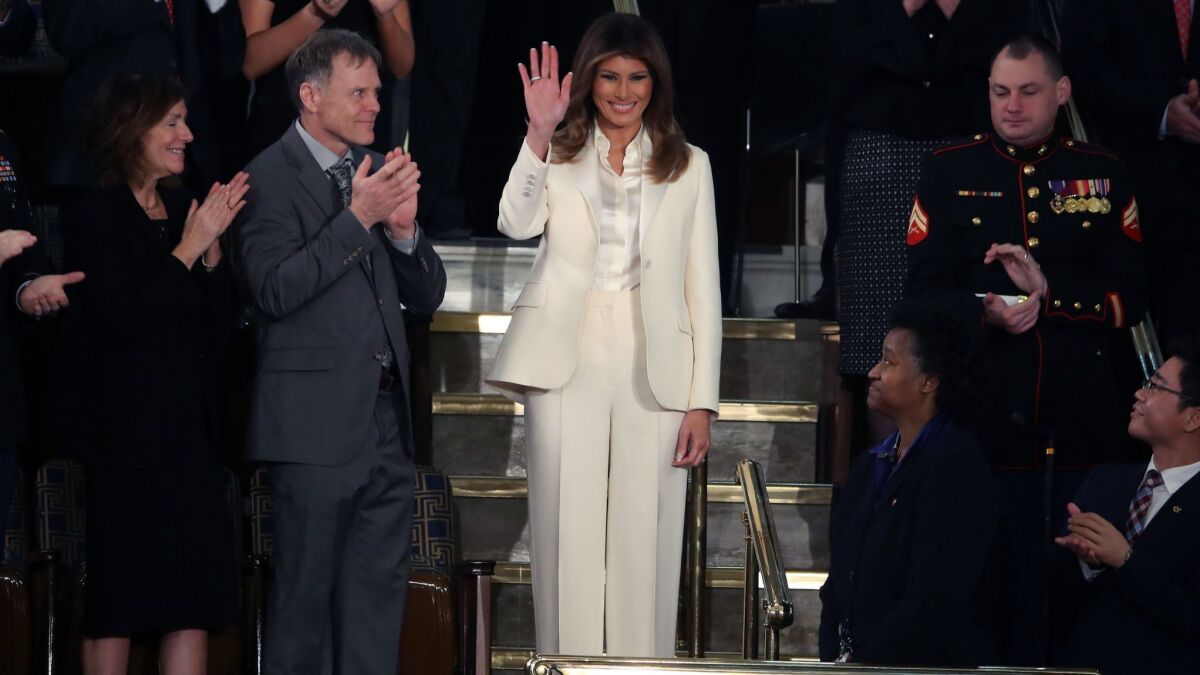 Earlier this year, as news swirled that Donald Trump's lawyer paid porn star Stormy Daniels $130,000 before the presidential election in exchange for her agreement not to disclose her 2006 sexual encounter with Trump, Melania Trump walked into her husband's State of the Union address alone, wearing another white pantsuit. And breaking a longstanding tradition, the president and the first lady rode separately to the Capitol.
It's not uncommon for Mrs. Trump to wear white – it was the color of her inaugural gown, after all. But this time, she alone stood in the spotlight.
The statement / not-a-statement jacket
"Mrs. Trump hates to see children separated from their families and hopes both sides of the aisle can finally come together to achieve successful immigration reform," Mrs.Trump's communications director said in a June 17 statement as outrage grew over the separation of migrant children from their parents.
Four days later, the first lady boarded a plane to visit some of these children. But it was an olive-green, hooded jacket from Zara's spring and summer 2016 collection that became the biggest headline during her visit. She wore the jacket bearing the words "I really don't care. Do u?" across the back in what looks like white paint on her departure and upon her return. Her stylist, Hervé Pierre, told Women's Wear Daily that he wasn't aware of the jacket selection — it wasn't something he had personally picked for her.
What specific message was meant to be sent by donning that jacket — if any — may never be known. But make no mistake, it certainly did send one. The bigger question — and the one we've been asking all along — is whether the former model and current first lady's wardrobe choices have been cunningly calculated or completely clueless.
With this week's jacket flap, it seems that people really do care about the answer.
Twitter: @cshalby
ALSO:
For Melania Trump, the shroud of invisibility lifts during a week of public attention
Melania Trump's stylist Hervé Pierre talks state dinner with the Macrons, crashing at the White House